We regret that due to the technical limitations of our site, we are unable to offer eBooks or Audio Downloads to customers outside of the UK.
For further details please read our eBooks help.
Blog
John Julius Norwich - Darling Monster
John Julius Norwich answered a few of our questions about his book Darling Monster ahead of his appearance at Cheltenham this Thursday...
Darling Monster collects together the letters of Lady Diana Cooper - aristocrat, and Jazz Age "It girl" - to her only son, John Julius Norwich and are a remarkable, and personal, insight to an extraordinary time, and an extraordinary life.
The title – Darling Monster – refers to your mother's nickname for you. What on earth did you do to earn it?
Nothing at all. Very often it was "darling fool", occasionally "darling horror". All were terms of endearment, as the ensuing letters clearly show.
What was it that brought you to the decision to share such a private thing as letters from a mother to a son? More often than not this is done after both parties have passed away.
Surely hundreds of such collections have been published - father to son (Lord Chesterfield), mother to children. In this case, I decided to publish simply because I wanted other people to share the joy of these letters, and to see what inspired letter- writing can be. My mother has been dead twenty-seven years. If I'd waited till I was dead too, who would have edited the letters?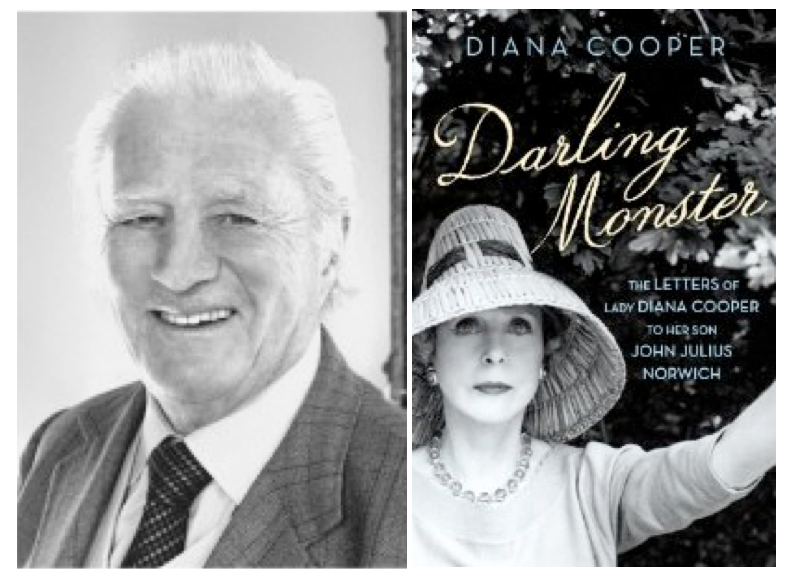 Did you find yourself surprised by jolts of memory as you read through the old letters – either of reports of what you were doing, or details of your mother's life that you had perhaps forgotten?
Yes, it happened all the time, and very enjoyable it was.
Is there a particular letter which is dearest to you, and why?
I think the best for me are the letters she wrote from her little Bognor farm - which provided, I think, the happiest years of her life.
Was putting the book together a joyful experience or in any way painful?
Wholly joyful - no pain at all.
Do you lament the passing of letter writing?
Yes, I hate to think that the art of letter-writing has gone, but I fear there is no doubt that it has - killed by email and the mobile telephone.
John Julius Norwich is appearing at the Cheltenham Literature Festival this Thursday together with Patricia Hodge. Find out more here.
You can Reserve & Collect Darling Monster from your local Waterstones bookshop (http://bit.ly/19SryZY) or buy it online at Waterstones.com (http://bit.ly/GzwCuY)
For more information about the Cheltenham Literature Festival, and to buy tickets, click here (http://bit.ly/GD2KgS)