We regret that due to the technical limitations of our site, we are unable to offer eBooks or Audio Downloads to customers outside of the UK.
For further details please read our eBooks help.
Blog
Introducing our Summer Book Club
Say it quietly - Summer is (sort of) here! What better way to celebrate than picking up a new book? Our new Book Club selection promises something for everyone - from sparkling fantasy debuts, to short stories from a Nobel laureate - and everything in between.
The Hive is a captivating story about group politics and female friendship. While the children are at school, outside the playground their mothers are learning lessons in life. A brilliantly funny and well observed story of four women, learning about friendship, betrayal, power and how to get invited to lunch. From the joys and perils (well, mainly perils) of the Lunch Ladder, to the military operation that is the Car Boot Sale, via the dos and don'ts of dressing your child as a Dalek, all human life is here.
The year is 2059, Paige Mahoney works in the criminal underworld of Scion London. Paige is a Jumper, a dreamwalker, who scouts information by breaking into people's minds. Attacked, drugged and kidnapped, she is transported to Oxford where she finds herself imprisoned. She must keep her head down and tow the line, in hopes that she can regain her freedom. Even a dreamer can start a revolution.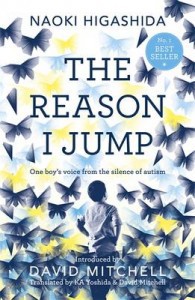 Translated by David Mitchell and his wife who are parents to an autistic child, this remarkable book, written by Naoki Higashida when he was only 13, provides a rare insight into the behaviour of autistic children. Using question and answers Naoki explains why he talks loudly, repeats the same questions, what causes his panic attacks and why he likes to jump. He talks about what he thinks and feels about the world, proving that people with autism do possess imagination, humour and empathy. This biography gives us a remarkable chance to enter the mind of another and see the world from a strange and fascinating perspective.
With Spain on the brink of civil war, thanks to the nationalist party the Falange, the race for a lost Velazquez painting begins. Anthony Whitelands, an English Art historian visits Madrid to value a Spanish Duke's art collection. The collection turns out to be worthless but before he can leave for England, Paquita, the Duke's daughter reveals a secret and genuine treasure held in the cellar of her ancestral home for generations. However Madrid is crawling with Soviet spies, and Moscow will stop at nothing to secure this hidden prize.
Longlisted for the Man Booker Prize 2013 Almost English is a masterpiece of characterisation. Sixteen year old Marina lives in a tiny flat in West London with her mother and three ancient Hungarian relatives. Crushed by family expectation she escapes to Combe Abbey, a traditional English public school. Her family sacrifice everything to send her there but as the awkward semi- Hungarian Londoner, she doesn't know how fit in. Her mother, who has her own painful secrets to deal with doesn't notice that life for Marina is slowly starting to unravel.
The Circle is world's most powerful internet company and when Mae is offered a job she thinks it's the opportunity of a lifetime. The Circle creates one online identity in a new age of transparency. With the central slogan "All that happens must be known", nothing is secret in this world. As Mae rises the ranks she loses more and more of her privacy, her life on display for all to see, even going to the bathroom. A gripping read that will leave you questioning our obsession with the internet.
It's 1974, six teenagers spend their summer at camp smoking pot, drinking Vodka & Tangs and sharing their hopes and dreams for the future. Fast forward in time and what seemed so special in childhood can't be sustained in adulthood. Whilst most of the friends' dreams have been forgotten, Ethan's endured. As their lives unfold, for better or for worse, against a backdrop of a changing America, Wolitzer's novel asks how "the Interestings" can be happy with anything less than brilliant.
Karl Ove Knausgaard tells the story of his childhood with piercing honesty: his love of rock music, his relationship with his parent, a loving yet invisible mother and a distant and unpredictable father. When he becomes a father himself he has to balance his two worlds, caring for a young family and his desire to write great literature. This is the first in the six book series My Struggle and is a truly gripping reading. Another international sensation from the publishers of HHhH, 1Q84 and J.M. Coetzee's Summertime.
It all started forty years ago when the family car was stolen by their lodger and he committed suicide in it, causing ancient powers best left undisturbed to stir. Creatures from beyond our world are on the loose, it will take everything to stay alive. Our narrator's only hope to save his family is the three women at the end of the lane, the youngest of them claims that her duck pond is an ocean. The oldest can remember the Big Bang. This story reshapes modern fantasy: moving, terrifying and elegiac - as pure as a dream, as delicate as a butterfly's wing, as dangerous as a knife in the dark.
The new selection of Munro short stories brings together her finest work from the last 15 years. Her stories infuse everyday lives with a wealth of nuance and insight. Beautifully observed and remarkably crafted, written with emotion and empathy, these stories are nothing short of perfection. It is a master class in the genre, from an author who deservedly lays claim to being one of the major fiction writers of our time.
Everyone knows money can't buy you happiness but can it buy you freedom? When Joycelyn was 17 she was full of hope and dreams, as an adult she lives an ordinary existence, running a dressmaking shop in provincial France. When she wins the lottery, this is her chance to reclaim the dreams of her youth so why does she find it so hard to accept the money? To help her decide what to do, she begins to compile a list of her heart's desires, never suspecting for one moment that the decision might be taken out of her hands.
The Carriage House is a beautiful novel about family and forgiveness. Elizabeth, Diana and Izzy are the pride and joy of their father William, all three destined for greatness. However this idyllic facade masks a family in turmoil. Their mother has early onset Alzheimer's, their father is still in love with his childhood sweetheart, Diana's career is failing, Elizabeth feels trapped and Izzy is spiralling out of control. When William is taken ill he loses faith in everything. To restore his hope, the three girls begin to repair William's grandfather's carriage house, and with it their family.
Which one are you going to read first? Which have you already read, and what did you think of them? Let us know in the comments below.