Blog
Into The Wild
Our Children's Book of the Month for September is
The Wolf Wilder
,
Katherine Rundell's follow-up to her much-loved
The Rooftoppers
. Set in a snow-white St Petersberg,
The Wolf Wilder
is a fairy-tale-infused adventure with very sharp teeth. Here, the author gives us a glimpse into the personal inspiration behind the tale
My father is a great storyteller. When we were very young he used to wake us up before he left for work to tell us stories from history: the World Wars, the slave trade and the Russian revolution. (Often my understanding of the stories in my life blurred, and when I picture William Wilberforce he still looks a little like the eponymous bear in Wilberforce Goes Shopping.) My father's picture of Russia was one of deep snow and rich food, and of revolutionaries fighting, with very mixed success, for fairness. There would always be a pair of children at the centre of the stories – who looked, coincidentally, very like my brother and me – two children who joined the fight at hand with both fists. My dad's stories made us feel taller, and hungrier.
Image: Katherine Rundell's father carrying Katherine as a baby on
his back (c) Katherine Rundell

The Wolf Wilder is a book built by those early stories, although it's less a history than a fairy-tale kind of adventure informed by history. I've always wanted, if I could, to write a book with the flavour of a fairy tale – I love the way in which they sound the bass notes of human existence: desire, power, survival, hope. I love the way in which, whether fairy tales are English, French, German or Russian, the same ideas and characters reappear in all of them, because the stories have migrated across borders as freely as birds for a thousand years. Marina Warner calls them, a symbolic Esperanto. And I love the wry voice with which they're told. The poet James Merrill writes about the voice of fairy tales, 'the kind of unseasoned telling found/in legends, fairy tales, a tone licked clean/over centuries of mild old tongues.'
In The Wolf Wilder, the protagonist meets a gang of children who become, together, unlikely revolutionaries. I wanted them to be a fairy-tale-history-adventure hybrid, to function a little as the fairy godmothers do in fairy stories - Margaret Atwood calls it, the spirit of 'heroic optimism'. The children (whose names are all borrowed from revolutionaries through Russian history) dress Feodora in a Cinderella gown and a dancing shoes - but instead of going to the ball, Feo goes to face down a general and start an uprising.
Image: Katherine Rundell and her father (c) Katherine Rundell
I wanted to write a book that was a little darker than my last, and a little wilder. I wanted to write about different kinds of bravery, with, I hope, an edge of danger. Feo, more than any other character I've written, is how I felt as a child: awkward and wary and stumbling, but hoping always for friendship and for snow. Most of all, I wanted to write a story about a child learning to trust other people: about a child discovering that the world is huge, and full of formidable people. I wanted to suggest to the children who read it that, in the tumultuous world they are growing up in, there is more space for change than we might think. There's a line that one of the characters says: "People say we can't do anything about the way the world is; they say it's set in stone. I say it looks like stone, but it's mostly paint and cardboard."
The plot was made up of things I've seen or discovered and loved. The central city of the book is St Petersburg because my grandfather lived there in the years before his death, on the banks of the Fontanka canal. There was a small ballroom in which, as a teenager, I danced (with a truly impressive lack of coordination). So there is dancing in this book, both good and bad, and the great golden domes of St Petersburg, capped in snow.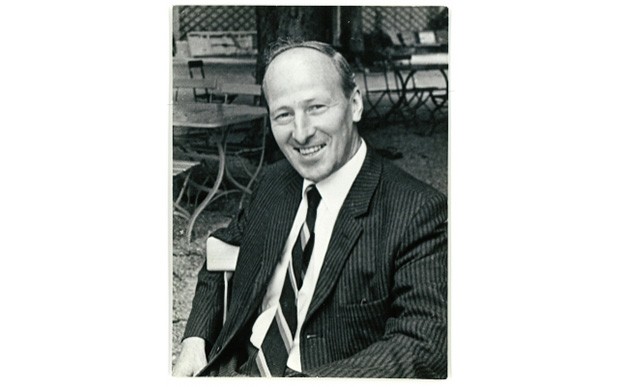 Image: Katherine Rundell's grandfather (c) Katherine Rundell
The story is set in the snow because snow has a life of its own: I spent one white winter in rural Scotland, in an unoccupied shooting lodge. I went weeks without seeing another human. When the pipes froze, I boiled snow for tea. I lit fires, read books, ate icicles and mussels from the lake, and tinned meat. When the worst storms of that year came, I was rescued by an army truck and sent home. I learnt a lot about the different varieties of cold you can be. Later, I read about a Russian recluse who, in the 1970s, used to run barefoot for days through snow with elks slung over his back, and realised I was only a novice at the cold
.The title refers to the idea of re-wilding wolves who have been made tame; of giving back that which should never have been taken. The wilding of animals is a real thing: there is a programme in Zimbabwe, not far from where I spent part of my childhood, where once-tame lions are taught to feed themselves. And in Yellowstone park they are trying to coax wolves back into the wild. Wolves are the heroes of this book because I think wolves, more than any other animal, are electric. I met a mostly tame one on a cold day in Wales. They really do look nothing like dogs: their shoulders are more muscular and their eyes sharper. They radiate intelligence. They deserve our respect. There are many stories about wolves already, but I think they will always deserve a few more.


Feature Image: Grey Wolf Stands Between Trees (c) Geoffrey Kuchera
×
Download the Waterstones App
Would you like to proceed to the App store to download the Waterstones App?
Reserve online, pay on collection


Thank you for your reservation
Your order is now being processed and we have sent a confirmation email to you at
When will my order be ready to collect?
Following the initial email, you will be contacted by the shop to confirm that your item is available for collection.
Call us on or send us an email at
Unfortunately there has been a problem with your order
Please try again or alternatively you can contact your chosen shop on or send us an email at