Navigation
Search
Books

Dinosaurs Love Underpands

Claire Freedman, Ben Cort

Deep Sea Monsters

Igloo

Dinosaurs Love Underpands

Claire Freedman, Ben Cort

Deep Sea Monsters

Igloo
We regret that due to the technical limitations of our site, we are unable to offer eBooks or Audio Downloads to customers outside of the UK.
For further details please read our eBooks help.
Blog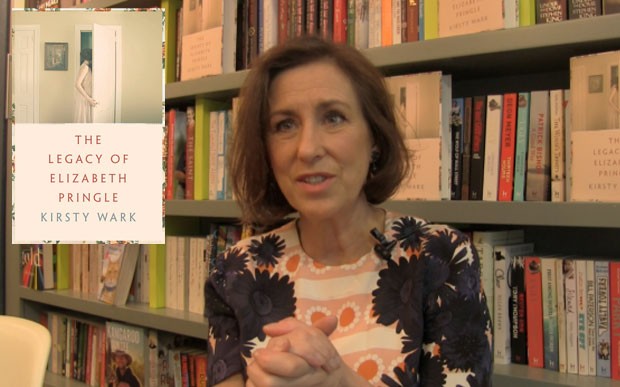 Interview: Kirsty Wark
We spoke to Kirsty Wark about her debut novel The Legacy of Elizabeth Pringle...
In Elizabeth Pringle you've got something quite rare– an elderly female protagonist with a distinctive voice and personality – where did she come from?
The idea came from two things mainly. Firstly, Elizabeth grew from a kind of Scottish Presbyterian straight-backed tradition of women that have very restrained faces to the outside world – women that feel that they don't need to explain themselves.
But more personally, I had an elderly great aunt, my aunt Berta, who lived through the same predicament as Elizabeth Pringle but who was a lot more gregarious. Berta was engaged to her beau when she was very young and when he got a chance to farm in America, she pulled out at the last minute. I wanted to explore what happens to a woman when they have that early disappointment – that early massive decision they make – which went against the grain at that time, which was the case for my great aunt. I wanted to explore what makes you decide to stay, what makes you want to stay, what makes you, as we say in Scotland, thurrled to a place. In my trips to Arran I've seen very elderly people and it makes you wonder what their lives were like? I wanted to give Elizabeth a back story, I wanted to give her a rich and full life.
We're reaching the end of a generation of women born during the First World War. Women of that age – in their nineties – we tend to dismiss in the street. They might be wearing a tweed skirt and a coat and have grey hair and we think "It's just another elderly person" – but that elderly person quite probably had the most extraordinary life. People have extraordinary lives, and that's what Elizabeth Pringle represents to me.
I can't imagine or have any idea on how to write a fiction book about politics, it's just not what I'm interested in doing right now.
Memory and catharsis are at the heart of the book – from Elizabeth's remembrances to Martha's attempts to cope with her mother Ana's dementia. The discussion of dementia is particularly affecting – was this born from research or experience?
It's the experience of very close friends of mine, mainly women – it's not exactly what happened, the circumstances are slightly different- but it's the experience of daughters coming to terms with a formerly close relationship with their mother that gradually disintegrates. And that's what dementia is, it's a losing of that person. It's also a very difficult thing for other siblings, and I've seen this among friends, where one is not living in the same space as the mother and daughter. As a result, there's this tendency to be overly bright on the phone – "I bet mum's fine today" – because they can't bear the idea of what's happening to their mother when they're not there. They feel guilty that they're not there, and this is the character of Suzie, Martha's sister, in the book.
The other thing about dementia – and this is what Suzie doesn't understand because she's living abroad – is that it's not good to talk to dementia sufferers on the phone as it's disorientating for them. And you can't contradict them. Contradiction is excruciating for someone with dementia because there's part of them that still thinks "oh maybe I got that wrong", but part of them doesn't understand what's going on.
Another incident in the book, which was based on my experience of friends, is when Anna goes out at three o'clock in the morning to Kelvingrove Art Gallery. She's a woman who loves art and she knows this is a place where she loves, but it's three o'clock in the morning. She sits on the steps in her nightdress waiting for the gallery to open, waiting for one of the staff to arrive. Where I grew up, my friend's mother worked at Kilmarnock Academy, and she had early onset dementia. She walked off in the middle of the night in her nightdress. Nobody could find her. It was terrifying. Now for dementia sufferers these are not unusual experiences, and that's what is so terrifying for people with dementia: they can't be left alone.
Unlike other journalists you've chosen fiction over non-fiction, and personal over political – were you always set on writing a book like this?
I had this story in my head about 10 years ago. I had my synopsis and a very poor first draft which I put away and hoped to tinker with but really didn't have time. To me it was my haven from other kinds of journalism. I can't imagine or have any idea on how to write a fiction book about politics, it's just not what I'm interested in doing right now. I'm absolutely fascinated by architecture, by art, by gardening, by tapestry, but I found myself particularly fascinated by otherness – which was one big driver – which I didn't realise when starting this book. Elizabeth is a woman who has an otherness to her. She doesn't conform, she doesn't explain. Now in years gone past these women would have been regarded as witches. I'm not interested in witchcraft in a spooky sense, I'm interested in it from the way that women who didn't behave in a particular way were ostracized. Elizabeth wasn't ostracized by others, but rather ostracized herself. If you look at great stories – for example Lolly Willowes, and to a certain extent Precious Bane, Robert Louis Stevenson's fantastic short story Thrawn Janet, which I would like to make into a film, and the Salem witch trials – all these things were primarily where men couldn't understand what was going on and the women were condemned. I wanted to reclaim the sense of otherness and to say that women can live their lives in however way they wish, and in the book Elizabeth Pringle does that. In this respect the political becomes the personal.
Which authors did you read as you wrote this book – or did you stay away from reading whilst you were writing?
I had to continue reading other novels when writing myself because I was working on reviews, but I didn't purposefully not read things. I found that reading was a huge reinforcement for me because I was reading the work of brilliant writers, like The Goldfinch by Donna Tartt, which spurred me on. The books that have influenced me- for example Brooklyn by Colm Toíbín, Jane Smiley's A Thousand Acres, Alias Grace by Margaret Atwood, which I love, No Great Mischief by Alistair MacLeod, a wonderful book- these are my comfort books, the books I always return to. And I always return to Scottish fiction as well, like Sunset Song by Lewis Grassic Gibbon and Gordon Douglas Brown's The House with the Green Shutters. Now what I find extraordinary is that Lewis Grassic Gibbon and Colm Toíbín have, as men, written two of the best books from a woman's perspective. Chris Guthrie from Sunset Song is a wonderful heroine and all of the heroines in Brooklyn are terrific. These books acted as reinforcement for reading great fiction when I was writing my first fiction.
Is there another book on the horizon?
There is, and at the moment it's becoming a story about the close relationship between a young woman and her grandfather. I plan for it to jump between Galloway and New York during Hurricane Sandy so, unlike ...Elizabeth Pringle, it's very much contemporary.
Related books
One of the UK's most respected and well-known journalists and broadcasters moves into fiction. The Legacy of Elizabeth Pringle is a multi-generational story of love and belonging set on the Scottish island of Arran.