Blog
Inheritance Books: Kieran Larwood's Choices
Kieran Larwood, the author of our wonderful Children's Book of the Month for June
The Legend of Podkin One-Ear
, heaves open the door to his private library to introduce the texts he'd most want to press into the hands of other writers and readers. His list begins, appropraitely, with one of the most perfectly-realised fantasies of them all.
The lovely people at Waterstones have asked me to write about my 'inheritance books'– the books that shaped my writing, and those I would like to pass on to other writers.
As a children's author, I suppose it's natural that my love of writing and stories came from books I read myself as a child. In fact, I think the profound and lasting effect that my favourite stories had on me is the main reason I ended up writing for children myself. I've never lost that sense of wonder and magic, and am constantly trying to recreate it for children who read my writing.
There were quite a few books that had a real impact on me as I was growing up, so it's a challenge to narrow it down, but here goes:
The Books That Made Me
The Hobbit by J.R.R.Tolkien
I've said quite a few times what a huge influence this story had on me, but it really was life-changing. I was quite an early reader, and had steamed through all of the books we had at home and school, when I found a copy on my parents' bookshelf. I was instantly intrigued by the cover (Tolkien's own watercolour of Smaug) and asked if I could read it. Being only six, my mum gave me a dictionary to help and left me to it. As soon as a saw the map in the front, I was lost to geekdom forever. It was the first time I'd realised that books didn't have to be about the real world, and were, in fact, much more interesting if they weren't. After that, I couldn't get enough fantasy stories and still read them above all else to this day. (And not just ones with maps in the front).
The Dragonbone Chair by Tad Williams
After devouring The Hobbit (not literally) it took me several attempts to get through The Lord Of The Rings, but I did have the perfect introduction to epic fantasy when I stole this book from my brother's shelf at age 12 or so. It is the first in the 'Memory, Sorrow and Thorn' series, and is another example of first class world building. It has a huge scope and deals with quite an array of characters, but it's structured brilliantly, with each chapter ending on a cliffhanger before the next one whisks you off to a different set of heroes facing yet more epic dilemmas. I remember reading it late into the night and yawning through the next day at school, and also waiting for the last volume to be released in an almost Harry Potter-like fervour. It's definitely been a huge influence on me and how I go about structuring my stories, although I don't think I could manage such a huge cast with the sublime skill that Tad does.
The Books I'd Pass On
As for books I would like to pass on, there are many writers that I have discovered since growing up that I admire hugely. I don't tend to read a lot of children's fiction myself, mainly because I have a paranoia that I'll start to be influenced by them and my style will change, or I'll start writing about samurai meerkats just because that's what's 'in' at the moment. But there are some amazing books that I think are invaluable for anyone wanting to write (for children or otherwise).
Assassin's Apprentice by Robin Hobb
I have been an avid fan of Robin Hobb's books for over twenty years now, and am still in awe at how good they are. If you haven't discovered them yet, then I envy you the chance to get stuck in, right from the beginning. You've probably got a good couple of years of solid reading ahead of you, though.
She has written several trilogies, all set in the same world. Most of them are about Fitzchivalry Farseer and his services to the royal family of the Six Duchies, but there are others about different parts of her world, and they are all connected with an overall story arc about dragons and their return from extinction. Words can't really express how vivid her characters are, or how convincing and engaging the fantasy world she has built is. Just grab a copy and start reading.
Station Eleven by Emily St John Mandel
This isn't really a fantasy book, but a post-apocalyptic one, mixed with flashbacks to our contemporary world. I've included it because the writing is so beautiful, and the structure of interweaving narratives is perfectly handled. I love everything about it: characters, descriptions, dialogue. I've read it several times, and if I haven't written anything for a few months I read it again, just to try and absorb some of the skill and simple effectiveness of the writing.
The Year of Our War by Steph Swainston
This definitely isn't for children, but it's an example of how refreshing and exciting great fantasy writing can be. As much as I love the genre, it can sometimes get a bit bogged down by elves, orcs and barbarians in loincloths. This book upends all that with a drug-using, rockstar of a hero called Jant who is one of the immortal Circle that serve the Emperor. He is doing battle against giant insects that are consuming their world, whilst coping with the politics of being immortal and his addiction to a drug that can literally make you shift realities. The whole series of books typifies everything I love about fantasy writing: how there is no limit but imagination, and yet even in the midst of an incredible new setting, characters deal with very real issues in relatable ways that are just as intriguing as any story set in the 'real' world.
I hope you enjoy my choices. There will be a test at the end. Happy reading and writing, everyone!
Kieran Larwood is the author of The Five Realms: The Legend of Podkin One-Ear, Waterstones Children's Book of the Month for June 2017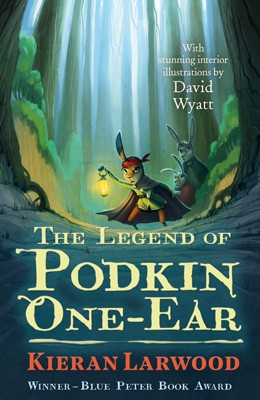 Paperback
10+ in stock
Usually dispatched within 48 hours
Watership Down meets Redwall in this meticulously imagined portrayal of warrior rabbits that sees a feckless young bunny assume the mantle of his family's protector when the dreaded Gorm attack.
Image Credit: Eugenio Mazzone/https://www.flickr.com/photos/worldsdirection/
×
Download the Waterstones App
Would you like to proceed to the App store to download the Waterstones App?
Reserve online, pay on collection


Thank you for your reservation
Your order is now being processed and we have sent a confirmation email to you at
When will my order be ready to collect?
Following the initial email, you will be contacted by the shop to confirm that your item is available for collection.
Call us on or send us an email at
Unfortunately there has been a problem with your order
Please try again or alternatively you can contact your chosen shop on or send us an email at