Blog
Photo: All images courtesy of the Sokolov Family/Heather Morris
Indelible Marks: Discovering the Extraordinary Story of The Tattooist of Auschwitz
A moving chronicle of love, endurance and survival against the odds, The Tattooist of Auschwitz is a novel based on an extraordinary true story; the story of Lale and Gita Sokolov. Here, in an exclusive article for Waterstones, author Heather Morris discusses the man she knew, his incredible history and the challenge of bringing to life a love story unlike any other.
It was early December 2003, summer in Melbourne, Australia, when I drove to meet Lale Sokolov. The streets were festooned with Christmas decorations but I was practicing how to say 'Happy Hanukah' as I prepared to meet an elderly Jewish man I was told had a story that might just be worth telling.
He opened his door to me guarded on each side by a dog. The word 'come' muttered as the three of them turned and marched into a nearby room and I was instructed to sit at a dining table. The grief of having lost his wife of over fifty years two months earlier was etched on his face. His dogs too, looked forlorn.
At that first meeting, I heard enough to say "can I come back next week".
I did and for several months I visited Lale two or three times a week. I was getting his story out piecemeal, often told at bullet pace with limited coherency and with no flow or connection to the many, many stories he told. But it didn't matter. Sitting with him and the kiddoes, (his dogs, who had decided I was okay) listening to what was essentially the ramblings of an old man, was spellbinding. The twisted convoluted story I was starting to make sense of, the significance and importance of which was beginning to dawn on me.
For six months I had no structure, no beginning, no end. What I had amounted to vignettes of Lale's time in Auschwitz Birkenau. The one thing that was immediately clear to me was the love story that began in July 1942 when Lale held the hand of 18 year old Gita. He looked into her eyes, her soul, and fell deeply in love with this young girl, her head shaven, dressed in rags, trembling with fear as he tattooed the number 34902 onto her left arm.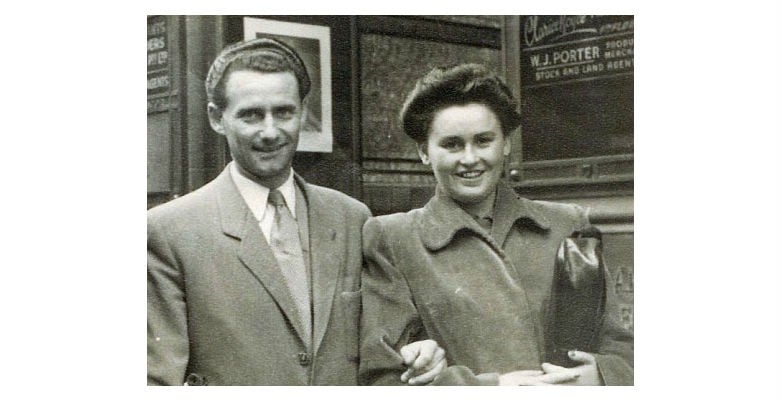 Lale and Gita Arrive in Sydney. Image courtesy of The Sokolov Family/Heather Morris
Initially I tried to be professional about hearing his story but I very quickly discovered that I got more of the deep emotional aspect of events sitting in a café, or having a meal after a trip to a movie. If this beautiful old man was going to fully open up to me he had to get to know me as a person.
On many occasions my writing and his past didn't enter our conversations; our shared love of sport often the dominating topic. I cannot stress how important this approach was in getting to know Lale well enough for him to reveal to me secrets and details of his life in the camp, unspoken for decades.
Lale was taken with my writing his story as a screenplay and often got side-tracked by "who should play me, who should play Gita"? He thought Brad Pitt was, like himself, a good looking boy and a potential candidate, Natalie Portman the only female he would consider for Gita. Then I took him to see The Notebook. The first time Ryan Gosling came on the screen he stood up in the theatre and loudly proclaimed he was the one, "he should play me". He attempted to encourage the other patrons to agree with him and was given a round of applause.
Lale and Gita. Image courtesy of The Sokolov Family/Heather Morris
I originally wrote the story of The Tattooist of Auschwitz as a screenplay, this was the medium I had studied and felt comfortable with. It was optioned and had success in screenwriting competitions in the US. Words of wisdom were finally spoken to me by my sister-in-law – "for goodness sake write it as a novel". And so I did. While Lale never lived long enough to see the novel, he did read several drafts of the screenplay and was very happy with the way I told his and Gita's story.
Squirreled away for a month, in a cabin on Big Bear Mountain in California in the middle of winter, I adapted my screenplay into a novel. With a clear structure before me, I was surprised how quickly I adapted to this form of storytelling.
I quickly determined that I wanted to tell the story simply, with Lale and Gita as the focus. To do this I took the genre of my story into that of historical fiction. I wanted to weave some of the emotional and relationship elements into the factual events. Professional researchers had confirmed that history and memory in this case waltzed perfectly in step. I got to choreograph my story to provide, I hoped, compelling reading.
As with the screenplay, I was faced with certain elements told to me by Lale that I had to decide whether or not to include or leave out. I very easily decided the depth of the horrors Lale had witnessed over and over again, particularly as they related to what he had seen with Josef Mengele, would be curtailed. I was, after all, NOT telling the story of the Holocaust, but a Holocaust story – Lale and Gita's story. I did spend considerable time deciding how to write the relationship between Lale and his SS minder. In the end I chose to tell it the way it happened, knowing that this could potentially cause readers to question the morality of him acting as a friend to his enemy.
He wasn't his friend. Lale was smart enough to know how to manipulate this man into thinking they were friends, knowing that at any time his minder could shoot him dead. No questions asked. No consequences. Just one more dead Jew.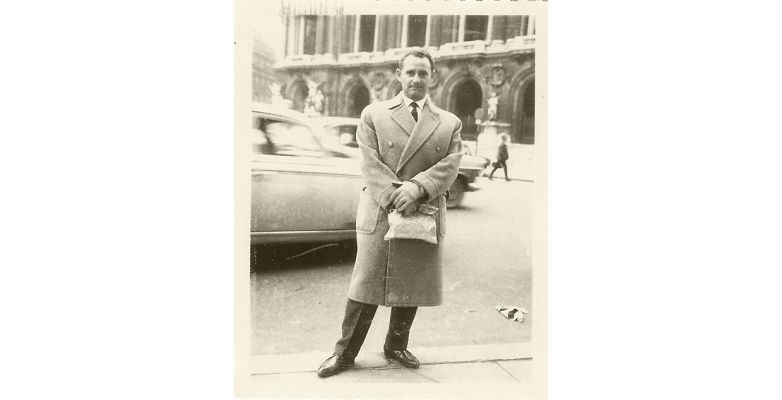 Lale: Image courtesy of The Sokolov Family/Heather Morris
×
Download the Waterstones App
Would you like to proceed to the App store to download the Waterstones App?
Reserve online, pay on collection


Thank you for your reservation
Your order is now being processed and we have sent a confirmation email to you at
When will my order be ready to collect?
Following the initial email, you will be contacted by the shop to confirm that your item is available for collection.
Call us on or send us an email at
Unfortunately there has been a problem with your order
Please try again or alternatively you can contact your chosen shop on or send us an email at