Blog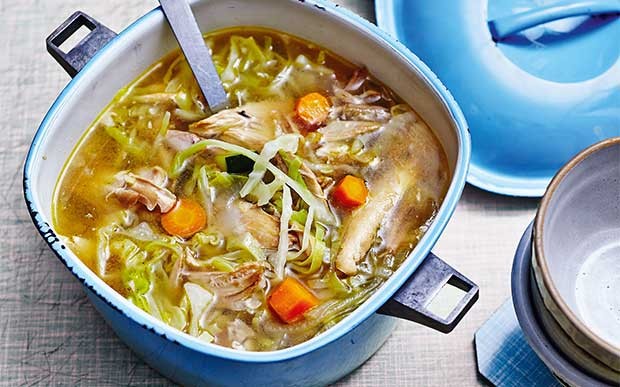 Recipe: Hemsley & Hemsley's Chicken Tinola
The Hemsley sisters share a recipe from their newest cook book, Good + Simple, as a tasty example of their own brand of simple, revitalising food.
The Hemsley sisters' mission is simple: to help us all look and feel great by showing us how to prepare natural and delicious food. Passionate, but not classically trained, these self-titled 'home cooks' are intent on making 'eating healthily' an enjoyable and accessible concept.
Their story began in 2010 with a holistic catering service for clients such as Louis Vuitton and Chanel; in other words they created food that not only looked vibrant and never scrimped on taste, but that would enhance health, boost energy, and lift moods too.
The first Hemsley + Hemsley cook book, The Art of Eating Well, was a huge success worldwide and in their new book, Good + Simple, they set out the '15 pillars' or central principles of a great diet.
Straight-forward to put together, as well as brimming with flavour and nutrients, all their recipes are free from refined sugar, hydrogenated vegetable oils, gluten and grains too.
"Our meals are based on natural ingredients, including quality meat, fish, dairy, and a rainbow of seasonal fruit and veg, as well as a range of well-prepared pseudocereals, pulses, nuts and seeds." Hemsley+Hemsley
Ultimately, their cookery is an expression of the philosophy that what you eat should make you look and feel fantastic.

The following recipe features in Good + Simple.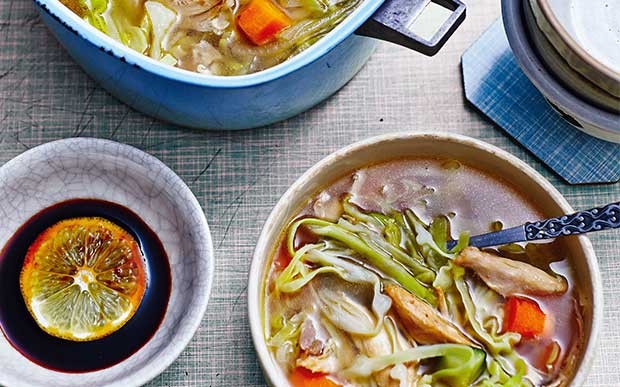 Introducing Chicken Tinola, a favourite dish of the Philippines and a taste of our childhood. This soup of poached chicken, and plenty of onions, garlic and ginger is great for restoring one's health — the homemade chicken broth is key, so make sure you have a batch ready to go.You can then save the carcass or bones from the poached chicken for your next batch of broth. Serve with a squeeze of lemon juice for an immuneboosting dish that is flavoursome, soothing and warming.
SERVES 6


FOR THE CHICKEN TINOLA
2 tbsp ghee or coconut oil
3 large onions, diced
8 garlic cloves, diced
a thumb-sized piece
of fresh root ginger
(about 40g) – unpeeled if
organic – finely diced or
grated
1 large chicken or 6 large
chicken thighs
6 large carrots, chopped
into medium chunks
2 litres bone broth
(page 300) or water
3 large courgettes,
chopped into medium
chunks
1 large green or white
cabbage, shredded
sea salt and white or
black pepper


FOR THE TAMARI LEMON
DRESSING
4 tbsp tamari
4 tbsp lemon juice
a large pinch of white
pepper (or black)


1. Heat the ghee or coconut oil in a large saucepan
(large enough to fit a whole chicken, if using) over a
medium heat and gently sauté the onion, garlic and
ginger until soft and translucent, but not browned.


2. Add the chicken and carrot to the pan and pour
over the bone broth to cover. Bring to the boil,
then reduce the heat immediately and simmer for
30 minutes or until the chicken is cooked through.


3. Remove the cooked chicken from the pan and add
the courgette. Simmer for 10 minutes. Meanwhile,
shred the chicken into large pieces using a knife and
fork, return to the pan and season.
4. Stir through the shredded cabbage and turn off
the heat.


5. Mix the ingredients for the tamari lemon dressing
together in a small bowl. Serve alongside the tinola
and let everyone add a teaspoon or so to taste.


Related books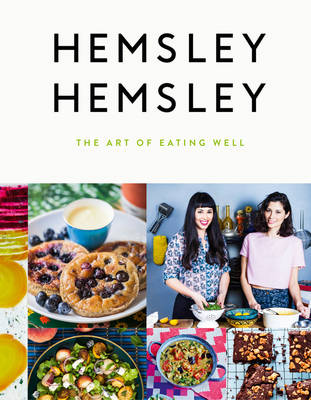 The authors' philosophy is simple: a healthy gut leads to a healthy body and mind, and a better, happier you. This book includes over 150 recipes - all of which are free from grain, gluten, refined sugar, high starch and are alkaline friendly. It also offers advice on ingredients, techniques, equipment, meal plans, juicing, and packed lunches.
Including recipes from Channel 4 series Eating Well with Hemsley + Hemsley, this title is based on principles of healthy home cooking built around gut health, whole foods and affordable ingredients. It also features 140 new recipes - reworked classics, prepare ahead dishes, fast suppers with leftovers for packed lunches, and desserts and bakes.