Blog
Grantchester: from page to screen
James Runcie, author of the Granchester Mysteries, explains a little of the series' origins as well as the much-loved main character's translation onto the small screen.
The following is an edited extract of the author's exclusive afterword to the current Grantchester Mystery: Sidney Chambers and the Forgiveness of Sins.
I was born in Cambridge in 1959 and am the son of a clergyman so it's not hard to work out the source of inspiration. I think what is startling is how rapidly and radically British society has developed since the 1950s and I thought it might be interesting to combine that changing British social history with murder.
I was also intrigued by the possibility that one of the reasons for the popularity of crime fiction in the last fifty years might be due to the decline of traditional Christian worship. A hundred years ago people would recite the Book of Common Prayer on a daily basis and attend church regularly to contemplate the moral implications of birth, love, sin and death. Now, attendance has fallen and human beings search for meaning in alternative places (art galleries, yoga retreats, museums and concert halls). Perhaps, similarly, crime fiction is another replacement for religion; a secular replacement, a disguised way of thinking and talking about death. Readers can contemplate their fears and their mortality within the pages of a reassuring narrative of justice – rather than reach for the comfort of a loving God in whom they find it hard to have faith.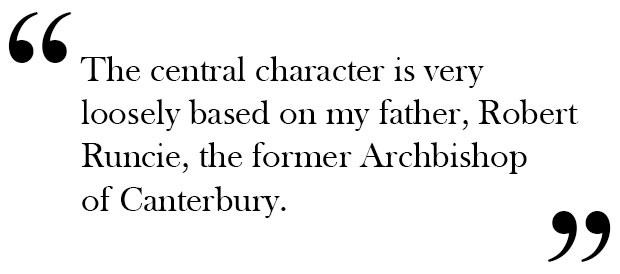 A period setting allows for a re-examination of the change from a world where the Anglican Church was a central part of the community to its apparent contemporary marginality. The start of the series in 1953 gives both writer and reader an opportunity to think about the consequences of illegality in an age when the death penalty was still in evidence, career options for women were limited, there was no contraceptive pill and people were prosecuted for homosexuality.
Sidney Chambers is not gay, but he has friends who are and who are terrified of being found out. Unlike modern times, in which people are all too keen to tell you all about themselves as soon as you meet them, social behaviour in the 1950s was more about tact, discretion, and, if one can use a fantastically old-fashioned idea, manners. The idea of asking too many direct questions was considered inordinately rude but, as a detective, this is what Sidney has to do, working in the gaps between the spoken and the unspoken, exploring the differences between what people say and what they actually mean.
The clergy are privy to many secrets in the course of their lives and notice a lot more than they let on, and I thought it could be interesting to follow one such cleric; a man who was reluctantly drawn into the world of crime and was then thrown into a series of dilemmas, often involving a conflict between respecting a confidence and telling the truth. Many of the stories focus on moral choices; whether it is the revelation (and betrayal) of a secret, the nature of forgiveness, or a troubling division of loyalties.


The central character is very loosely based on my father, Robert Runcie, the former Archbishop of Canterbury. Born in the same year, 1921, Sidney Chambers is an unconventional clergyman. Gentle, without being weak (like my father, he fought in the Second World War with the Scots Guards), a lover of whisky, warm beer and hot jazz, he can go where the police cannot. While offering comfort and advice to his parishioners at crucial moments in their lives (birth, marriage, sickness and death), he is often the recipient of unexpected, and sometimes criminal, confessions that lead him to investigate the darker depths of the human heart.

There have, of course, been clerical detectives in the past, most famously G.K. Chesterton's Father Brown, but, as a Roman Catholic, Father Brown is not such an obvious part of the British establishment. More importantly, he has limited opportunities for romance. In contrast, a young red-blooded Church of England vicar can get into all manner of amorous escapades.
The most important thing I wanted in the ensuing television series Grantchester (an adaptation of the first book, Sidney Chambers and the Shadow of Death) was that the central character should be sexy. So, the producers cast rising star James Norton, a tall, charming man with plot loads of personality, a degree in theology for goodness sake, and cheekbones so burnished he needs Brasso to polish them.

My favourite tweet after the first episode said simply: 'JUST TAKE YOUR TOP OFF AND TELL US WHO DID IT VICAR.'

×
Download the Waterstones App
Would you like to proceed to the App store to download the Waterstones App?
Reserve online, pay on collection


Thank you for your reservation
Your order is now being processed and we have sent a confirmation email to you at
When will my order be ready to collect?
Following the initial email, you will be contacted by the shop to confirm that your item is available for collection.
Call us on or send us an email at
Unfortunately there has been a problem with your order
Please try again or alternatively you can contact your chosen shop on or send us an email at