We regret that due to the technical limitations of our site, we are unable to offer eBooks or Audio Downloads to customers outside of the UK.
For further details please read our eBooks help.
Blog
"Good history voids cliché."
Novelist Greg Baxter explains how moving to Berlin allowed him the chance to discover the powerful, deceptive simplicity of history well-told.
I moved to Berlin in the summer of 2011; it was the kind of destination I'd dreamed about for many years (I was born and grew up in Texas). I thought the place might immediately inspire me to work, but for a year I wrote nothing. The year after that, I wrote my new novel, Munich Airport. It's been almost a year since I finished it, and I've written nothing, again. This is only mildly noteworthy because I used to be the kind of person who wrote every day. And I used to be the kind of person who believed it was necessary for a writer to write every day.
From 2003 to 2011, I lived and worked in Dublin. I did a lot of different things. I taught in the evenings. I edited a literary journal. I organized literary events. But my main job, nine to five, five days a week, was working as a journalist. It was a weekly newspaper, but the staff was small, so we were responsible for a lot of copy – not just regular stories but breaking news online, features, interviews, opinion pieces, blogs and… advertorials.
In addition to my work as a journalist (and my teaching and everything else), I was writing for myself, and I wrote every day. I woke up at 5am to write. I wrote on the bus into work. I wrote during my lunches. Yes, I wrote a lot during my nine-to-five workday, as well. I wrote in the hour I had between my day job and my night job. I wrote after dinner, and late into the night. I couldn't quit my day job (nor any of my jobs), no matter how much I wanted to: I was in considerable debt following a house purchase and end of the Celtic Tiger.
When I got to Berlin, I felt sort of diseased by my experiences in reporting.
But I continued to write for myself, even when I was exhausted, even when I'd had just a few hours of sleep and woke at 5am and part of my brain was saying, "Push the snooze button", because a much bigger part of me was saying, "Get up, get up, or all you will have in your life will be stories, opinion pieces, interviews, and advertorials".
I published my first book in 2010, my second in 2012, and now my third is out. And now, when I am not writing books, I write nothing. I wait.
Most of my memories of Dublin are overwhelmingly positive, but I often look back on my work in journalism with disbelief – and regret, even under my financial circumstances, that it took so long to leave. I was never suited for it. There are fine, committed journalists out there in the world. I was in the wrong field.
When I got to Berlin, I felt sort of diseased by my experiences in reporting. More than anything, the reporting had contributed to my sense of burnout.
Moving to Berlin, and changing the pace of my life, gave me an opportunity to start readings books I'd always wanted to read but never had the time to in Dublin: massive history books by eminent historians – particularly on subjects that don't sound self-evidently thrilling, such as: the Thirty Years' War, colonization methods in the Middle Ages, Lithuania and Poland, pre-Cold War eastern Europe, the Merovingians, and so on.
One of the advantages to history is the way it is uniquely resistant to theory; it has an inbuilt defense against vacuity – the past. Whereas in literature or anthropology or visual arts, one can make oneself sound convincing and educated and serious by referring, for instance, to a "person" as a "singular embodied mode of being", in history these exclusionary rhetorical gymnastics just seem silly.
The language of history is solid and plain, but not at all simple or cold. Because it has no use for style, history – good history – voids cliché.
Good history teaches you to think more than it urges you to understand. A good historian, because he or she does not wish to make you feel, refuses to succumb to the temptation to enrage, to incite. He or she eschews metaphor. He or she more often seeks to proffer knowledge rather than wisdom. Instead of jumping to conclusions, he or she says, "Not so fast".
I had thought about proposing a list of history highlights from my last few years in Berlin. But there are simultaneously too many and too few – by that I mean I have read more than several history books I'd want to recommend, but I've also read such a small fraction of history books that probably ought to be recommended.
So I'll just pick two that I've enjoyed recently, in the hopes that picking two will be a more effective recommendation than a dozen anyway. One was hugely instrumental in the composition of my new novel. It's a history of the Middle Ages, by Robert Bartlett. It's called The Making of Europe: Conquest, Colonization and Cultural Change 950-1350.
The second, and probably more exciting option for those more inclined toward history that's directly relevant to major stories in the news today (in this case the Ukraine), is Bloodlands: Europe Between Hitler and Stalin, by Timothy Snyder.
Greg Baxter, for Waterstones.com/blog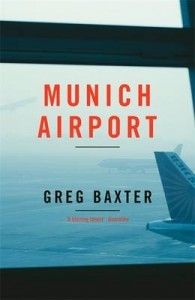 You can Click & Collect Munich Airport from your local Waterstones bookshop, buy it online at Waterstones.com or download it in ePub format