Blog
Four Top Weekend Recipes from The Curry Guy
Just in time for the weekend, we're serving up a mouthwatering banquet of homemade curries, courtesy of Dan Toombs, AKA
The Curry Guy
. Published this month and already topping Waterstones' Cookery bestseller lists, Dan's book reflects the best recipes from British Indian restaurants around the country, refined and perfected for home cooks. A chance to turn the best take-away food into home-cooked favourites you can tweak to make your own.
The Curry Guy by Dan Toombs (Quadrille, £12.99) Photography © Kris Kirkham
CHICKEN PAKORA
Chicken Pakora
SERVES 2 OR 4 AS PART OF A MULTI-COURSE MEAL
Chicken pakora is served in so many different ways at restaurants across the UK. The chicken breast meat can be cut into long strips or simple bite-sized cubes that are perfect served as finger food. Often, the meat is dyed bright red to make it look spicy hot, although usually it's not very spicy at all.
After trying many different possibilities, I decided to revisit my friend Bob Arora's recipe from Sachins in Newcastle. It's simple but the spices all work together so well. Bob only recommends 1⁄2 tsp chilli powder, but I added a whole teaspoon because I like my pakoras on the spicy side. I'll leave that one up to you.
I like to serve this Indian fried chicken with coriander, garlic and chilli raita. You might like it with that sweet-and- sour red sauce that pakoras are often served with (I have included a nice one on page 144 of my recipe book) It's so good!
The chicken pakoras in the accompanying photo were made by cutting the chicken into very small cubes and then squeezing them together in the batter. These really went down a treat once the photo was taken.


250g (11⁄2 cup) boneless chicken breast, cubed or sliced
1⁄2 tsp ground turmeric

1⁄2 tsp ajwain (carom) seeds

3⁄4 tsp garam masala
1⁄2–1 tsp chilli powder, to taste
3⁄4 tsp garlic and ginger paste
2 tbsp finely chopped coriander (cilantro)

White of 1 small egg

65g (1⁄2 cup) chickpea (gram) flour

Sparkling water

Rapeseed oil, for deep-frying
Salt

Lemon wedges, onion rings and lettuce, to serve


Place the chicken in a large bowl and mix with the turmeric, ajwain, garam masala, chilli powder and a little salt so that the meat is evenly coated. Let this sit for about 20 minutes.
Stir in the garlic and ginger paste, coriander (cilantro) and the egg white. Now start adding the chickpea (gram) our a little at a time, coating the meat, adding a splash of sparkling water from time to time. Continue until all the flour is used up and 
it has the consistency of ketchup.
Heat enough oil for deep-frying in a deep, heavy-based pan or deep-fat fryer, to between 170 and 180°C (338–356°F). Using a wire mesh spoon, slowly lower the pakora into the hot oil. You may need to fry in batches and cooking times will of depend on the size of your chicken chunks, but it should only take a few minutes to cook through.


ANA CHINGRI
(PRAWN WITH PINEAPPLE)


Ana Chingri
SERVES 2 OR MORE AS PART OF A MULTI-COURSE MEAL
This is a flavour combo not to be missed. The spicy pineapple chutney teamed with the prawn curry just plain gets it. I like to serve Ana Chingri in the hallowed-out pineapples just as Chef Eshan 'Mo' Miah suggested I do. I'm not one to pass up good advice and I've been serving this curry in pineapples ever since. Feel free to use bowls though.


6 garlic cloves, unpeeled
1 pineapple
1/2 tsp roasted cumin seeds
4 fresh green chillies, very finely chopped
4 tbsp chopped coriander (cilantro), plus extra to serve
2 tbsp rapeseed oil
1 tsp mustard seeds
1/2 onion, finely chopped
1 tbsp garlic paste (see p18)
2 Indian bay leaves (cassia leaves)
1 tsp ground cumin
1 tsp chilli powder
.1/2tsp ground turmeric
1 tomato, chopped
2 tbsp tomato purée (see p19)
500g (1 lb) raw prawns (shrimp), shelled and deveined
Juice of 1 lime
Salt


Roast the garlic cloves directly over a gas hob flame on a skewer or in a dry frying pan, turning them as they roast, until blackened all over. Set aside to cool.
Using a large, sharp knife, cut the pineapple in half lengthways and scoop out most of the flesh from the centre. Place the scooped out pineapple in a blender, add the cumin seeds and 1/2 tsp salt, and squeeze the roasted garlic out of their skins into the blender.
Blend to a paste then transfer to a bowl.
Add the fresh chillies and chopped coriander (cilantro) to the pineapple paste and mix well. Reserve 2 tbsp for the curry and store the rest in the fridge until ready to serve.
Heat the oil in a large saucepan over a high heat and add the mustard seeds. They will begin to pop. When they do, reduce the heat to medium-high and add the onion along with a pinch of salt. Fry until translucent and soft, then stir in the garlic paste and fry for a further 30 seconds.
Add 4 tbsp water, the bay leaves, cumin, chilli powder, turmeric and the reserved 2 tbsp pineapple paste. Cook for a further 2 minutes then add the chopped tomato and tomato purée.
Throw in the prawns (shrimp) and stir into the sauce until cooked through. Check for seasoning and spoon into the hollowed-out pineapples. Top with chopped coriander and a squeeze of lime juice, and serve with the spicy pineapple paste, and some homemade naans or chapatis.
CHANNA DHAL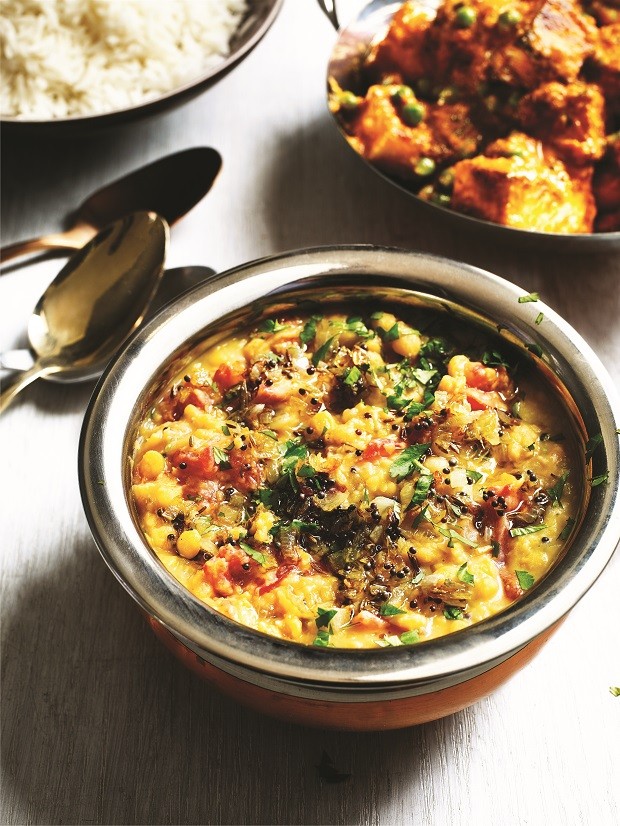 Channa Dhal
SERVES 4 OR MORE AS PART OF A MULTI-COURSE MEAL
This recipe was inspired by a visit to Prashad in Bradford. The head chef Minal Patel showed me her recipe for channa dhal and it was amazing. She used four different types of lentils, cooked separately then blended together with all the other ingredients.
Usually, the channa dhal you get at a curry house is made simply from channa lentils, so I've simpli ed Minal's recipe a little for you here. If you like channa dhal, you're going to love this one.


300g (12⁄3 cups) channa dhal, soaked in water for 30 minutes
About 1 tbsp rapeseed oil or seasoned oil
3 tbsp ghee

1⁄2 tsp brown mustard seeds

1 tsp cumin seeds

Pinch of asafoetida

1 tsp ground turmeric

1⁄2 onion, nely chopped

5 garlic cloves, cut into slivers
1 tbsp garlic and ginger paste

1–5 fresh green bullet chillies, to taste, finely chopped

3 tomatoes, roughly chopped
1 tbsp ground coriander

1⁄2 tsp ground cumin

1⁄2 tsp garam masala
Salt

Chopped fresh coriander (cilantro), to serve
Drain the lentils and rinse in several changes of water, then place in a saucepan with 700ml (3 cups) fresh water. Bring to a boil and drizzle the oil on top to stop the water from foaming over the top.
Reduce the heat and simmer until the lentils are soft but with just a little bite to them, 45–60 minutes, skimming off any foam that does form. Do not strain; allow the water to reduce down.
Meanwhile, in a separate pan, melt the ghee over a high heat. When it is visibly very hot, toss in the mustard seeds. They will begin to pop. Reduce the heat to medium-high and add the cumin seeds and asafoetida. Temper in the oil for about 30 seconds and then add the turmeric and onion and fry until soft and translucent, 3–5 minutes should do the job. Stir in the slivered garlic, garlic and ginger paste and chillies, and cook, stirring continuously, for another 30 seconds.
Returning to the dhal, reduce the heat to medium and stir in the chopped tomatoes, coriander and cumin, and bring to a happy simmer. Keep warm.
You can leave the dhal as it is once cooked, or whisk or blend until creamy. Stir the onion and ghee mixture into the lentils and sprinkle with garam masala. To serve, add salt to taste and top with a little chopped coriander (cilantro).


LAMB NIHARI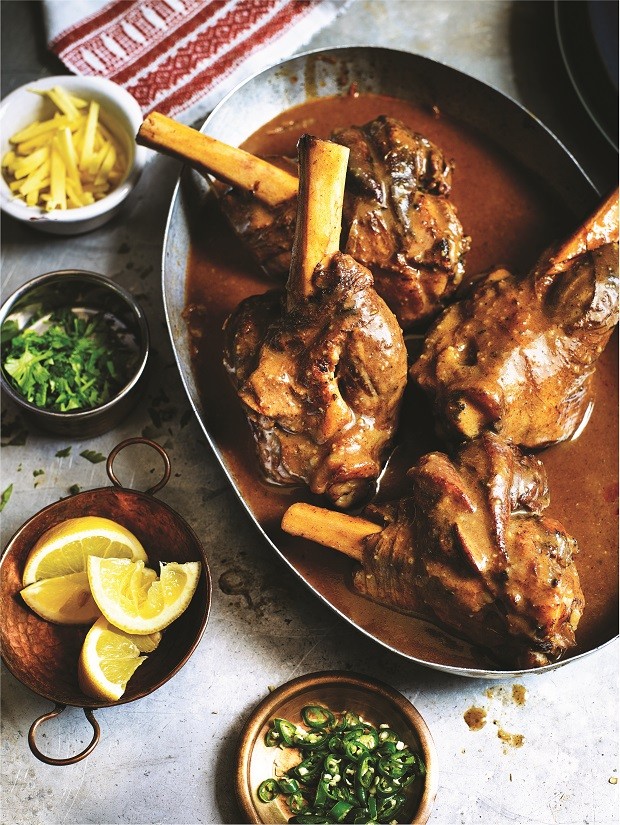 Lamb Nihari
SERVES 4
This recipe was sent to me by my friend Usman Butt – executive chef of Imran's in Birmingham's Balti Triangle. If you're a lamb curry fan, this is one you've simply got to try. The sauce is quite mild and has a delicious avour that when teamed with the tender lamb shanks is about as good as it gets.
Lamb nihari is a fantastic all-round option for entertaining. Your guests can add chopped green chillies, lemon juice, julienned ginger and fresh coriander (cilantro) to taste at the table. If you want the curry to be very hot, add loads of chillies, or simply go for some of the less spicy options to produce the perfect curry for you.


4 lamb shanks, about 2kg (41⁄2 lb) in total
125ml (1⁄2 cup) rapeseed oil or seasoned oil
1 whole nutmeg, crushed into smaller pieces
1 tbsp mace blades
2 tbsp fennel seeds
3 Indian bay leaves (cassia leaves), shredded

2.5cm (1 in) piece of cinnamon stick or cassia bark, broken into small pieces
1 tsp black peppercorns
1 tsp nigella seeds (black onion seeds)

1 tsp cloves
2 tsp cumin seeds

1 tsp paprika

1 tsp hot chilli powder

1 tsp ground ginger

40g (11⁄2 oz) unsalted butter
1 onion, sliced into rings

2 generous tsp chapatti
GARNISHES FOR THE TABLE
4 tbsp (or more) fine julienne of ginger
2–3 hot fresh green chillies, finely sliced
Handful of coriander (cilantro) leaves
Lemon wedges


Place the lamb shanks on a plate and rub them all over with 1⁄2 tsp salt and 1 tsp of the oil. Set aside while you prepare the spice masala.
This is a raw spice masala so no need to roast the spices rst. Put the nutmeg, mace, fennel seeds, bay leaves, cinnamon, peppercorns, nigella seeds, cloves and cumin seeds in a spice grinder and grind to a ne powder. Stir in the paprika, chilli powder and ground ginger.
Melt the butter in a large saucepan with a tight-fitting lid over a medium heat. Add the onion rings and fry for about 5 minutes until soft, translucent and lightly browned. Transfer to a plate with a slotted spoon and set aside.
Now pour the remaining oil into the saucepan and brown the lamb shanks for about 2 minutes.
Add the browned onions coated with the spices and pour in 1.2 litres (43⁄4 cups) warm water.
Arrange the lamb shanks in the saucepan, cover and simmer over a low heat for 3 hours, basting and turning the shanks every 30 minutes. After 3 hours, carefully lift out the shanks into a large, warmed serving bowl. Skim off as much excess oil from the cooking liquid as possible from the sauce and discard.
Mix the chapatti flour with 4 teaspoons water to make a smooth paste. Whisk the paste into the sauce and simmer for 5–6 minutes to thicken. Check for seasoning, add salt to taste and then pour the sauce over the meat in the serving bowl. Serve the garnishes 
in little bowls on the table to add to the lamb nihari as you like.


GARLIC AND GINGER PASTE
MAKES 15 GENEROUS TBSP
Garlic and ginger paste is used in almost every curry. It's so easy to make and tastes far better than any commercially available alternative. If you would like a little more control over the amount of garlic and ginger that go into your creations, make a separate garlic paste and/or a ginger paste in the same way.
150g (51⁄2 oz) garlic, chopped
150g (51⁄2 oz) ginger, peeled and chopped
Place the garlic and ginger in a food processor or pestle and mortar and blend with just enough water to make a smooth paste. Some chefs finely chop their garlic and ginger instead, which is a good alternative to making a paste. Store in an airtight container in the fridge for up to 3 days and use as needed. If you're planning a curry party, go ahead and get this job ticked off early.
I often make larger batches of pastes and freeze them in ice cube trays. Frozen cubes can be transferred to airtight plastic bags in the freezer, ready for when you get that curry craving. Be sure to let them defrost a little first.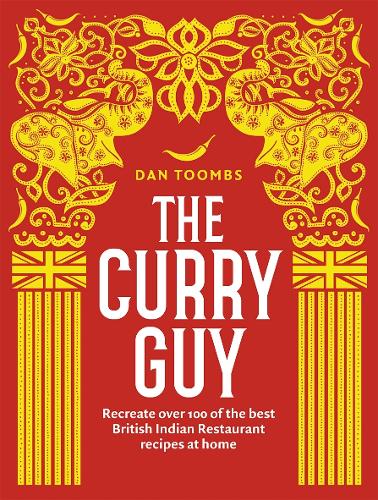 Hardback
Usually dispatched within 48 hours
The definitive guide to creating British Indian Restaurant quality curries at home. All of these recipes are easily achievable in any kitchen, and are full of flavour, spice and fun.
×
Download the Waterstones App
Would you like to proceed to the App store to download the Waterstones App?
Reserve online, pay on collection


Thank you for your reservation
Your order is now being processed and we have sent a confirmation email to you at
When will my order be ready to collect?
Following the initial email, you will be contacted by the shop to confirm that your item is available for collection.
Call us on or send us an email at
Unfortunately there has been a problem with your order
Please try again or alternatively you can contact your chosen shop on or send us an email at