We regret that due to the technical limitations of our site, we are unable to offer eBooks or Audio Downloads to customers outside of the UK.
For further details please read our eBooks help.
Blog
Film review: The Hundred-Year-Old Man Who Climbed Out the Window and Disappeared
The film version of The Hundred-Year-Old Man Who Climbed Out the Window and Disappeared is what it is - a masterpiece of comic storytelling.
How do you go about creating a film of a book which has sold over 3 million copies worldwide? You probably want it to be as accessible as possible to the people who've already read it, as well as being able to easily attract millions more. So, you probably want a Hollywood studio, a Hollywood star, and a film in English - let other people, those who can't be bothered to learn the language that all the big films are in anyway, suffer the subtitles. And you're probably onto a winner, for the first week or so.

The alternative? Well, you could just create a film of the book and let it speak for itself. You could make a film which is faithful to its source material to the point of improving on it; a universally relatable film which will be loved for its charm, wit, beauty and story-telling. You could try to make a film like Felix Herngren's The Hundred-Year-Old Man Who Climbed Out the Window and Disappeared.
Jonas Jonasson's story of centenarian Allan Karlsson's bid for freedom from the nursing home he has found himself in, and his subsequent mad-cap adventures involving SEK50 million, a biker gang and an elephant is not a straightforward narrative for a film. The book leaps around in time as Allan is inadvertently tangled up in major world events - both fighting with the International Brigade and saving General Franco's life; helping Oppenheimer create the atom bomb; becoming a double agent in the Cold War; and even dancing with Stalin. Director Herngren's lightness of touch when shifting us back and forth from the past to the film's present succeeds by embodying the central message of the book, "Things are what they are, and whatever will be, will be." It's this philosophy which allows Allan to drift onto the world stage with such ease, and equally for others, including not only other characters but we as readers and as audience members, to follow him.

The strength of the writing - both in the book and in the screenplay - is its success in avoiding the pitfalls of schmaltz which might just make it Forrest Gump in Swedish. The present day action - where people are beaten up, threatened, killed and pursued - is surprisingly gritty. This is a film which features not only Violence but Language - (and both with Capital Letters). That is not to say it is gratuitous; this grounding of the fantastical in a (sort of) realism allows us both to care more about the survival and success of the characters as well as giving weight and believability to the flashback vignettes.

Without Robert Gustafsson's portrayal of Allan Karlsson though this would all fall flat. His blithe detachment and expert comic timing create a character who you laugh along with, laugh aloud at and shout cheers of support for from his first appearance. There's plenty of fantastic makeup effects employed to age him up and down accordingly, but his skill as a stage actor is apparent in his easy physicality which effortlessly convinces the audience that Allan is 100, 45, 30, then 75 years old. He is apparently known as "Sweden's Funniest Man", but it's his quiet talent for a mutter, a glance, or a head down shuffle which sell most of the humour and humanity of the character.

It's been a while since a foreign language film has been a major international hit - perhaps since Jean-Pierre Jeunet's Amelie in 2001 - but the humanity at the core of The Hundred-Year-Old Man Who Climbed Out the Window and Disappeared deserves to give it similar success. It's a definitive adaptation by a production team who believe in the book and its characters - I live in fear that Hollywood will see a need to remake it as with the Swedish The Girl With The Dragon Tattoo movies.

This isn't a "magical" film like Amelie though- though it will no doubt be described as such in other reviews, if it hasn't been already. It is however a life-affirming statement of what might happen when we accept the uncontrollable nature of our existence. From the beginning, Allan has no plan - he knows better than to bother making one - and just seeks to be happy. Yesterday's mistakes don't matter now, there's no point in worrying about what might happen tomorrow, and don't let fretting over either ruin your day today. But, if you do have to make a plan, you could do worse than watch this genuine and joyous movie.
Related books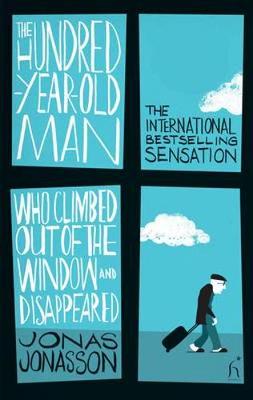 On his one-hundredth birthday Allan Karlsson makes his escape from the old people's home and embarks on an unlikely and momentous adventure. The international bestselling phenomenon by Swedish sensation Jonas Jonasson.