Navigation
Search
Books

Dinosaurs Love Underpands

Claire Freedman, Ben Cort

Deep Sea Monsters

Igloo

Dinosaurs Love Underpands

Claire Freedman, Ben Cort

Deep Sea Monsters

Igloo
We regret that due to the technical limitations of our site, we are unable to offer eBooks or Audio Downloads to customers outside of the UK.
For further details please read our eBooks help.
Blog
"Fiction helps to form understanding" Helen Dunmore
Helen Dunmore explains how fiction, such as her new WWI novel The Lie, can help us to comprehend the tragedies of the past...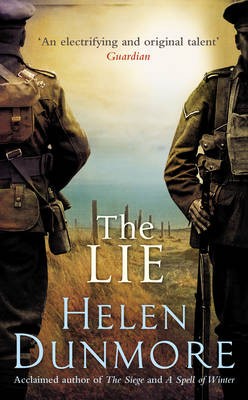 I write about the past because I am fascinated by the history that shapes our present.  We are still reacting to the blow of the international  catastrophe that was the First World War, even though this began almost a hundred years ago.  Just as we hold our ancestors' DNA in our bones, the repercussions of their actions mark our lives.
That war killed millions, injured millions more, transformed societies, brought about revolution,  and changed the lives of the survivors utterly.  It was a war that, for the first time ever, took hundreds of thousands of British men and women to foreign countries.  It brought in mass conscription and set women to work in munitions, transport and nursing.  It introduced laws such as the Defence of the Realm Act that gave the State new, significant powers over the individual.   It brought astonishing advances in technology, as war so often does.  Aviation, for example, was transformed.  The First World War may belong to the past, but it also inhabits and influences the present.  Even if we would like to put it behind us, we cannot.
It takes a long time to move from reaction to understanding, and fiction helps to form that understanding. Statistics numb and frighten, and so we turn away. A single human being, known from the inside, engages the heart, mind and imagination in complex, sometimes contradictory experience.  I may argue with Hilary Mantel's vision of Thomas Cromwell, but feel its breathing reality and force.  No-one filmed the tumult of Paris during the French Revolution, but thanks to Anatole France or Charles Dickens, those streets are visible.  We see the wide blue sky above the battlefield of Austerlitz through the eyes of Tolstoy's Prince Andrei, or, with Natasha Rostova, load up carts to flee the endangered city of Moscow.
Fiction allows the reader to know a character better than the closest friend or lover.  It lifts the barriers that hide thought and motive, and it spreads out the inner life.  It seems to me that from our earliest days we want and need stories, because the magic of entering another consciousness is not only enchanting but also, somehow, necessary to us as human beings.  The devices may change -  clay tablets crack, paper pages turn, backlit screens flicker - but inside every reader there is a circle of faces around a fire in a dark cave, a long night ahead, and the voice of a storyteller.  Through those stories the heroes and lovers, the fools, jokers and tyrants of the past come to life, like giant shadows springing across the cave walls.
There has always been conflict over the ways history is told and taught, and often only certain versions are permitted, while others are censored.  W H Auden wrote in his poem Spain that
"History to the defeated
May say Alas but cannot help or pardon."
Fiction neither helps nor pardons, but it allows every side of the story to be told.  It doesn't claim to tell the truth about the past, or believe that there is only ever one truth; instead it shows what might have happened within the lives of men and women.  At its best, fiction makes the reader forget that he or she knows what is going to happen next. When I, today, hear the date 1917, it's hard not to think immediately "The war will end next year".    But for a character in a novel who is living in 1917, the war is entering one of its most difficult and dangerous phases.  Events are fluid, unpredictable.  In Spring 1917 the German unrestricted U-boat warfare campaign is so successful that over half a million tons of British shipping is lost in the month of April alone.  Food supplies are dwindling.  People are afraid, and they don't know how things are going to turn out.  Fictional characters need to share that uncertainty and be entirely of their times rather than creatures of hindsight.  They struggle in the whirlwind of events, just as we struggle in the whirlwind of our own present.
A young man comes home from the war.  It's an old story, as old as Homer, but it's also a very young story because it is still happening.  Daniel Branwell, in my novel The Lie, is not mug enough to believe Lloyd George's assertion that Britain would be "a fit country for heroes to live in" after the First World War, but neither is he able to anticipate the homelessness and joblessness which will be waiting for him, or the dislocation between the horror of what he has seen and done, and the world of home.  Daniel is part of a generation that returned from war carrying a burden of silence.  Fiction breaks that silence, and opens up his story.
Helen Dunmore, for Waterstones.com/blog
You can Reserve & Collect The Lie from your local Waterstones bookshop (http://bit.ly/1dvVHUA), buy it online at Waterstones.com (http://bit.ly/1eIywql) or download it in ePub format (http://bit.ly/1dvVS2c)