We regret that due to the technical limitations of our site, we are unable to offer eBooks or Audio Downloads to customers outside of the UK.
For further details please read our eBooks help.
Blog
Fiction Book of the Month - Blood and Beauty
Sarah Dunant describes the visit to the Borgia apartments which informed our Fiction Book of the Month, Blood & Beauty...
I am not sure at what point in my research on Blood & Beauty I discovered the Borgia apartments, but I do know that nothing was the same afterwards.
History is a fragile thing. While dates and facts may end up in books (though as you'll know if you have followed my blogs, with a family like the Borgias even "facts" can be contested), the physical imprint is often the first thing to go. Clothes rot, diaries or letters get lost, images get painted over and buildings catch fire or get torn down or altered beyond recognition. Rome at the turn of the 15th century was a city with a lot of building going on. You may think St Peters is old, or that the Sistine chapel is indelibly Michelangelo, but when it came to imagining the conclave of 1492, that great chapel where the cardinals met was so new that Michelangelo had yet to get his hands on it, while St Peters was a crumbling old basilica which would soon be reduced to rubble as a new one took its place.
In the fever of renaissance creativity, each pope set out to make his own mark, often to be altered or obliterated by the one after. So it was a definite shiver–down-the-spine moment when I discovered that the private apartments that Rodrigo Borgia had had built and frescoed to celebrate his papacy had, against all odds, escaped the attrition of time.
Never a man to hide his light – or wealth – under a bushel, Rodrigo, now Alexander VI, built a tower and appropriated a set of rooms nearby, bringing in the most fashionable painter of the day to decorate everything in time for the his daughter, Lucrezia's wedding. Frescos were the order of the day, and while much of the subject matter was religious, inside the stories there was always room for a few family portraits. The few images I managed to find had me salivating.
In April 2011 my partner and I took a plane to Rome. I had picked the date carefully. London was giddily celebrating a royal wedding, and it seemed like the perfect weekend to get away. Maybe everyone had the same thought, since it was almost impossible to book a hotel room. It was only when we got there I realised why. Forget royalty, the Catholic Church was busy with sainthood: a weekend of ceremonies to start the beatification process of Pope John Paul. The city was heaving. As we found ourselves swept in a crowd across St Angelo bridge all I could think of was how history never stops: take away plastic water bottles, jeans and sunscreen and these could have been pilgrims flocking to Rome for the Jubilee of 1500.
The queue for the Vatican was appalling. Once inside, we forged through the strict one-way system, airbrushing out anything and everything built after 1503 (it helps that my partner is architect). The tour route saves the most famous bit till last, so this great river of people was all flowing towards the Sistine chapel. The Borgia apartments are close by. Given the family's reputation, the Vatican museum has been historically wary of glorying them. They were boarded up until the beginning of the 19th century and recently they have been used as a gallery to show off more contemporary religious art. I prepared myself for more airbrushing. It was much worse than that. The rooms were closed. Further restoration apparently.
I think I may actually have wailed. Nothing had been said at the barrier or at the entrance! The guard in the room outside listened as I poured my heart out in passionate broken Italian. I HAD to go in there.
Sorry, but there was nothing he could do. Maybe if I wrote to the Director? But how long would that take? Wasn't there anyone I could see today? No. It was Saturday morning on beatification weekend and everyone was off.
Behind the barrier I could see the glow of dense blue tiles on the floor. I knew them so well. They came from Naples, made in the Spanish style to remind the pope of his original home in Valencia In the corner of one room there would even be the date: 1496.
The barrier was high enough to duck under. I shot a look at my partner. He frowned, but he understood. After a while he started chatting to the guard, pointing out something on the other side of the room. I took a deep breath and went for it.
Possibly I shouldn't continue with this story in case, in lawyers' speak, I might incriminate myself. So let me just put it this way: the few photos I managed to take were lousy, but it didn't matter, my memory was snapping fasting than my hand.
It was indeed a treasure trove, each room a renaissance jewel, every inch decorated and glowing with colour, and all so perfectly preserved that it is indeed like walking back through time. And just in case you should have any doubt which family was responsible for it all, the Borgia family crest is everywhere.
As I slipped unnoticed back under the barrier, my partner had to stop tell me to stop smiling in case the guard saw me again and guessed. A few months later, thanks to the friendship of a young PHD scholar in Rome who had good relations with a number of the Vatican guards, I was back, this time with a free hand to wander though the rooms at will.
Now I could really study the fresco of Christ rising from the tomb with Rodrigo Borgia himself, in full regalia, kneeling in witness. Clearly a portrait taken from life: an imposing figure whose hook nose, bull frog chin and full girth seems to have done nothing to detract from his charm when it came to women. In his bedroom I could trace his name engraved on the stone fireplace and wonder if the images of the Virgin might, as some have suggested, been modelled on the face of his 17 year mistress Giulia Farnese.
What we know for sure is that his daughter Lucrezia is here: posing as St Catherine disputing her faith with the Emperor at the court of Alexandria; a painfully young woman with a mass of fair hair and a hint of childish double chin, while among the courtiers there are likeness of her brothers Cesare and Juan, the Muslim hostage Prince Djem and even a self portrait of Pinturrichio himself.
But the most potent place to linger is the room where, in 1499, Lucrezia's second husband lay badly wounded, nursed by his wife and sister, after a vicious attack on the Vatican steps. (What happened next was as shocking as anything in Papal history, but no novelist gives away the best of their plots).
So much history and drama, so many meetings with ambassadors, so many intimate family dinners, so many words lifting like clouds of dust into the air, to lodge in the corners or cling to the surface of the walls. I could barely wait to get back to the keyboard.
A year on from my last visit, I hear the apartments are still closed. It would seem that change moves at a slow pace inside the Vatican. So for now you will have to make do with words.
Sarah Dunant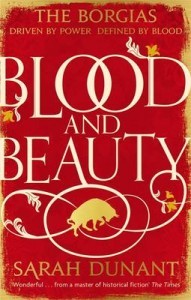 You can Reserve & Collect Blood and Beauty from your local Waterstones bookshop (http://bit.ly/Yu5LpV), buy it online at Waterstones.com (http://bit.ly/QbaiwW) or download it in ePub format (http://bit.ly/1g4abrT)