Blog
Euro 2016: Football Q & As (Part Three)
To mark the beginning of Euro 2016 in France today, Waterstones have asked well-known football writers a set of Euro-themed questions. We finish with James Montague and Rory Smith introduced by Waterstones Deansgate's Matt Gardiner.
Image: James Montague


The squads have been picked, sick days planned (not at Waterstones obviously, ahem) and football fans from Albania to Turkey are starting to dream that maybe, just maybe, Euro 2016 is their chance for glory. Those nations outside the four or five with realistic pretensions on the crown of European Champions will fuel their dreams of success with thoughts of Greece's shock victory at Euro 2004. England, Wales, Northern Ireland and the Republic of Ireland all head to France with differing objectives but all with the same hope that come 10th July they will have beaten all before them and become UEFA European Champions for 2016.

Waterstones has asked seven well-known football writers to share their thoughts on previous tournaments as well as predictions for France this year.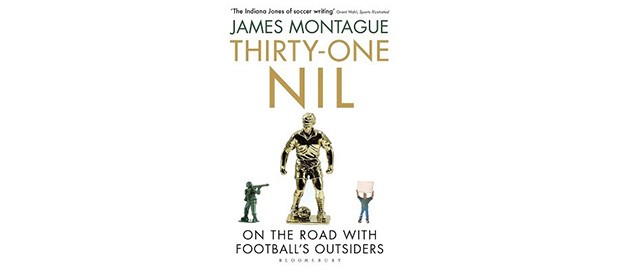 James Montague
James Montague is a journalist and author who writes for the New York Times, CNN, GQ and World Soccer. He was described in Sports Illustrated as 'The Indiana Jones of soccer writing.' His most recent book Thirty One-nil won the Best Football Book award at last year's Cross Sports Book Awards.
What is your first European Championship memory?
My first European Championship memory is abject failure and flying dreadlocks. I'll rewind. My first cogent football memories were around the 1986 World Cup, the Hand of God and the disbelief that the world was a crushingly unfair place. So, Euro 1988 was the first tournament I watched with this new window on the world. And England were appalling. Embarrassing. But I also remember that Dutch team, those jerseys that seemed to have flecks of silver paint randomly thrown on them, Van Basten and, most memorably, Ruud Guillet's dreadlocks appearing to whip the ball into the net during the final versus USSR. Thank god he was unmarked. He'd have taken some poor, unsuspecting Russian's head off otherwise.
What is your favourite European Championship match?
Every European Championship when I was a teenager seemed to correspond with a disaster in my life so most of the matches I watched in 1992 (had Denmark in the illegal school book that was being run and was almost suspended when I demanded payment); 1996 (I was let out of Chelmsford Prison -- long story -- just in time for the England game v Spain) and 2000 (I had an exam the day of the Romania game that I couldn't concentrate on and promptly flunked. And for what?!) are attached to some very strong memories. But I have three that stick in the mind. The semi final v Germany in 1996, obviously, the England v France game in 2004 (Zidane vomiting in particular) and the 1992 final. After all, I thought I'd won 50 quid. And 50 quid in 1992 went a long way.
What players should we look out for this summer?
There's always several, young breakout stars although I'm also looking forward to seeing some older players in an international competition format too. Dele Ali can do anything he wants and go anywhere he chooses. The rest of Europe will catch on after the Euros. I'm looking forward to seeing Payet and Pogba in the French midfield, and Kante if they can hit both of him in. The Austrian team could be surprise package with Arnautovic and Alba. Romanian Lucian Sanmartean is 36 but has retained his class. Oh, and Zlatan. It will all be about Zlatan. But isn't it always?
Who would you like to win Euro 2016?
Iceland. When I was writing Thirty One Nil (a book about the underdogs of international football trying to qualify for the 2014 World Cup finals) one of the teams I followed was Iceland. They came within one goal of making it too. It is an incredible story. The smallest nation to ever qualify for a major finals, their goalkeeper is a film director who made Iceland's Eurovision song contest entry a few years ago and they have a wily coach in Lars Lagerback. To even get here is amazing, but they qualified with style. They could easily make the knockout phase. And England of course. But there's no point of even dreaming of that.
Who do you think will win Euro 2016?
Unlike the World Cup, the Euros have had quite a few underdog winners (Czechs in 1976, Denmark in 1992 and Greece in 2004) so there will be one team that no one expects getting close. Austria, Iceland, Ukraine, Wales. Hell, even England. But I suspect it will be France.Their squad is magnificent.
What is your favourite book on European Football?
Brilliant Orange by David Winner and Behind the Curtain by Jonathan Wilson. Not only did they tell me something about the world I didn't know, they made me a better writer too. And you can't ask much more than that.
Rory Smith
Rory Smith joined The Times as one of its leading football writers in 2012, having previously written for the Daily Telegraph. His new book Mister is a fabulous footballing treasure hunt looking at the impact of English football coaches abroad.


What is your first European Championship memory?
I'd have watched the 1988 tournament - I was six at the time - and as much as I'd love to say my first memory is Van Basten's goal, or even the Soviet Union's kit, it wouldn't be true. Instead, it must come from 1992. Mention of that tournament immediately summons up memories of Dahlin and Brolin destroying England, of Gary Lineker being substituted, John Jensen scoring for Denmark. Those are the strongest memories, but the actual first one is a bit less exciting: finding out Yugoslavia had withdrawn and the Danes had been called in to replace them. Heady days...
What is your favourite European Championship match?
The high-scoring ones - Spain 4-3 Yugoslavia in 2000, for example - always feature highly, and I think the Czech win over Holland in 2004 was the highest quality game I've seen in the tournament: two really good sides playing absolutely brilliant football. My favourite game, though, is Croatia-Turkey from 2008. The Turks had already beaten the Czechs with two late goals from Nihat in the group stage, securing qualification, and then equalised in the 120th minute to force penalties against Croatia in the quarter finals. They only lost 3-2 to Germany in the semis, too. They were good value that summer.
What players should we look out for this summer?
I really like Rafa, the Portuguese winger who shone in last summer's European under-21s and should do the same in the seniors, if he's given chance to play. I'd expect this to be the tournament that David Alaba finally gets the respect he deserves, too; I think Austria will surprise a few people. You could say the same for Poland: I really like Grzegorz Krychowiak, their midfielder, and Arkadiusz Milik should take a bit of the pressure off Robert Lewandowski, too.
Who would you like to win Euro 2016?
It won't be popular, but my answer wouldn't necessarily be a home nation. I'd be happy if Spain did it, as a sort of golden goodbye to Vicente Del Bosque and possibly, at international level, Andres Iniesta, too, but I don't think they're quite as good as they were. I'd actually like it to be someone like Portugal or Belgium: not a complete outsider, but someone a bit different.
Who do you think will win Euro 2016?
Having done one of those entirely scientific online predictors, apparently I think France will win it. They certainly have a good chance: they have form on home turf, they have a brilliant crop of attackers, and if Didier Deschamps can retain control, they will go far. It would be a poignant win, too: after the Paris attacks last year and with all of the strife in the country, it could be a quite healing victory, just as the black-blanc-beur generation did in 1998 and, in a different way, was the case with Germany in 2006.
What is your favourite book on European Football?
There are almost too many to choose. Jonathan Wilson's Behind the Curtain is pretty hard to beat as a mixture of sport and travelogue; for different reasons, so is Fear and Loathing in La Liga, by Sid Lowe. David Winner's Brilliant Orange is outstanding, too.
×
Download the Waterstones App
Would you like to proceed to the App store to download the Waterstones App?
Reserve online, pay on collection


Thank you for your reservation
Your order is now being processed and we have sent a confirmation email to you at
When will my order be ready to collect?
Following the initial email, you will be contacted by the shop to confirm that your item is available for collection.
Call us on or send us an email at
Unfortunately there has been a problem with your order
Please try again or alternatively you can contact your chosen shop on or send us an email at