Blog
Euro 2016: Football Q & As (Part One)
To mark the beginning of Euro 2016 in France this Friday, Waterstones have asked well-known football writers a set of Euro-themed questions. We begin with Anna Kessel, Peter Chapman and Oliver Kay introduced by Waterstones Deansgate's Matt Gardiner.
Image: Peter Chapman


The squads have been picked, sick days planned (not at Waterstones obviously, ahem) and football fans from Albania to Turkey are starting to dream that maybe, just maybe, Euro 2016 is their chance for glory. Those nations outside the four or five with realistic pretensions on the crown of European Champions will fuel their dreams of success with thoughts of Greece's shock victory at Euro 2004. England, Wales, Northern Ireland and the Republic of Ireland all head to France with differing objectives but all with the same hope that come 10th July they will have beaten all before them and become UEFA European Champions for 2016.
Waterstones has asked seven well-known football writers to share their thoughts on previous tournaments as well as predictions for France this year. We will be posting their responses over the next three days.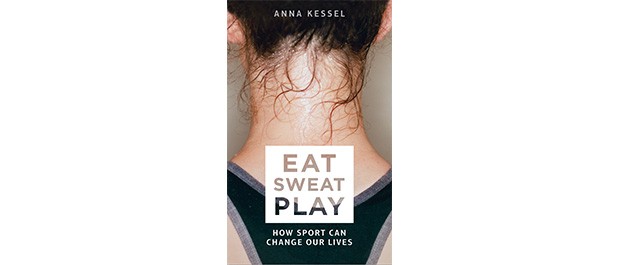 Anna Kessel
Anna Kessel is a sports writer for the Guardian and the Observer. She is also the co-founder and chair of Women in Football. Her new book, Eat, Sweat, Play , is a brilliant call to arms for women in sport.
What is your first European Championship memory?
Growing up I didn't realise international football tournaments existed...until one landed on my doorstep. Euro '96 exploded into my life in a big way and, as friends at school dissected every match obsessively, it was a big deal to me to be part of this phenomenon enveloping the nation.


What is your favourite European Championship match?
The entire tournament was special because I was watching as a newbie, full of hope, believing that England really could win the thing. Watching England beat Scotland, that goal from Gazza, and then the adrenaline of playing Germany...of course it all ended in that now familiar feeling of heartache, but the rollercoaster ride along the way was life changing.


What players should we look out for this summer?
As an Arsenal fan it pains me greatly to say this, but I suppose I should be very excited about Harry Kane and Dele Alli appearing in their first major tournament for England. My main hope, though, is that we get to see more of Marcus Rashford; every international competition needs a young untested player to light up the stage and it's been those moments - debutants like Michael Owen and Wayne Rooney terrorising defences that knew so little about them - that in the past have made tournaments so exciting for fans to watch.
Who would you like to win Euro 2016?
I don't think I can say England. Because if England actually won (and on paper, looking at their qualifying record, they arguably have a decent chance) the nation would implode. I just don't think we could cope. We've waited so long, the outpouring would be insane. So if they can't win, then it's got to be the Czech Republic as my mum was born there. I watched Euro 2004 at the Czech House in London, and the free flowing Becherovka and Slivovice made for a pretty mind blowing atmosphere. The Czechs know how to celebrate, I think they'd totally nail a victory party.


Who do you think will win Euro 2016?
Sadly the Czech Republic is even less likely to win than England (though, reaching the final in 1996 and a semi final in 2004, prompts eternal hope). The consensus seems to be France; I think we could all live with that.
What is your favourite book on European Football?
Us v Them: Journeys To The World's Greatest Football Derbies by Giles Goodhead - I read it years ago, but it lingers in the memory. I loved how Goodhead didn't bother judging the standard of football as a marker for a great derby, but instead focused on the passion, culture and history. From Fenerbahce vs Galatasaray, to Slavia vs Sparta Prague, and of course our very own North London derby, the writer embarks on a memorable series of adventures that are all about fan culture - adrenaline, mishaps, dodgy ticket touts - and of course some high octane football.


Peter Chapman

Peter Chapman is the author of Out Of Time which tells the story of the summer prior to England's 50 years of hurt through his 18-year-old eyes, and offers a vivid and beautifully written portrait of what life was like in 1966 when the nation's football team reached the pinnacle of world football

What is your first European Championship memory?
England v Yugoslavia, Florence, Euro 68 semi-final. Alan Mullery's sending off. First ever England player to be sent off; manager Sir Alf Ramsey sympathised at injustice of it and paid Mullery's £60 fine.
What is your favourite European Championship match?
France v Italy, Euro 2000 final; 2-1 to France, who equalised in last minute of lengthy time added and won with 'golden goal' in extra time
What players should we look out for this summer?
Wayne Rooney – will he transform from striker to midfield maestro as per Bobby Charlton for England in 1966? Gareth Bale to lift Wales' chances.
Otherwise, for me, goalkeepers: Wayne Hennessey for same reasons as Gareth Bale above; Joe Hart, if at his best, to keep England in with a decent hope; Thibaut Courtois, if Belgium are to deliver on their outside chance; Manuel Neuer of Germany – how far will he dare stray upfield? David de Gea, for Spain, possibly the best keeper in the world.
Who would you like to win Euro 2016?
England

Who do you think will win Euro 2016?
The usual suspects but for a bit of excitement, Belgium
What is your favourite book on European Football?
Full Time: The Secret Life of Tony Cascarino by Paul Kimmage


Oliver Kay
Oliver Kay is the Chief Football Correspondent for The Times and the author of the brilliant new book Forever Young which tells the little known, and ultimately tragic, story of Manchester United youngster, Adrian Doherty.
What is your first European Championship memory?
I remember my brother collecting the Panini stickers in 1980. He also had a poster on his wall of Ray Clemence's penalty save against Spain, but my first real Euro memories are from 1984, most of them involving the brilliant France team of Platini, Giresse and Tigana. As a nine-year-old I was also convinced that a gangly Portuguese centre-forward called Jordao was one of the best players on the planet. On reflection, he probably wasn't.
What is your favourite European Championship match?
Apart from the obvious, which would be England v Holland in 1996, I would say the France v Portugal semi-final in 1984, which seemed astonishing the time, with Platini's hat-trick made all the more dramatic by John Motson's crackly commentary.
What players should we look out for this summer?
If you are new to all this, you should look out for Ronaldo, Muller, Bale, Iniesta, Pogba. Beyond the A-list, I'm looking forward to seeing Portugal's Renato Sanches, who has just moved to Bayern Munich, and a couple of exciting winger France's Kingsley Coman and Germany's Leroy Sane.
Who would you like to win Euro 2016?
England, Wales, Northern Ireland, Republic of Ireland. Any of them. Won't happen, though, will it?
Who do you think will win Euro 2016?
Germany. Failing that, France.
What is your favourite book on European football?
There are so many excellent ones about a particular theme – and so many more, such as Sid Lowe's Fear and Loathing in La Liga and Rafa Honigstein's Das Reboot – that I need to get around to reading, but I'm going to single out Ronald Reng's A Life Too Short, about the tragedy of the former Germany goalkeeper Robert Enke. It's haunting, but it's such a powerful, important book. Sorry if that sounds like a morbid choice, but it's an exceptional piece of work.
×
Download the Waterstones App
Would you like to proceed to the App store to download the Waterstones App?
Reserve online, pay on collection


Thank you for your reservation
Your order is now being processed and we have sent a confirmation email to you at
When will my order be ready to collect?
Following the initial email, you will be contacted by the shop to confirm that your item is available for collection.
Call us on or send us an email at
Unfortunately there has been a problem with your order
Please try again or alternatively you can contact your chosen shop on or send us an email at