We regret that due to the technical limitations of our site, we are unable to offer eBooks or Audio Downloads to customers outside of the UK.
For further details please read our eBooks help.
Blog
Eugen Ruge on life in the GDR
Eugen Ruge, author of In Times of Fading Light, on life in the German Democratic Republic.
My grandparents were German communists and my father was educated as a communist. In 1933, aged 16, Hitler came to power and he left Germany for the Soviet Union. He had heard of it as a paradise of the working class and for socialists. When the war came, first of all German people were sent to Kazakhstan or other places outside the European part of Soviet Union and then they were sent to prison camps. Officially these prison camps were called the 'working army'. So my father was sent to a prison camp in Siberia. When the war finished my father was freed and soon after he met my mother. Like most people in this situation, my parent's couldn't think of conceiving a child before Stalin's death, conditions were hard and the future held lots of uncertainty. After Stalin died, I appeared. We moved to Germany when I was 2 years old.
The country my father returned to was very different, now as a communist state, Germany was completely unrecogniseable. It was a difficult transition for my family, my father had expected socialism to improve, to become more democratic after Stalin's death. But the reality was that change was hard, he became disillusioned by socialism and died a disappointed man.
I always knew my father's history, as a young communist in a prison camp, where many innocent people had died. This impacted on my feelings towards their ideologies and I always felt distant towards what was happening around me. I wouldn't go as far as to say I was in opposition, I certainly wasn't a dissident. I didn't underestimate the power of Moscow and how things were decided there, I felt there was no opportunity to change anything.
I studied mathematics for 10 years and then got into writing screenplays for documentaries. In 1988 I started working for a documentary film studio and from there began to write theatre and radio plays. Although in the GDR there restrictions on what you could write or talk about.
It's always very hard to explain what it's like to live in the GDR, but in the book I tried to recreate it as it really was. A lot of the official records paint a very one-sided view of how things were, if you only see everything from one perspective you can't get the full picture.
I wanted to capture the reality of life in the GDR but also to capture my own memories of it.
Life in the GDR seemed boring and grey at the time. I knew I wanted to become a writer but I didn't want to write about my homeland. This was my reason for leaving, I needed a subject to write about. It took a lot of years and a lot of distance to understand that life in the GDR was not as boring as I had thought. I learned a history and of people who were worth writing about. It took a long time to admit my history, to admit that I'm an East German. This is my history and my identity and I realized I had to write about it. What I wanted to do with In Times of Fading Light was put the GDR in a bigger geo-political context. I used my own experience like every novelist uses their own experience} when it was useful. And when it was useful to change it I changed it. There is a lot of truth in the book but a lot of invention also.
The book tells the story of a single family of four generations over 50 years during the second half of the last century. Through the different generations you see very different attitudes and political positions. One of my problems with approaching this book was that I don't know exactly what the truth is about the situation in Germany} I had no final opinion about the whole thing. So by writing from these different perspectives I could keep out of it and I could show the world through their views and understand the different attitudes towards it. I understood with every character and empathised with them and I put their perspectives together like a mosaic. I sought to build the truth from their different points of view.
In Times of Fading Light I wanted to capture the reality of life in the GDR but also to capture my own memories of it. This book is my history and my identity. It was important to me not to betray who I was and where I came from. Growing up I didn't love my homeland. I wanted to escape for a long time. But once I left East Germany changed and my homeland vanished. When I returned I felt as though I belonged to nothing. Even the unloved homeland had disappeared and there was nothing left.
Ultimately the book is the story of a family. The political history of Germany is the background of this book but it's about people and everyday life the small things. Its about the conflicts and problems which everybody can understand and recognise. I hope through this they can understand the rest.
Eugen Ruge for Waterstones.com/blog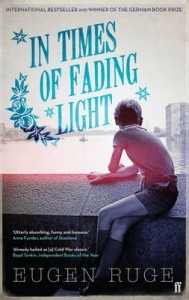 You can Click & Collect In Times of Fading Light from your local Waterstones bookshop, buy it online at Waterstones.com or download it in ePub format