We regret that due to the technical limitations of our site, we are unable to offer eBooks or Audio Downloads to customers outside of the UK.
For further details please read our eBooks help.
Blog
Dusty corners and conspiracies
Terry Stiastny considers the dearth of political dramas and fiction today, and explains  how she moved from political journalist to writing a political thriller.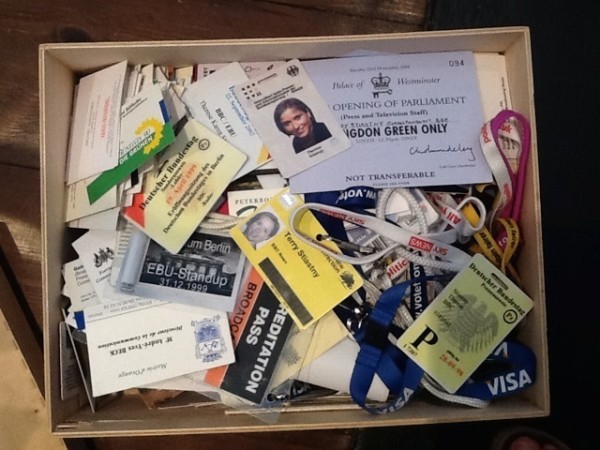 There's a wooden box that sits under some shelves in a corner of my house, beneath a pile of other things I no longer have any use for but can't quite throw away, such as CDs and telephone books. If you open the lid, you'll find it full of business cards and laminated rectangles. Many of the rectangles have my photo on them: delve through the layers of the box and I get gradually younger. They're press passes and accreditations, many of them still attached to their colourful lanyards which are tangled together like rats' tails in the box. There are the business cards of politicians both current and forgotten, at home and abroad, people who've since risen higher or disappeared into obscurity, or sometimes both.
The box contains souvenirs of many stories I covered as a journalist, from the formal pale blue card which granted me access to Abingdon Green on the day of the State Opening of Parliament one year, signed "Cholmondeley" and looking more like a garden party invitation than a press pass, to the more makeshift card with an image of the Brandenburg Gate on it which allowed me to see in the start of the 21st century watching the fireworks over Berlin, and the official German government pass which admitted me to the newly restored Reichstag building.
What became Acts of Omission started as a few paragraphs scribbled here and there in odd moments, mostly in the backs of notebooks the front pages of which were for work and for true stories. It grew out of a few images: a fictional minister being filmed walking down a staircase in Millbank, where the broadcasters base their political coverage, and that piece of film being repeated on a loop; an imagined civil servant trying to retrieve his laptop from a lost property office. I was interested in the parts of the stories we rarely hear much of: what happens to those who are caught up in a political or media storm afterwards? Those are some of the stories for which there aren't accreditations, no laminated pass that lets you in.
It also grew out of a true story of which I had heard the beginning but never found out the ending: what happened to the set of Stasi files that were whisked away from Berlin in the chaos of the Wall coming down in 1989, to end up in London? The question that I decided to answer as a work of fiction was "what might have been hidden in those files?"
The urge to write the book had long been there, but it resurfaced when I made a piece for The World At One on Radio 4, not long before I left the BBC. The Danish political drama Borgen was just starting on British TV, and I set out to ask why there was little British political fiction to match it. Certain colleagues of mine scoffed. "You mean you watch stuff about politics? In Danish? With subtitles?" Well, yes.
I interviewed Michael Dobbs, the peer and author of House of Cards, who at the time was working on the US remake of his series. The rest of us had yet to see Kevin Spacey as Frank Underwood and Robin Wright as Claire. I asked him why he thought there wasn't much contemporary political drama. One of the factors, he said, was ignorance; many writers didn't feel they knew enough about "that great gingerbread cake on the river", as he called the Palace of Westminster, with its "dusty corners and conspiracies".
From that point on, the thought wouldn't leave me that I had to try to write the story. But as another of my interviewees for that report in 2012, Andy Harries, the producer of The Queen and The Deal, told me, to get a story in perspective takes a certain distance in time.
Acts of Omission is set in the late 1990s, when New Labour was still new and the internet was only beginning to change our world. Things like CDs and phone books, that now languish unused, for those of us who ever owned them, were still items we needed. It was only ten years since the Berlin Wall had come down; the Twin Towers still stood. It's a time that already seems different with hindsight. I think I too have a far different perspective as a writer now than I would have done fifteen years ago -- I don't think the earnest but enthusiastic young woman who looks out of some of those accreditation photos would have written anything like the same book.
As I rifle through the box today, picking out some of the business cards and looking at the dates and places of events I once witnessed, memories surface that had grown hazy with time. The process of writing the book was similar: images returned to me of forgotten places and details, the things I rushed past along the way to somewhere else and somewhere new.
Terry Stiastny, for Waterstones.com/blog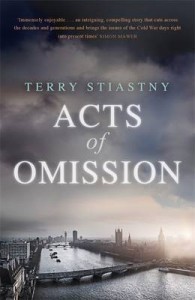 You can Click & Collect Acts of Omission from your local Waterstones bookshop, buy it online at Waterstones.com or download it in ePub format