Navigation
Search
Books

Dinosaurs Love Underpands

Claire Freedman, Ben Cort

Deep Sea Monsters

Igloo

Dinosaurs Love Underpands

Claire Freedman, Ben Cort

Deep Sea Monsters

Igloo
We regret that due to the technical limitations of our site, we are unable to offer eBooks or Audio Downloads to customers outside of the UK.
For further details please read our eBooks help.
Blog
Dos and Don'ts of starting running - Alexandra Heminsley
Defeated by gyms and bored of yoga, Alexandra Heminsley decided to try to run. Her first attempt did not end well but six years later, she has run five marathons in two continents. Here's her tips on how you can finally get started...
"Running's what runners do."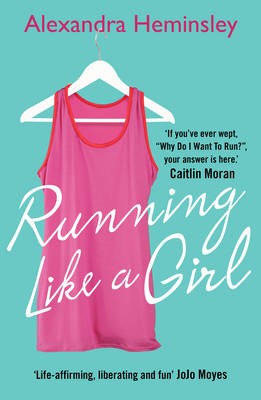 That's what I told myself for about a decade before I plucked up the courage to actually go for a run. Even then I hated it, and didn't run again for another few months. Here are my top Dos and Don'ts for getting started – so you don't have to waste January on fretting time…
Do sort the practicalities before you head out.
Get some appropriate shoes (not Converse), get a decent bra (if appropriate) and plan a route. Let someone know where you're going, and make sure you've got some decent shower gel or bath oil to treat yourself to when you come home.
Don't spend endless much time and money on the practicalities.
You don't need to go and spend a fortune on trainers for your first run, you don't need the flashiest neon jacket (you can just start running in daylight), you don't need an app that tells you the specific gradient of an 8 minute run round the park. None of those are going to help at this point, they're just going to be excuses not to leave the house.
Do get yourself a decent plan or an app to guide you.
There are all sorts of training plan apps that guide you through walking/running to running continuously. They will talk you though which to do when and are hugely reassuring. My favourite is Get Running.
Don't get yourself a pair of headphones that are either so noise cancelling or so loud that you are putting yourself at risk from either passing traffic or less sportsmanlike pedestrians. No one needs to hear an app more than a car.
Do remember that no run will ever be as bad as your first. I couldn't get to the end of the road the first time I tried, as I just sprinted from the door, then I did walk/ran 5k the second time. I have come to realise that too many people honestly believe that all running, forever, feels like those first one or two runs. It really doesn't – you'll have days you believe you can fly, and some that feel as if you're wearing lead boots. But once the first run is over with, it's over with forever!
Don't get hung up on distance or time to start with. If you're training for a marathon or even a 5k, you WILL get there, but not if you obsess about stats from day one. Let yourself enjoy it, take a look around, see your world from different perspective and feel your legs and lungs thanking you for it.
Don't let yourself feel intimidated or judged by what you look like when you're running. Getting outside for a run isn't about what you look like, it's about what you see. Discovering your body as a useful, joyful tool, is a far greater source of pleasure than changing its contours to please other people. Running is about your heart and lungs as much as your thighs and glutes, and they'll all thank you for it for far longer than the time it takes a stranger to glance at you.
Do bear in mind that you will feel instantly less self-conscious if you're wearing a proper sports bra. And in most cases this will lead to a lot less attention…
Don't panic
No matter what it might feel like at the time, no run lasts forever. Break it up. Just try to get to the next lamp post … the next phone box … the next strangely named pub.
Do remember what you'll feel like at the end of the run. The uncomfortable first few minutes of a run, the chill of damp socks from running through a puddle, the pressing of a festive tummy on an elasticated waistband - these things are fleeting. The glow of a body warmed up from within, proud of its new achievements, lasts for hours. Freshly showered and ready for the new year, you'll feel invincible for far longer than you ran for.
Related books
The author had high hopes: the arse of an athlete, the waist of a supermodel, the speed of a gazelle. Defeated by gyms and bored of yoga, she decided to run. Her first attempt did not end well. Six years later, she has run five marathons in two continents. This book tells her story.