We regret that due to the technical limitations of our site, we are unable to offer eBooks or Audio Downloads to customers outside of the UK.
For further details please read our eBooks help.
Blog
Dinner with Mr Darcy?
Pen Vogler, author of Dinner with Mr Darcy, describes her guest post as... "A blog about the etiquette, or otherwise, of the author of an upstart Jane Austen spin-off criticising another, far more venerable one. "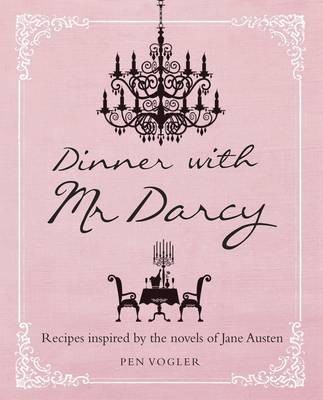 I have been reading Death Comes to Pemberley, in advance of this autumn's TV series, with much enjoyment.  Part of the pleasure comes from PD James' intriguing plotting; part from revisiting the world of Pride and Prejudice; and part of it, and I should be more ashamed of this than I am, from the glee with which I greet every detail about dining – food, meals, etiquette – that she gets wrong.
Gosh, I think, reading about "the usual breakfast of egg, home-cured bacon, sausages and kidneys".  In 1903, perhaps, but not 1803!  Then, a luxurious country-house breakfast, as Mrs Austen describes it in a letter to her daughter-in-law, consisted of "Chocolate, Coffee and Tea, Plumb Cake, Pound Cake, Hot Rolls, Cold Rolls, Bread and Butter, and dry toast for me".  Even that dedicated bon viveur, General Tilney in Northanger Abbey has cocoa and French Bread (like brioche) for breakfast, but not the cooked breakfast of the Victorian future.
And what's this luncheon that they keep on having at Pemberley?  I know that Kitty and Lydia, meeting Elizabeth and Jane returning from London, at the George Inn (in Pride and Prejudice), crowed that "we treated the other three with the nicest cold luncheon in the world" (although the elder girls paid because Lydia had already spent her money) but 'luncheon' or 'nuncheon' or 'noonshine' was generally only taken by travellers to break up a long journey.  When breakfast was at 9 or 10am in the morning and dinner was anything from 4pm to 6.30pm in the evening, lunch wasn't such a necessity (not, at least for the leisured classes; the workers in the fields would have had their bread and cheese).  Instead, callers might be offered 'refreshments' such as the "cold meat, cake and a variety of all the finest fruits in season" that Georgiana Darcy shyly serves her guests at Pemberley - which I know sounds a lot like luncheon, but that's not the point!
Reading about how the party, although the dinner was informal, "naturally moved together to enter the dining room in pairs" unleashes my inner Dowager Countess of Grantham (never far from the surface).  "Pairing up" boy-girl, might do for a dinner party at Mrs Beeton's Victorian villa, but the Georgian hostess would graciously invite the lady of highest rank into the dining room first, followed by all the other ladies in order of rank (smug marrieds before singletons, age before youth, Lady Catherine de Bourgh before EVERYBODY) and then the gentlemen would follow.  You would know this, P.D., had you paid attention to your Pride and Prejudice classes.  Lesson one: at Mrs Bennet's dinner, all the ladies are already seated at table when Jane happens to look round and smile… and Bingley seats himself next to her.  Lesson two: even in the informal setting of a family dinner, Elizabeth sees the newly-married Lydia "with anxious parade, walk up to her mother's right hand, and hear her say to her eldest sister, "Ah, Jane, I take your place now, and you must go lower, because I am a married woman!" Advanced homework: in Persuasion, the horrible Elizabeth Elliot had, for thirteen years been "walking immediately after Lady Russell out of all the drawing-rooms and dining-rooms in the country".  
Gosh, I've been thinking and tweeting with gay abandon.  These are MAHOUSSIVE errors.  Didn't she do any research?
Massive, I agree, is relative and of course no sane reader would care two hoots about an overgenerous sprinkling of luncheons or a stray sausage, but I like to think my obsession has a point. Writing and cooking for own Jane Austen spin-off, Dinner with Mr Darcy: Recipes inspired by the novels and letters of Jane Austen, I became immersed in a world where it really mattered what William Price and Henry Crawford had for breakfast (pork and mustard for the one and hard boiled eggs for the other – but that was because they were going on a journey); or what the etiquette was for going into and serving dinner; or how the excellent venison and partridges that Mrs Bennet congratulates herself on serving would have been cooked.
Exploring these details, or knowing what the white soup is that Bingley serves at Netherfield Ball, or the rout cakes that Mrs Elton snubs her neighbours over, gives a depth and texture to Jane Austen's novels that I find thrilling.  One of the reasons that television and film adaptations are so popular is that they bring the blur of a Georgian background into focus; we can see for ourselves the elegance of the rooms, the pretty dresses, the gorgeousness of the table setting at a Ball Supper.
Even better than this, for me, has been tasting my way into Jane Austen's world.  As I re-read the novels and read some of the letters for the first time, I made a note of all the dishes that her characters eat and talk about; the favourite recipes that she mentions to her sister Cassandra, and then set out to recreate them with the help of contemporary cookbooks including one that was kept by her own friend and house-mate, Martha Lloyd.
It's probably the easiest kind of social history.  Anybody can make the kind of gingerbread that Emma watched the children of Highbury gazing at in the baker's bow window; or the eighteenth-century recipe for the twice-baked apples that the Bates family (also in Emma) loved.  One or two recipes have slightly more recherché ingredients; it shouldn't be as hard as it is to buy pigeons given their ubiquity as live animals, or lambs' sweetbreads, but it is worth persevering to get a taste of Mr Woodhouse's old-fashioned supper of sweetbreads and asparagus; or Mrs Elton's longed-for picnic pigeon-pie.
So, when Death Comes to Pemberley finally hits the television screen, my advice is to invite all your senses along for the ride.  Curl up to watch it with a hearty Georgian fire, your own Mr Darcy or Elizabeth Bennet and, of course, something tasty – braised ox-cheek, syllabub, Mrs Austen's bread pudding or a glass of warm spiced Negus – from the time.
Pen Vogler, for Waterstones.com/blog
Read more from Pen on her Great Food Club blog
You can buy Dinner with Mr. Darcy online at Waterstones.com (http://bit.ly/15GnEHF)