We regret that due to the technical limitations of our site, we are unable to offer eBooks or Audio Downloads to customers outside of the UK.
For further details please read our eBooks help.
Blog
Designing Astonish Me
Designer Stuart Bache shares the evolution of his jacket for Maggie Shipstead's forthcoming novel, Astonish Me - Warning: contains scenes of ribbon obsession and changes of heart.
I've worked with Maggie Shipstead before, on both the hardback and paperback of her previous novel Seating Arrangements. So I was more than ready, and bloody well excited, to take on her next book.
The novel is set in the world of ballet, though ostensibly so. It uses it as a setting and framework for a story about relationships, past secrets, the choices we make in life and what talent really is.
On reading the manuscript, and seeing how the stories of each character both past and present, interplayed, overlapped, repeat and reflect each other, I wanted to create a jacket which would allude to those emotional concepts; so I began by looking at kaleidoscopic patterns, tangled shoe laces, ballet posters, Russian design-styles and dancers in motion.
I sketched out a few rough ideas on the manuscript itself (sorry Maggie) which I later developed into these:
There are plenty of fantastic book covers adorning window displays and sitting face out on shelves, so it would be remiss to say I didn't acknowledge them. Laura Deacon (of Blue Door) held Ghana Must Go by Taiye Selasi as a jacket which hit the right notes in terms of what we needed to emulate: beautiful, bold, a sense of quality.
A sentiment the Sales team agreed with, adding MaddAddam by Margaret Atwood and Five Star Billionaire by Tash Aw to the mix.
This lead to the next stage and the creation of covers with strong typography, and the start of my obsession with ribbon – which isn't as bad as it sounds.
From initial concept...
…to setting up the camera and trying out a few different ribbons.
Which, with a few tweaks, became the final cover with an emboss emphasising the overlaps and loops and a textured spot with the idea (and hope) it would feel as close as possible to a real ribbon. And that was it, all off to production and ready to become a book.
…then there was a change of heart. Was this right for the novel? Would it sell the amount the author deserves?
The jacket was put on hold, so we adorned the Sales Director's office with all of my initial concepts. A group of four – combining the might of Sales, Editorial and Design – debated and discussed the individual qualities and issues with each until we decided on one.
The concept had its problems, the title reading out being an important one, so I produced a series of alternatives using colour and softening the triangles with gradients. Within a few hours we had a favoured approach, approval and the cover back on press; this time with a silver pantone, soft touch matt lamination and a spot UV that picked up the type and the odd triangle.
As much as I liked the ribbon type and the process in creating the typography, I believe what ended up with is truer to the novel and a more effective design… but then I would say that wouldn't I?
Related books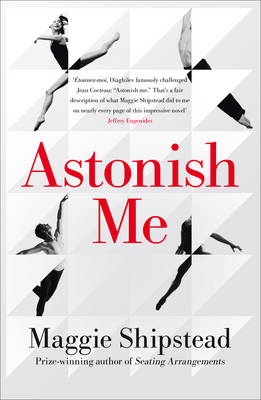 From the prize-winning author of Seating Arrangements comes an exquisitely written, fiercely compelling glimpse into the demanding world of professional ballet and its magnetic hold over two generations.