We regret that due to the technical limitations of our site, we are unable to offer eBooks or Audio Downloads to customers outside of the UK.
For further details please read our eBooks help.
Blog
The road to design
Book jacket designer Nico Taylor describes the evolution of the striking die-cut jacket for Robert Lautner's gritty western adventure The Road to Reckoning...
The Road to Reckoning is like nothing else on our list – it's a western-style adventure but really pulls on the heart strings. When I was tasked with designing the cover, Alice Moore, the Art Director, gave me an open brief: "Read the book – it's like an accessible Cormac McCarthy – and make something beautiful from it." Such openness is great, but with it comes a sense of paralysis and for a few weeks I found myself unsure of where to start. However, a few key phrases and images struck me whilst reading the novel: the colt gun, the detail and beauty of Henry Stand's bird drawings and the helplessness of the lead character, young Tom Walker.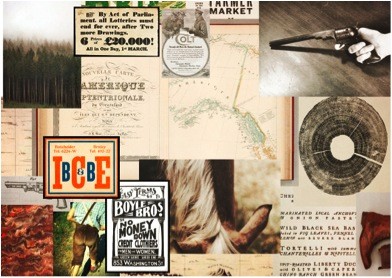 I started looking for reference material online, finding some intriguing original colt pistol drawings and then quickly explored various directions: photographic routes, type-led designs and illustrative mock-ups.
No cover design process is the same, each time you are balancing an author/editor's vision with sales and marketing expectations while trying to distill everyone's thoughts into one image that will grab a reader's attention. I was lucky to have the support from Alice as well as the fantastic Katie Espiner, publishing director for The Borough Press, who was instrumental in drumming up support in-house. I showed her pages of half-finished roughs, and to her credit she managed to see some potential in the mess of ideas.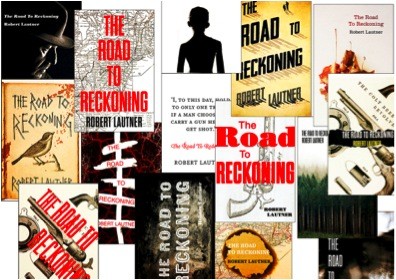 We then presented various approaches in our weekly cover meeting which were met with a polarized response: a room divided by those who felt that showing guns might be a little intimidating, and those who liked them for that very reason. I proceeded to progress in a few directions.

At this point I was slightly disappointed that I couldn't make use of some of the great quotes from the novel, but as we started to experiment with the torn jacket approach, I realised that this gave us the opportunity to use a die-cut so that the board underneath could act as a second cover.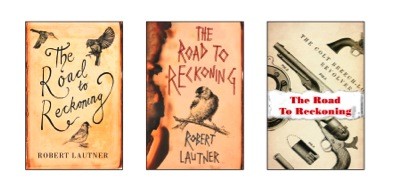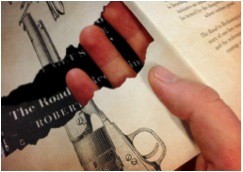 The direction for the book was then clear: the image of guns and birds torn to reveal a second cover printed with one of the narrator's lines. I spent some time experimenting with the placement of the gun and different birds but, as is often the case, the simplest composition was the most effective. The vulnerability of the single bird poised on top of the gun barrel seems to me the best representation of this brilliant book.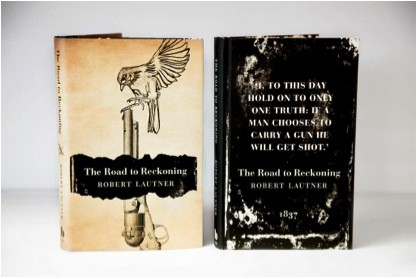 Nico Taylor, for Waterstones.com/blog
Read the first chapter of The Road to Reckoning
What our Booksellers thought:
"One for any fans of great westerns, or simply anyone looking for a story of murder, revenge and friendship born of mutual respect." - Becky, Waterstones Bedford
You can Reserve & Collect The Road to Reckoning from your local Waterstones bookshop (http://bit.ly/1dQfbPn), buy it online at Waterstones.com (http://bit.ly/1dQf9ai) or download it in ePub format (http://bit.ly/1dQfdH3)