Blog
Defectors: Joseph Kanon's Moscow
'How do you track down ghosts? I wanted my fictional defectors to be plausible, to live very much the way real life defectors had.'
The name Joseph Kanon has become a byword for the best in contemporary thriller writing with his novels, including The Good German and Leaving Berlin, joining the canon of classic espionage fiction. Now he is back with Defectors, a twisting tale of loyalty and deception played out amidst the US-Soviet tension of the early 1960's. Here, exclusively for Waterstones, Joseph Kanon discusses location scouting in the past and how he got under the skin of Cold War Moscow.
Where do your characters live? How do they get to work? What restaurants do they like?
For some writers these are marginal questions, minor details, but for me they're crucial. Place is important in my books, in many ways another character. If we are in postwar Berlin (as in The Good German), where exactly are the military government offices? Do you need a jeep to get there? Where do the black marketers gather? Getting details like these right becomes a key (and time-consuming) part of the writing process for me. Strictly speaking, the reader may not care—he is, let's hope, anxious to get on with the story. But if the place, the people, aren't real to me how can they ever be real to the reader? So I like to go location scouting, walking a city (or, in the case of Los Angeles, driving it), getting to know it on the ground. I put my characters in specific apartment buildings, try to see what they would see walking home, live with them.
Location scouting for my new novel, Defectors, however, required another layer of digging—I had to see Moscow back in time. Contemporary Moscow seems a world away from the Cold War city of 1961. It's true that certain parts of the city feel timeless—Red Square is a magnificent urban space in any era—but so much of the city we experience now would have been unthinkable then (hotel rooftop bars with Kremlin views?). Today the first thing any visitor notices is the traffic, roaring by on one of the broad Stalinist boulevards, a genuinely thunderous noise. (Not even a traffic light to slow it down—pedestrians cross by underground passages.) But in 1961 what everyone mentions are the empty streets, the eerie quiet of central Moscow. What few cars there were belonged to Party officials and photographs show that even trucks were thin on the ground. So if your protagonist (as in Defectors) is a visitor from the West, he'd be struck by the quiet, dark streets, a shadowy world compared to today's bright lights and fast food shops.
Because he is a first-time visitor, he'd want to see the traditional sights, so some of my initial location scouting was easy. Of course he'd want to see Red Square and Lenin's mausoleum and GUM and the Bolshoi. He'd stay at either the Hotel National or the Metropol, both still there. The metro was a tourist attraction then, and now, and the view from the Sparrow Hills at Moscow University is still used as a backdrop by wedding photographers. Stalin's seven gothic skyscrapers still dominate the skyline. But a few key locations in the story had changed. The American Embassy moved—only to move most services back to the old building in Defectors when the new one was discovered to be bugged throughout. The Cathedral of Christ the Saviour, re-built in 1995, would not have been there (our visitor would have seen a public swimming pool) and Tverskaya was still called Gorky Street.
But the locations that really interested me—what I had come to Moscow to see—were those that would have been used by real life defectors. Where did they live? Eat? Socialize? Western defectors lived a mostly under-the-radar existence, unrecognized by the general public, kept out of the press, etc. In the beginning, while Stalin was still alive, they were not even allowed to live in Moscow. Having sacrificed their lives for the Party, they now found themselves in a society that profoundly distrusted foreigners, even 'our' foreigners, and few of them participated in Soviet life (the notable exception was Donald Maclean). So how had they lived? How do you track down ghosts? I wanted my fictional defectors to be plausible, to live very much the way real life defectors had. Where would that be? In a society as stratified and controlling as the Soviet Union, a housing assignment would speak volumes about a defector's status, how much the Party valued him. I had read that the American spies Lona and Morris Cohen (later to pose in Britain as Peter and Helen Kroger in the Portsmouth scandal) had been welcomed as heroes in Moscow and rewarded with a substantial apartment in Gorky Street.
But what about the others?
Luckily, Western journalists became newly fascinated by the defectors after Kim Philby fled to Moscow in 1963 and several wrote about them, in effect tracking them down for me. Philby famously wrote memoirs (My Silent War), as did the British spy George Blake, but more importantly for me, two of Philby's four wives wrote accounts of their lives in Moscow with him, filled with the kind of day-to-day details that novelists treasure. Having once been almost invisible to me, the defectors now had addresses and photographs and anecdotal encounters. I followed all of them. I learned that Philby lived in a courtyard off Trekhprudny Pereulok, so I put my defector just around the corner , in Yermolaevskiy Pereulok. Donald Maclean's flat was near the Ukraina Hotel (still there) and Guy Burgess's down on Bolshaya Pirogovskaya Ulitsa, across from the Novodevichy Convent, so I put one of my defectors there too. The much loved Aragvi Restaurant in the Hotel Dresden is gone now but the Praga in Arbatskaya is still with us and the Bolshoi is forever. Dachas appeared in defector snapshots (smiling around a lunch table) and anyone who lived in my defector's neighborhood would inevitably walk around Patriarch's Pond. Piece by piece, the world of the novel took shape and after a while all of Moscow became background, a sprawling set. Spaso House. The Lubyanka. Even a visit to Tolstoy's house prompted a scene in the book, mostly because I couldn't resist using it. If our defector takes a walk down the Garden Ring, why not turn off in time to pass Beria's house?
At this point, location scouting becomes immersive—you begin living in the Moscow of the novel. But to do this you still need that jump back in time, to cover the busy Moscow you see with a kind of gray scrim, as if you were changing colour film to black and white. (Even colour photographs of the period have a black and white drabness about them.) If you sit in a hotel lobby today you're likely to notice all the glitzy props of the current kleptocracy—body guards with ear wires and blonde escorts in impossibly high heels. But in 1961 the scene would have been more puritanical and sombre—men in bulky suits wondering about you, any foreigner an exotic. Fiction is all about that imaginative leap, being able to look at one Moscow but see another. When you know how your characters live, you begin to know how they feel, who they are. I know the post office where Kim Philby picked up his mail, but now I might expect to see my Frank Weeks there too, or bump into him at the Metropol bar. I'm no longer location scouting. I'm in a city filled with people I know. My defectors live in some Moscow in my head, as real to me as the actual one and, with any luck, I hope as real to you.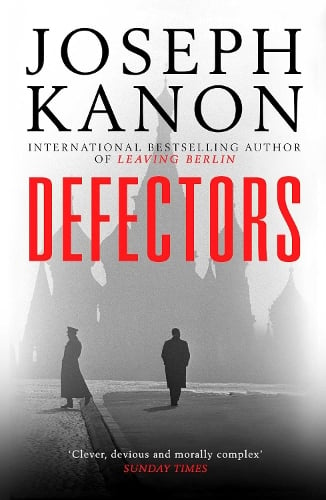 Paperback
Usually dispatched within 48 hours
The Waterstones Book of the Month for February 2018. From the bestselling author of Leaving Berlin and Istanbul Passage comes a thrilling and richly imagined novel about the life of an American spy who defected to Moscow when his cover was blown in the early days of the Cold War.
×
Download the Waterstones App
Would you like to proceed to the App store to download the Waterstones App?
Reserve online, pay on collection


Thank you for your reservation
Your order is now being processed and we have sent a confirmation email to you at
When will my order be ready to collect?
Following the initial email, you will be contacted by the shop to confirm that your item is available for collection.
Call us on or send us an email at
Unfortunately there has been a problem with your order
Please try again or alternatively you can contact your chosen shop on or send us an email at