Blog
Crumbs of Comfort: Delicious Recipes from Bake Off Winner Candice Brown
Whether you're eagerly awaiting the new incarnation of
Bake Off
or still pining for Mel, Sue and Mary, we've got something to tempt you into the kitchen. Bake Off champion Candice Brown's new cookery book,
Comfort
, is full of the flavours and memories that make her feel at home. To give you a taste, here are three of her favourite recipes from the book to inspire you to get your apron on.
Salmon, prawn and asparagus tart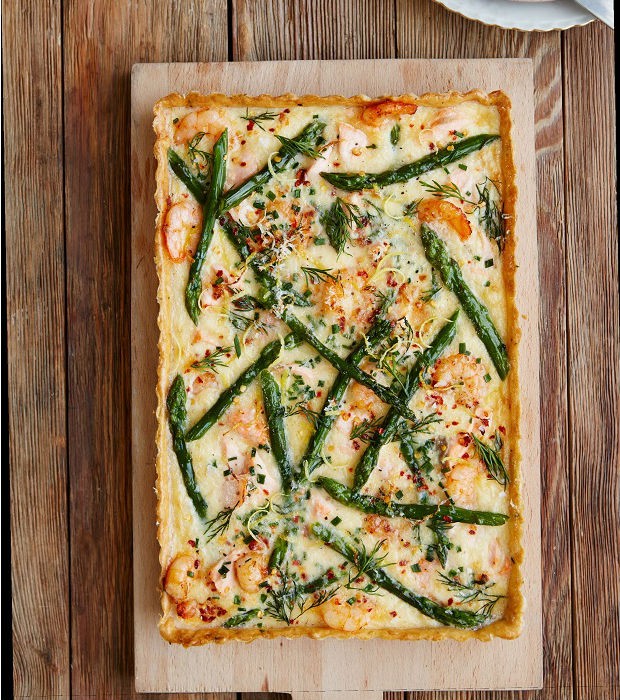 Salmon, prawn and asparagus tart
This is like a really posh quiche, packed full of salmon, king prawns and asparagus. I think tarts like these should have more filling than egg mixture and this is a great example of that. Try to use sustainable fish – a lovely alternative to salmon is rainbow trout or even smoked haddock. Just be careful of the seasoning if you use smoked fish.
Serves 6
Filling:
2 x 150g pieces skinless salmon fillet
180g peeled raw king prawns, thawed if frozen
1 tbsp fresh dill
½ tsp chilli flakes
1 tsp finely chopped garlic (jarred or fresh)
grated zest of 1 lemon
olive oil
200g fresh asparagus spears
4 eggs
80ml double cream
50g Gruyère, grated
100g Parmesan, freshly grated
beaten egg, for egg wash
salt and freshly ground black pepper
fresh chives, to garnish
Pastry:
250g plain flour, plus extra for dusting
1 tsp dried parsley
125g cold unsalted butter, cubed
2 medium egg yolks
50ml ice-cold water
Preheat the oven to 160°C fan (180°C/350°F/Gas Mark 4).
First start the filling. Make a foil pouch and put in the salmon, prawns, fresh dill, chilli, garlic, lemon zest and a seasoning of salt and pepper. Drizzle over some olive oil and seal the parcel. Place on a baking tray and bake for 12–15 minutes until the salmon will flake when nudged with a fork and the prawns are pink. Remove from the oven, fold open the parcel and leave to cool. Leave the oven on.
To make the pastry, put the flour, dried parsley and a pinch each of salt and pepper into a large bowl and mix together. Add the cubed butter and rub it in with your fingertips until the mixture resembles breadcrumbs.
Drop in the egg yolks and mix in with your hands, then slowly add enough of the cold water to bring together into a dough (you might not need all of the water). Knead lightly just until smooth – do not handle too much – then wrap and chill for about 15 minutes.
Bend each asparagus spear and snap off the woody end. Blanch the asparagus in a pan of boiling salted water for 1 minute. Drain, then slice in half lengthways. Set aside.
Mix together the eggs, double cream and some salt and pepper in a bowl. Add the Gruyère and most of the Parmesan and mix through.
Roll out the pastry on a lightly floured work surface to 3mm thick and use to line a 20 x 24cm rectangular fluted tin with a loose bottom. Crumple up a piece of greaseproof paper, then smooth it out and use to line the pastry case. Fill with baking beans. Bake blind for 15 minutes. Remove the beans and paper. Brush the pastry case with egg wash, then bake for a further 5 minutes until golden brown.
Gently flake the salmon into chunks and spread in the pastry case. Arrange the prawns on the salmon followed by the asparagus. Pour over the egg mix. Sprinkle with the reserved Parmesan. Bake for 15–20 minutes until the filling is golden and just set with a slight wobble on top.
Leave to cool before trimming off the pastry edges. Finish by snipping some fresh chives over the surface.
Orange & hibiscus madeleines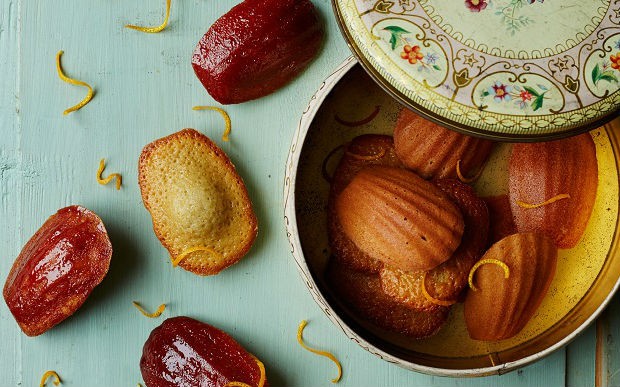 Orange and hibiscus madeleines
Makes about 32
I love France, everything and anything French, and j'adore Paris! I first tried madeleines on a school trip to France and loved the simplicityof them along with a bowl of hot chocolate. Now when I make them, they are barely out of the oven before I'm shovelling one into my mouth! Orange adds a lovely citrus taste and the hibiscus almost a berry/rose-like touch. Hibiscus is great in tea too!
1 tbsp dried hibiscus petals
100ml boiling water
90g unsalted butter, melted and cooled, plus extra to grease the moulds
50g soft light brown sugar
100g golden caster sugar
2 large eggs
grated zest and juice of 1 orange, plus extra zest to decorate
100g plain flour, plus extra for the moulds
just under 1 tsp baking powder
pinch of salt
1 tbsp orange blossom honey
Put the dried hibiscus petals in a small bowl and pour over the boiling water. Leave to soften for about 5 minutes.
Meanwhile, brush your madeleine moulds with melted butter, then dust them lightly with flour.
Combine the brown sugar, 50g of the caster sugar and the eggs in a large bowl and whisk with an electric hand whisk until light and fluffy. Add the orange zest, 90g cooled melted butter, plain flour, baking powder, salt, honey and 1 tablespoon of the hibiscus water, and mix together to make a batter. Leave for a minimum of 30 minutes.
Preheat the oven to 170°C fan (190°C/375°F/Gas Mark 5).
Spoon the batter into the prepared madeleine moulds (you will need to bake in batches). Take care not to overfill the moulds. Bake for 10–12 minutes until risen and golden.
Remove the madeleines from the moulds and place on a wire rack. Cool the moulds, then brush with melted butter and dust with flour again before baking another batch of madeleines.
Once all the madeleines have been baked and cooled, mix together the orange juice, the remaining 50g caster sugar and 3 tablespoons of the hibiscus water in a small saucepan. Stir over a medium heat until the sugar has dissolved and you have a thick syrup.
Poke a hole in the underside of each madeleine and brush over the syrup. Wait for this to soak in, then brush on a second coat of the syrup. Finish with a grating of orange zest. These are best eaten fresh on the day of baking.
Rhubarb syllabub doughnuts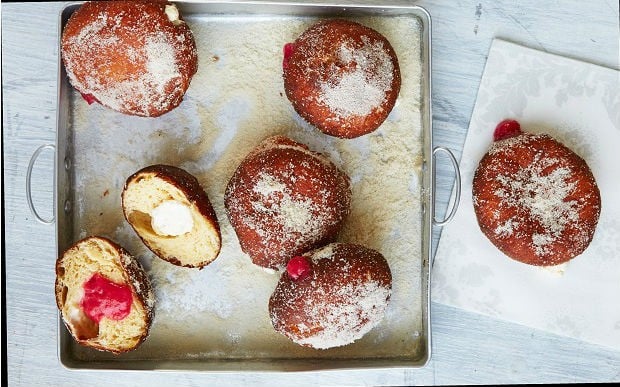 Rhubarb and syllabub doughnuts
Makes 6 large or 12 small doughnuts
You can't eat a whole one of these without licking your lips – a classic pudding rejigged in doughnut form. Tart rhubarb cooked in white wine and sugar teamed with sweet vanilla cream, both piped into soft, plump balls of deep-fried dough. What's not to like? These are pretty big doughnuts, so if you can't handle the size then you are better off making12 smaller ones. (I know you will still eat two though!)
Dough:
270g strong white bread flour, plus extra for dusting
10g instant yeast
10g salt
20g caster sugar, plus optional extra for dredging
finely grated zest of 1 lemon
120ml lukewarm whole milk
40g unsalted butter, very soft
1 egg
rapeseed oil
Filling:
200g fresh rhubarb, chopped into small pieces
2 tbsp medium/sweet white wine
1 tbsp golden caster sugar
grated zest of 1orange
150ml double cream
150g mascarpone cheese
1 tbsp icing sugar
½ tsp vanilla bean paste
To finish (optional):
100g icing sugar, sifted
Put the flour in the large bowl of a free-standing electric mixer fitted with a dough hook. Make a small well in the middle. To one side put the yeast and on the opposite side put the salt, sugar and lemon zest. Pour the lukewarm milk, the very soft butter and egg into the well.
Mix on a low speed for 2 minutes until everything is combined. Turn up the speed slightly and mix/knead for 5 minutes until you have a smooth, soft dough. (You can also make the dough by hand, kneading on a lightly oiled surface for 10 minutes.)
Turn out the dough on to a lightly oiled work surface and shape into a smooth ball. Place in a lightly greased large bowl and cover with a clean tea towel. Leave to rise in a warm place for 1–2 hours until at least doubled in size.
Turn out the risen dough on to a lightly floured surface. Slightly knock out the air, then divide equally into either six large balls or 12 mini balls. Gently pinch and pull the outside of each ball into the middle so you get a nice smooth, round shape. Arrange the balls, not touching each other, on a baking sheet lined with greaseproof paper. Place this in a clean plastic bag and leave for 45–60 minutes until doubled in size.
Heat 10–15cm of rapeseed oil in a high-sided medium-sized saucepan or deep-fat fryer until the oil reaches 150°C (302°F). Deep-fry the doughnuts in batches – no more than three at a time – and check the oil temperature between each batch. Carefully place the dough balls into the oil. If they are large, fry for 3 minutes on each side; fry small balls for 2 minutes on each side. When done, the doughnuts will be puffed and golden brown. Lift out with a slotted spoon and place on kitchen paper to drain.
At this point you can roll the warm doughnuts in caster sugar if you like.
Put the rhubarb, white wine, golden caster sugar and orange zest in a small saucepan. Set on a low/medium heat and cook until the rhubarb is softened and the liquid has reduced to a thick syrup. Transfer 1 tablespoon of the syrup to a small bowl. Set the pan of rhubarb aside to cool.
In another bowl, combine the double cream, mascarpone, icing sugar and vanilla and whisk together until the mix is just thickened and will hold its shape. Spoon the cream mixture into a piping bag fitted with a fairly large round nozzle. Fill a second piping bag fitted with a fairly large, round nozzle with the rhubarb mix.
Using a chopstick, poke two holes side by side into the side of each doughnut – give the chopstick a wiggle around so you create space inside the doughnut. Pipe the cream mix into one hole and the rhubarb mix into the other hole (be careful as this mix is a little thinner and may run).
If you haven't rolled the doughnuts in caster sugar, then make a glaze with the reserved rhubarb syrup and the icing sugar. Drizzle this over the top of the filled doughnuts.
TIP: No white wine to hand? Try using a sweet vermouth with the rhubarb instead.

Extracted from Comfort by Candice Brown (Ebury Press, £20)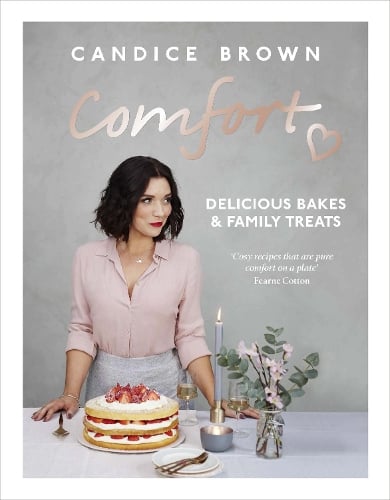 Hardback
Usually dispatched within 48 hours
These are the recipes Candice learned to bake from her nan and mum, recipes close to her heart, that should be served up as a big generous slice - and preferably on a vintage plate if you have one. Candice's recipes are easy to make, no nonsense and hearty.
×
Download the Waterstones App
Would you like to proceed to the App store to download the Waterstones App?
Reserve online, pay on collection


Thank you for your reservation
Your order is now being processed and we have sent a confirmation email to you at
When will my order be ready to collect?
Following the initial email, you will be contacted by the shop to confirm that your item is available for collection.
Call us on or send us an email at
Unfortunately there has been a problem with your order
Please try again or alternatively you can contact your chosen shop on or send us an email at