Blog
Craig Taylor on an Essential New York Read
As the author of the seminal Londoners, Craig Taylor is an expert in letting ordinary people tell their stories. As his new book New Yorkers is published, Craig selects Joseph Mitchell's Up in the Old Hotel - a collection of pieces from Mitchell's time at the New Yorker - as a perfect example of New York writing.
Joseph Mitchell allowed others the chance to speak. Again and again in his work for the New Yorker he made space for eloquent monologues in the middle of his reportage. His collection, Up in the Old Hotel, contains 'Joe Gould's Secret', one of his best known stories, but I always return to a piece called 'Mr Hunter's Grave', which includes one of those long monologues, as well as plenty of descriptions of wildflowers and tombstones and, tucked away, a few important life lessons. The first: don't stick around Manhattan. It'll do you good to leave. The opening sentence is laden with a kind of stress-sadness that comes with living in New York.
'When things get too much for me, I put a wildflower book and a couple sandwiches in my pockets and go down to the South Shore of Staten Island and wander around awhile in one of the old cemeteries down there.'
Already, here is reassurance that wandering around New York is not wasted time. This type of writing won't happen if it's forced. You can already hear in Mitchell's voice a touch of defeat and failure; an indication of how the city will overwhelm even its enthusiasts.
What I love about Mitchell is his apprehensiveness, the lack of an imperious know-it-all tone you find in the worst New York writing – 'I saw it, so I know it'. Mitchell suggests that the best we can ever do is find one person, maybe in a graveyard, and ask them to tell one story. If you give your person time to speak, they might offer up eloquence and candour, and you might come away with something like Mitchell set down, a story larger than its teller, alive with its own language.
Walking New York always helps. It only takes a page and a half for Mitchell to achieve uplift:
'Invariably, for some reason I don't know and don't want to know, after I have spent an hour or so in one of these cemeteries, looking at gravestone designs and reading inscriptions and identifying wild flowers and scaring rabbits out of the weeds and reflecting on the end that awaits me and awaits us all, my spirits lift.'
Those of us who walk New York feel this; decades later, in a much-changed city, Mitchell's meditative act remains effective. Walking the city will bring you out of yourself, even if it's a heavy lift.
Mitchell is known for his subjects. Up in the Old Hotel is populated by seafood enthusiasts, saloon-keepers and many in between. Over the course of seven hundred pages a type of city character emerges: a New Yorker who bravely forges his own identity and doesn't leave the creation of his legend to others. I'm referring in particular to Captain Charley, the relentless and indiscriminate collector who ran Captain Charley's Private Museum for Intelligent People on 59th,, near Columbus Circle back in Mitchell's day. Charley calls himself captain because he once had charge of an ammunition ship 'and saw no reason why he shouldn't have a title.' He is another of Mitchell's New Yorkers courageous and foolish enough to use the city as both a stage and a workshop to craft a persona. I saw something similar in the time I spent with one of the few street booksellers left in the Bronx, as well as my days with a street preacher in Brownsville whose volume was comparable to that of a garrulous old Episcopal priest Mitchell profiled elsewhere, who told him 'The gutter is my pulpit...and the roaring traffic is my pipe organ.'
Sure, it's a romanticized New York. It's gauzy, and sometimes the interviewees seem to be a little too eloquent for non-fiction, but Mitchell's work will always act as a reminder that the sidewalk is more interesting than the search engine. Those who put in the time –the metro reporters and documentarians and writers like myself who embark on crazy years-long projects – get to live and breathe the city. We get to feel it in our veins.
Another of Mitchell's collections is called, fittingly, My Ears Are Bent, as his reporting occasionally captures what happens when the monologues don't stop. In New York you're often subjected to an overwhelming flow of talk. In his piece about Captain Charley, Mitchell writes that after fifteen minutes of listening to the man, he is suddenly reminded of something that happened when he was ten years old. He was hit on the head by a cow. (It had been hoisted above the earth.)
'For at least a week after I received the blow on the head, everything people said to me seemed illogical ordisconnected; every conversation I heard seemed to end unerringly and pleasantly in confusion. That's the way I feel after I have listened to Captain Charley for a little while.'
I know the feeling. New York can swamp a listener and overwhelm the best of us. While conducting this kind of work you might, in a sense, take a cow to the head. But listening to New Yorkers is unlike any other activity. Odds are you'll someday hear a monologue that will illuminate a part of the city no one else will see. I'm not talking about street corners, but rather the contours of an individual's New York life. To hear that, you need to leave the apartment.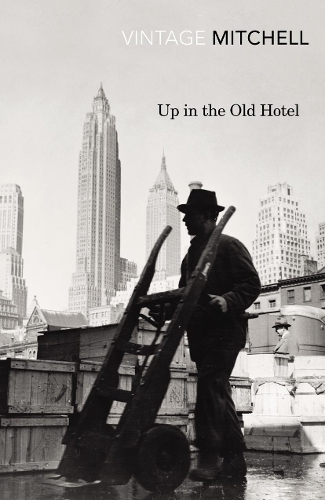 Paperback
Available
Ringing with the voices of authentic post-war New Yorkers, Mitchell's wonderfully evocative essays are collected in this sprawling volume, perfectly capturing the myriad idiosyncrasies of the Big Apple.
×
Download the Waterstones App
Would you like to proceed to the App store to download the Waterstones App?
Reserve online, pay on collection
Alternatively, for multiple items you may find it easier to
add to basket
, then pay online and collect in as little as 2 hours, subject to availability.
Thank you for your reservation
Your order is now being processed and we have sent a confirmation email to you at
When will my order be ready to collect?
Following the initial email, you will be contacted by the shop to confirm that your item is available for collection.
Call us on or send us an email at
Unfortunately there has been a problem with your order
Please try again or alternatively you can contact your chosen shop on or send us an email at