Blog
Chris Whitaker on His Favourite Crime Fiction Heroes
We Begin at the End, the Waterstones Thriller of the Month for August, is the third novel by the award-winning author Chris Whitaker. Celebrated for his finely drawn characters and the blistering psychological depth of his narratives, Whitaker talks to us about his favourite protagonists in crime fiction.
East in Dodgers by Bill Beverly
This novel won so many prizes I contemplated emailing Bill Beverly and asking for bribery tips, but then I picked up the book and from the very first page all became perfectly clear. It's phenomenal.
Dodgers follows a group of Los Angeles teens as they set out on a cross country road-trip to assassinate a judge in Wisconsin. East is the standout in this raw and rugged literary thriller, and it's watching him react to the changing landscape and situations the group find themselves in that's utterly mesmeric. Whilst undoubtedly a product of his environment, it is the glimpses we get into the future he might've had that make this such a heartrending, fascinating and tragic tale. Toward the end East arrives at a crossroads, and it's a testament to his strength of character, and Beverly's exquisite storytelling, that sees his decisions linger long after the final page is turned.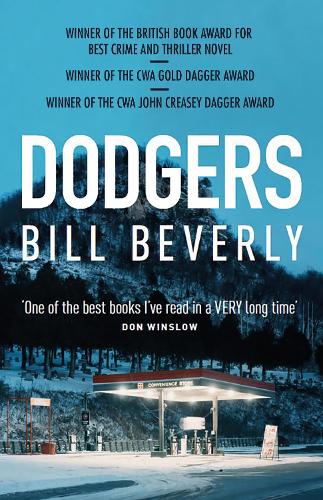 Paperback
5+ in stock
Usually dispatched within 48 hours
When East, a low-level lookout for a Los Angeles drug organisation, loses his watch house in a police raid, his boss recruits him for a very different job: a road trip - straight down the middle of white, rural America - to assassinate a judge in Wisconsin. Having no choice, East and a crew of untested boys - including his trigger-happy...
Starr Carter in The Hate U Give by Angie Thomas
I read this book just after it came out and have been raving about it ever since (this is my attempt to lay claim to some of its monstrous success, and perhaps ask Angie Thomas for a taste of those royalty cheques).
Though inspired by the Black Lives Matter movement, and shining a much-needed spotlight on prejudice, injustice and institutional racism, it also has all the elements of a gripping thriller with beautifully drawn characters.
The only witness to the police shooting of her unarmed friend, Khalil, sixteen-year-old Starr must somehow come to terms with her grief, whilst also walking the tightrope between testifying in front of a grand jury, speaking out on Khalil's behalf, and keeping the carefully constructed boundary between her home and school life from crumbling.
Starr is everything I look for in a hero. She's brave in the face of huge adversity, using her voice to stand up for what she believes in despite the personal risk to herself and her family. Raw, emotional and powerfully written. The world would be a brighter place with more Starrs in it. See what I did there?
Victor in Kill For Me by Tom Wood
I like my heroes with a side of ambiguity, and they don't come more complex than Victor, the assassin, and star of Tom Wood's breathtaking series. Whilst an antihero in the purest sense (I still flinch at some of Victor's kills), he's far from a psychopath. In fact, it's the moments of unexpected heroism, where he goes out of his way to spare the life of an innocent, that really resonate. And nowhere is this more apparent than in, where the action takes place in a bloody Guatemala City. Full of thrills, intrigue and some seriously ingenious plotting, it's Vincent's burgeoning relationship with DEA agent, Joanna, that offers up a tantalising glimpse of the man behind the gun.
It takes a real skill to humanise a paid killer, and to do it in such a way that left me feeling genuine affinity toward him is deeply impressive. Victor is a bad man who kills badder men. And, whilst I worry about what this says about me (not to mention Wood), I can't get enough of him.


Johnny Merrimon in The Last Child by John Hart
This book holds a special place in my heart as it was after reading it that I quit my city job and wrote my debut, Tall Oaks. I was so inspired by the power of the writing and the fact that John Hart left a successful law career behind in order to pursue his dream of being an author.
The story follows thirteen-year-old Johnny Merrimon as he stalks the bad men of Raven County in an attempt to track down his missing twin sister, Alyssa. John Hart is an absolute master of blending beautiful, lyrical prose, with a propulsive, clever plot. Johnny is a wonderful creation; burning with the need to protect his family, he has a total disregard for his own safety.
I read each page with my heart in my mouth, and by the end I was so desperate to find out Alyssa's fate that I read through the night to the heartbreaking end.
It is by turns dark and wondrous, haunting and threaded with hope. And Johnny is such a badass. He's totally fearless and, despite his tender years, won't let anything or anyone get in his way. Also look out for his endearing relationship with best friend, Jack. If I wasn't such a badass myself, I would've teared up reading those last lines.


Scout in To Kill A Mockingbird by Harper Lee
I agonised over this one. I was sorely tempted by M.W. Craven's perfect Poe and Tilly, Caz Frear's ballsy Cat Kinsella, and Rod Reynolds' intrepid Charlie Yates, but I've decided to end with an all-time classic. Okay, so I know that Atticus Finch is a hero of epic proportions, but for me it's Scout who steals the show. I'm a sucker for a scrappy teen, and they don't come much scrappier than Jean Louise.
We all know the story: Maycomb lawyer Atticus takes the case of Tom Robinson, a black man accused of raping a white woman, and in doing so invites a world of trouble to their small southern Alabaman town. The book was published in 1960, and so much of who Scout is, and who she strives to be, is far at odds with how girls were expected to behave. She walks barefoot, climbs trees, fights with boys and generally eschews the social conventions of her prim and proper surroundings. But it's her faith in the innate goodness of people that sets her apart, even as the story progresses and she's faced with the horrors of racial prejudice, her moral compass remains as true as her father's.
So no matter how bad things get, or how bleak the future might seem, what defines Scout and the other heroes on this list, is that they never lose hope, and they never lose heart.
×
Download the Waterstones App
Would you like to proceed to the App store to download the Waterstones App?
Reserve online, pay on collection


Thank you for your reservation
Your order is now being processed and we have sent a confirmation email to you at
When will my order be ready to collect?
Following the initial email, you will be contacted by the shop to confirm that your item is available for collection.
Call us on or send us an email at
Unfortunately there has been a problem with your order
Please try again or alternatively you can contact your chosen shop on or send us an email at