We regret that due to the technical limitations of our site, we are unable to offer eBooks or Audio Downloads to customers outside of the UK.
For further details please read our eBooks help.
Blog
Children's Book of the Month - Oksa Pollock: the Last Hope
Authors of our Children's Book of the Month, Anne Plichota and Cendrine Wolf tells us why they love to write fantasy...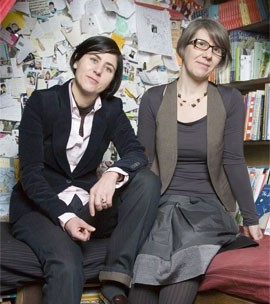 Anne Plichota: When I was a child and then a teenager, I was extremely shy and reading was really helpful to me. I soon understood the power of words and I always loved listening to stories, true and not true, it didn't matter – I was always a taker! One day I decided that I'd tell stories, too, because I know what other people can find in them. Stories are comforting, they help you to discover and understand the world, they can make you laugh and cry, and think... Their powers are so broad, there are no limits. I'm also very curious and I like to know how other people live, and thanks to reading I have access to other stories and other lives. Even in genres like fantasy or sci-fi, there is no such thing as 100% fiction and the most creative stories are always rooted in reality.
Yes, we do like writing fantasy! Why? Because we think that people are not always what they seem, and there is a little bit of magic in each of us, a hidden side, maybe good, maybe bad, sometimes both. This genre also allows us to express life as we would like it to be. Having a strange creature to serve you, or supernatural powers, would this not really spice up everyday life and make it so much more fun?
We love to mix reality and imagination, the details of the daily life into which we weave a bit of fantasy (down with monotony!), stories of our families or strangers (I love listening to people telling me their life stories), our dreams, our nightmares, who we'd like to be and what we'd like to experience and never will, such as flying and having supernatural powers. Let's say: we have our feet on the ground, but our heads elsewhere. And this elsewhere escapes reality but is never too far from it.
In Oksa's case, she's an ordinary girl faced with extraordinary circumstances and fate. She's impulsive, energetic, loyal to her friends and family and has a good sense of humour. She's just like many girls her age, has the same issues and happy moments in life, big and small. She's not perfect; she does have weaknesses, like all of us. Magic and her powers don't allow her to resolve everything, and this very "human" side of her is one of the things we found most interesting about her. Oksa is just like everyone else, almost like everyone else.
Cendrine Wolf: We've used all the ingredients of fantasy, all the unavoidable ingredients of fantasy literature: magical powers, creatures, the quest for origins and for another world, the struggle between good and evil... But we wanted to create something else, using the traditional imagery of this literary genre. For example, Oksa is not an orphan. The lone hero is so often a given in magical stories/stories with magic! Oksa has a strong entourage of friends and family, which include her parents, her grandmother, her friends and the community of the Runaways. It changes many things, in how her adventures unfold. Whatever she decides to do, it has an impact on the people she loves. You don't make the same decisions when you're alone and only you are affected, and when you're not. We're trying to show the strength of solidarity, the role played in life by feelings between people. And, more generally, we're also trying to break the myth of the lonesome and perfect struggling hero!
Anne P. : There is another big difference between the Oksa Pollock series and the other fantasy books: the creatures. The superpowers in the series can be found in many other books and films (flying, moving objects telepathically, throwing fire). But we did not want to reuse the same creatures you find everywhere in fantasy stories. So we came up with the Lunatrixes. Physically they look a lot like Yoda in Star Wars or Dobby in Harry Potter, but they have their very own way of speaking! The same principle led to the idea of the granok-shooter. It was out of the question that Oksa should have a wand like everyone else, we needed a whole new piece of kit!
Last, but not least, Oksa's story takes place in reality and the real world we know. This is a constraint, it restricts the things Oksa can do despite the fact that she has magical powers. In a completely imaginary world, everything is possible. Not in our world.
That's how we like tackling fantasy literature best: making imaginary things and magical elements credible by weaving them into the real world and trying to look beyond appearances...
Read a sample of Oksa Pollock: the Last Hope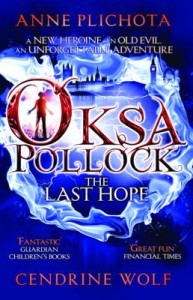 You can Reserve & Collect Oksa Pollock: the Last Hope from your local Waterstones bookshop (http://bit.ly/MAIQGf), buy it online at Waterstones.com (http://bit.ly/1crpCty) or download it in ePub format (http://bit.ly/MAIUWB)