Navigation
Search
Books

Dinosaurs Love Underpands

Claire Freedman, Ben Cort

Deep Sea Monsters

Igloo

Dinosaurs Love Underpands

Claire Freedman, Ben Cort

Deep Sea Monsters

Igloo
We regret that due to the technical limitations of our site, we are unable to offer eBooks or Audio Downloads to customers outside of the UK.
For further details please read our eBooks help.
Blog
Children's Book of the Month - Meet the Parents
Road Dahl Funny Prize winner Peter Bently tells us about his collaboration with Dogs Don't Do Ballet illustrator Sara Ogilvie, Meet the Parents - our January Children's Book of the Month...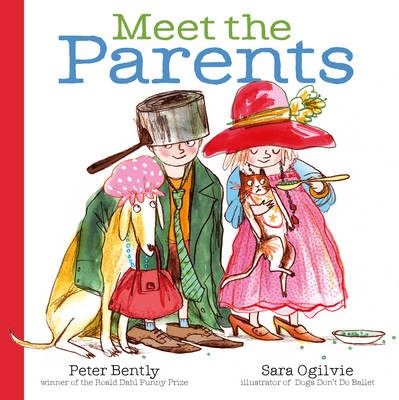 When I do book events or visit schools I am often asked: "Where do you get your ideas from?" It's a very good question! The answer is basically "anywhere and everywhere". For example, The Great Dog Bottom Swap (shortlisted for the Roald Dahl Funny Prize in 2009) was inspired by a folk legend once told me by an uncle. I was reminded of it when I heard my brother-in-law telling my son Theo much the same story – it's obviously one of those delightfully risqué stories beloved of mischievous uncles. Cats Ahoy! (Roald Dahl Funny Prize winner in 2011), began with the question: Why do cats say meow? What if they're actually saying "Me? How?" My son's den-making in our back garden inspired King Jack and the Dragon (shortlisted for the 2013 Kate Greenaway Medal). And so it goes on.
The sources of inspiration are endless. And very often unexpected. It's probably unsurprising to learn that the idea for The Yoga Ogre – my first book for Simon and Schuster – came during a yoga class. I should point out that my teacher, Bill, is far from being an ogre, even a nice friendly one like Simon Rickerty's. Bill's not green, for a start. He is, however, almost seven feet tall. So when he demonstrated a handstand we all gasped not only because he did it so effortlessly, but because his feet actually touched the rafters. Later in the class, during the relaxation bit when one is not supposed to think of anything, my mind was busily meandering. The thought process went something like this: Yoga. Bill. Yoga. Tall. Yoga. Giant. Yoga. Ogre. Yoga. …Hold on, rewind that … YOGA OGRE? Hm, I wonder….
I never have been able to manage a handstand, but at least I have a picture book to show for it.
Children are brilliant at coming up with things that open a crack in the imagination. My own two, Theo (14) and Tara (11), are a bit old for picture books now, but that doesn't stop them being a source of inspiration. It is to them, as well as my wife Lucy, that I owe the idea for my previous book for Simon and Schuster, Dustbin Dad, hilariously illustrated by Russell Ayto. The title was a nickname given by Lucy, Theo and Tara to none other than, er, me. Like the dad in the story, I hate to see food wasted, and regularly snaffle anything left on the other three plates at the end of a meal. (However, unlike the dad in the story, I have never actually turned into a gigantic cat.)
Lucy is a great source of ideas and also fulfils the essential role of First Editor – the person who makes sure that what I send to my actual editor or my agent is actually worth reading. Like an ace reporter in a war zone, she brings back eyewitness accounts of life on the front line of parenthood in the real world beyond my own chair, desk and laptop (or whatever café I'm in with my notebook).
So it was from Lucy that I heard the idea that led to Meet the Parents. She was visiting our friend Trudy, who has a delightful and (to say the least) energetic five-year-old named Tira. At one point, Tira paused in her gambollings for long enough to sidle up to Trudy and casually plonk something in her hand. It turned out to be the squished and crumbly yet somehow also soggy remains of what, just minutes earlier, had apparently been edible. (Apparently not even Dustbin Dad would have bothered.) "Oh really, Tira!" said Trudy. "I'm not a plate, you know!"
Like that chief correspondent whose journalistic nose turns a casual comment into a major scoop, Lucy instantly spotted the potential in Trudy's remark. She shared her train of thought with me. What useful – and often unacknowledged – functions do parents fulfil? They come in handy not only as plates but as all sorts of other things. They are mending machines, hand-warmers, lost-toy-finders, makeshift sofas –  and also, of course, useful mobile dustbins. But they're also cuddlers and tucker-uppers and kiss-betterers and pickle-sorter-outers. And so on.
Armed with a sackful of ideas, I sat down to turn my raw material into what became Meet the Parents. The ideas in the finished text are all beautifully realised in Sara Ogilvie's wonderful illustrations. They are a true joy. Sara's ability to catch a facial expression through the subtlest inflexion of a simple line is a rare and truly amazing gift.
One final word. I've described writing a story as in some ways comparable to journalism. But unlike a journalist, I'm not honour-bound to keep my sources a secret. Far from it. Meet the Parents is dedicated to Trudy and Tira and their family. Credit where credit's due.
Peter Bently, for Waterstones.com/blog
Download a Meet the Parents activity pack
You can Reserve & Collect Meet the Parents from your local Waterstones bookshop (http://bit.ly/1cP2h9H), or buy it online at Waterstones.com (http://bit.ly/IUJvkz)