Blog
Children's Book of the Month - Darkmouth
Time for our Children's Book of the Month, Darkmouth, set in a world where you battle monsters on the way to shops. We've all been there.
Let's jump straight into the Darkmouth review written by Isabel from the our shop in Truro:
"Encountering a Minotaur on your way to the corner shop is a fairly normal sort of day in Darkmouth, a tucked away little Irish town, the last of the Blighted Villages. The last place where the divide between our world and the world of the Legends – myths, fables – is breached. Finn is the last in a long line of Legend Hunters, and soon it's going to be up to him to keep these creatures – and the angry villagers – at bay. A pity he's not very good at it, then.
Trying to balance his training with his schoolwork isn't an easy task for Finn at the best of times, but then the Hogboon arrives. He has a message for Finn, but what does it mean? Perhaps there's trouble brewing and perhaps, no matter how much he might wish to, for Finn there is no escaping his destiny.

The start of a really fantastic new series, Darkmouth has cool tech, portals to another world, a house with hidden passageways, monsters with a serious plan (not to mention the humans), and secrets upon secrets. There's lots of action, amusing repartee, and the characters twist and turn almost as much as the page-turning story does. Ideal for readers of Skulduggery Pleasant or Percy Jackson, Darkmouth is a fun and witty adventure with plenty to get your teeth into – or will it be getting its teeth into you?"
But a review's all well and good. Of course we love this book. It would never have become the Children's Book of the Month if we didn't. Let's go one further and offer an extract, below.
--
The town of Darkmouth appears on few maps because very few people want to find it. When it is marked on one, its location is always wrong.
It'll be a bit north of where it's supposed to be, or a bit south. A little left or a little right. A bit off.
Always.
Which means that visitors to Darkmouth invariably arrive having taken a wrong turn, soon convinced they'll reach only a dead end. They drive through a canopy of trees, whose branches reach from either side to clasp ever tighter overhead, becoming thicker with every mile until the dappled light is choked off and the road is dark even on the brightest of days. Then, just as the wood is almost scraping the paint from their car, and it seems that the road itself is going to be suffocated, the visitors travel through a short tunnel and emerge on to a roundabout filled with blossoming flowers and featuring a sign that reads: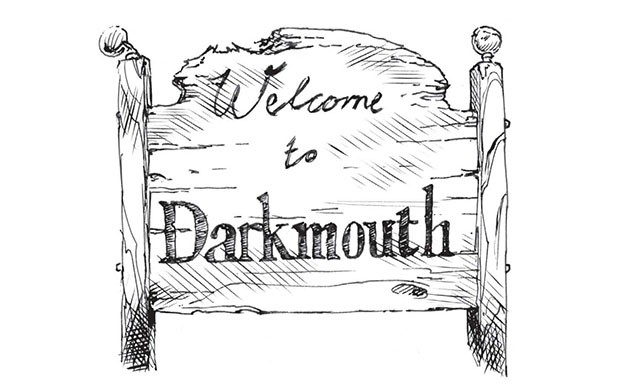 The next line has been updated by hand a couple of times: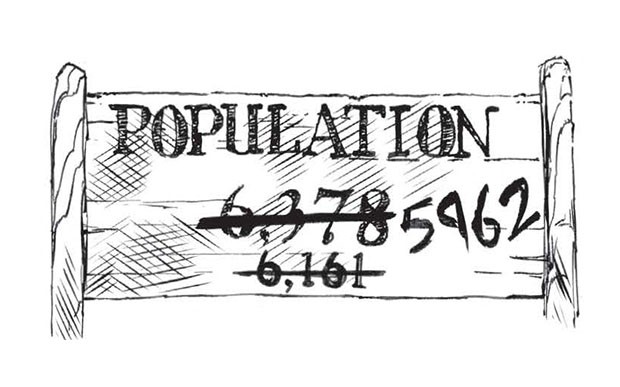 On a wall lining the road there is large striking graffiti.
It says only this: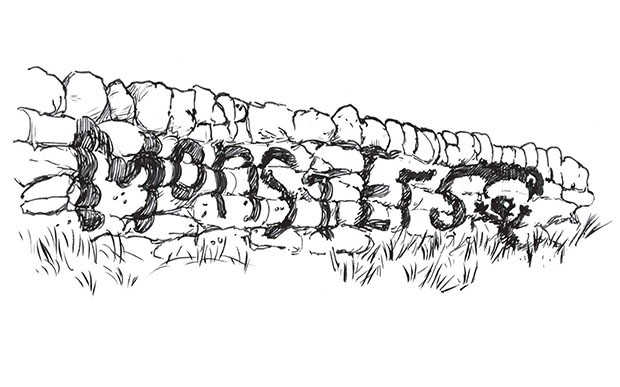 Except the last S forms a serpent, with mouth wide and teeth jagged. Visitors peer at it and wonder, Is that a...? Could it be a…?
Yes, that snake really is swallowing a child.
The travellers – by now a bit desperate in their search – have finally reached Darkmouth. Their next thought is this: Let's get out of here.
So they go right round the roundabout and head back the way they came. Which is a shame, because if they were to stay they would realise that Darkmouth is actually quite a nice little place. It has a colourful little ice-cream shop on the harbour, benches dotted along the strand, picnic tables and fun climbing frames for the kids.
And no one has been eaten by a monster for some time. In fact, they aren't really monsters at all. They might look monstrous, and the locals might refer to them as monsters, but, strictly speaking, they are Legends. Myths. Fables. They once shared the Earth with humans, only to grow envious, then violent, so that a war raged through the world's Blighted Villages for centuries.
Now Darkmouth is the last of these Blighted Villages. And Legends show up only occasionally.
This morning just happens to be one of those occasions.
×
Download the Waterstones App
Would you like to proceed to the App store to download the Waterstones App?
Reserve online, pay on collection


Thank you for your reservation
Your order is now being processed and we have sent a confirmation email to you at
When will my order be ready to collect?
Following the initial email, you will be contacted by the shop to confirm that your item is available for collection.
Call us on or send us an email at
Unfortunately there has been a problem with your order
Please try again or alternatively you can contact your chosen shop on or send us an email at