Blog
Chalke Valley History Festival 2015
James Holland, author, broadcaster and co-chair of the Chalke Valley History Festival introduces the largest festival dedicated entirely to the history of the UK
This week excitement levels are rising in the Chalke Valley here in south-west Wiltshire. Lorries, vans and even low-loaders bearing strange and wonderful old machines can be spotted trundling through this normally sleepy backwater, all heading for fields on the edge of the tiny village of Ebbesbourne Wake. Here, nestling beneath ancient downs carved with millennia of rural living, is the site of the Daily Mail Chalke Valley History Festival, now in its fifth year. The sun is shining, too, tents are being raised, trenches built and a large encampment is gradually emerging once more.
Putting this all together is a mammoth logistical undertaking and I'm very conscious that having the task of overseeing the programme is probably the plum job. It's always a challenge, but it's undeniably fun too and this year, it feels like we've struck a good balance: it's a festival of history with lots of different facets, from talks and discussions to living history all week, an amazing air show with Spitfires and other legendary aircraft from the Second World War, a 1940s party and even art exhibitions too.
The speaker list is pretty broad, eclectic and ranges from some very eminent historians such as Neil MacGregor, David Starkey, Robert Tombs, and my big brother, Tom Holland, through to Julian Fellowes talking about the world of Downton Abbey, and our annual history panel show, Histrionics. With Charlie Higson in the chair, and with Dan Snow, Ian Hislop, Neil Oliver and John Sessions in our two teams, it's a pretty stellar line-up.
We're also introducing a series of fairly meaty discussions on contemporary issues but with an obvious historic backdrop – so, the Caliphate will be analysed, with the long view of history explained and the aims and background of ISIS today discussed. Magna Carta, its significance and the challenges facing a new English constitution will also be picked over, as will the crisis of capitalism. Our debate this year will about whether the West should be intervening in the Ukraine. For each of these, we have amazing people and experts all in their field.
War and conflict is amply covered as we do our best to cover the large number of significant anniversaries; it is curious how often truly significant events seem to take place in the second decade of a century. Magna Carta, Agincourt, Waterloo, Gallipoli, Loos, the Battle of Britain, the end of the Second World War: all are being commemorated at this year's festival.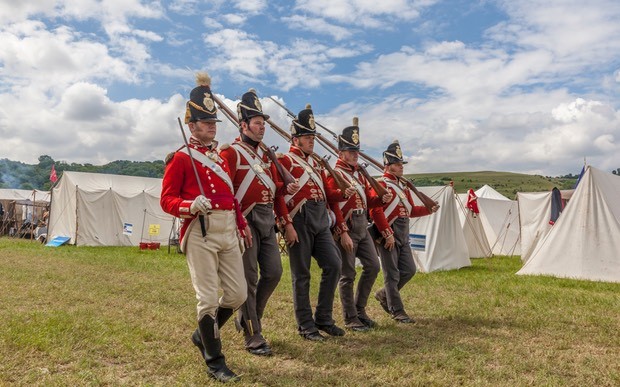 There is also history of art, history of the mind with Alice Roberts, ancient history with the brilliant Joann Fletcher, Bettany Hughes and Professor Paul Cartledge, as well as more recent history: Christina Lamb on Afghanistan, and Mark Ellen on the history of rock and roll.
I'm also really excited about the war veterans who are coming. This incredible generation is slipping away fast, which makes their appearance this June even more special. Battle of Britain fighter ace, Tom Neil will be recalling that fateful summer of 1940, while we also have an entire seven-man Lancaster crew coming too, including the last British Dam Buster, Johnny Johnson. A number of others are coming too, including Danny McCrudden, who will be singing a couple of numbers at the Victory Party. Danny served in the Pacific Fleet in the war and will be 91 on Sunday 28th June. Also marking the Battle of Britain will be a special exhibition by renowned and highly acclaimed war artist, Anna Redwood. The Last of the Few is a series of portraits of six of the final surviving Battle of Britain fighter pilots, exhibited in a special tent that includes artefacts and original film footage from 1940.
For the first time, we are also introducing a Pop-Up History Programme. This is our very own fringe festival and will be both free and based around our tea-tent-cum-bar which we're calling the NAAFI. The talks will be short, informal, and the audience will be encouraged to join in and ask questions. There are some eclectic subjects: the history of the world according to Tintin, the life of an Agincourt archer, the history of water-meadows, Cold War jets, women's fashions in the First World War, and sessions with Neil Oliver, Bettany Hughes and John Sessions to name but three. I can't wait.
There's also living history all week from Romans through to the Second World War. The best living historians see themselves as experimental archaeologists and they really do know their stuff. Talking to them is a fascinating experience and there is much to be learned from them. These people really do bring the past back to life very vividly. They will be carrying out small and large-scale talks, demonstrations and narrative displays.
Our air show is also bigger and better this year, with a Spitfire coming over on Friday evening and signalling the start of the festival weekend. What will follow on Saturday and Sunday will be incredible: more Spitfires (and who can ever get tired of them?), a Hurricane, Catalina, Mustang and even a Bristol Blenheim flying again for the first time in twenty years – and more besides.
And between all the talks, Spitfires, clashes of steel and other delights, there will be a mass of different bars, stalls and food, and all set in a truly stunning setting – where Hardy's Wessex meets the ancient landscape of droves, hill forts and tumuli. Really, what's not to like?
--
The Chalke Valley History Festival starts on Monday. Find out more on their website


×
Download the Waterstones App
Would you like to proceed to the App store to download the Waterstones App?
Reserve online, pay on collection


Thank you for your reservation
Your order is now being processed and we have sent a confirmation email to you at
When will my order be ready to collect?
Following the initial email, you will be contacted by the shop to confirm that your item is available for collection.
Call us on or send us an email at
Unfortunately there has been a problem with your order
Please try again or alternatively you can contact your chosen shop on or send us an email at