Blog
Celebrating the Life and Work of Helen Dunmore
Booksellers quickly learn that most authors come and go but there are a rare number who become part of the fabric of the bookshop, the ones who feel like friends. Helen Dunmore was one such author.
Dunmore, who died in 2017, left behind a rich literary legacy; writing of great breadth, sensitivity and deep understanding of the human condition. As we celebrate her life and work, authors John Boyne, Louise Doughty, Helen Taylor and Fanny Blake offer their own tributes to a generous and influential writer and friend.
John Boyne
I never had the good fortune to meet Helen Dunmore but, as is often the case with the writers one most admires, I feel I got to know her through her books. The first novel of hers that I read was Mourning Ruby in 2003 and from then on I was a committed fan. My favourite of her books is The Lie. There is no shortage of World War I fiction but Helen captured the desolation and trauma of a soldier with a sensitivity and insight to which all writers aspire but few capture.
Helen's fiction was always surprising and although a reader can identify themes and preoccupations that recur throughout her books, she never wrote the same novel twice. She brought us to Leningrad during and after the Second World War in The Siege and The Betrayal, threw us into the heart of the Cold War in Exposure, and offered a contemporary take on the horror story in the chilling The Greatcoat. There were family sagas too in A Spell of Winter and Talking to the Dead. And alongside her adult fiction lies a wealth of books for younger readers and a dozen collections of poetry. She never ran out of stories; a gift to her legion of readers.
Many novelists prefer not to review books by their colleagues, anxious about running in to their subjects at festivals or launches, but Helen was a prolific reviewer for the Guardian. She reviewed two of my novels there and her judgements were always well-considered. Praise was offered honestly and criticism was measured and discrete, never veering towards cruelty. She knew that in a book review, one's responsibility lay not to collegial support or mutual back-slapping, but to the reader who might spend his or her money on the book based on the positive words of the reviewer. A Helen Dunmore review was always a well-balanced thing and you could trust her judgement.
Like all great writers who pass too young, her readers will long for the books that might have been but alongside these regrets lies a gratitude for a life spent in literature and the wonderful books that she gave us over a quarter of a century of dedicated and prolific writing.


A bestselling Irish novelist and children's writer, John Boyne is best-known for his powerful multi-award winning novel of The Holocaust, The Boy in the Striped Pyjamas. His latest novel is The Heart's Invisible Furies.
******
Louise Doughty
The last time I saw Helen, I had just finished reading Birdcage Walk and told her I thought it was amongst her finest work. She took the compliment as she always did, listening carefully, a small nod of pleasure – you could never risk an insincere compliment to Helen, she would have spotted it in a flash. That wasn't a problem, though, as I was wholly sincere: Birdcage Walk has all the trademarks of my favourites amongst her novels, A Spell of Winter, which won the inaugural Orange Prize for Fiction and The Siege – I also have a real fondness for Your Blue Eyed Boy, one of her lesser-known books, about a woman being blackmailed by a former lover. The moodiness of its coastal setting, the dark undertow in the woman's feelings, the slow build of threat and suspense – all these elements are there in Birdcage Walk.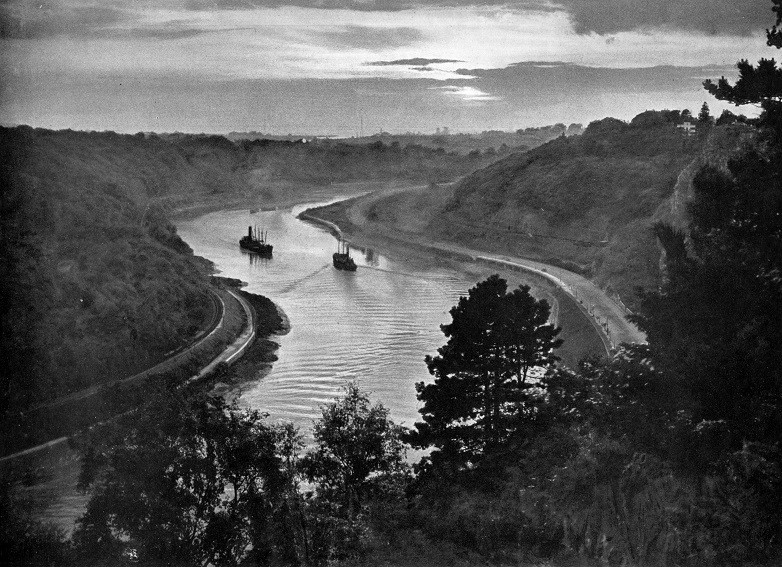 Avon Gorge
Birdcage Walk is about a property developer in 18th century Bristol and his young wife, Lizzie. The French Revolution is at its height and Bristol is full of supportive radicals and pamphleteers, but Lizzie's husband John is concerned only with building a fine residential terrace overlooking the Avon Gorge that will make their fortune. As the property market begins to collapse, his obsessions start to curdle – and their marriage becomes the thing that Helen was so very masterful at describing, a relationship fraught with ambiguity, darkness, deceit – and eventually, threat. The scene where John takes Lizzie down into a cellar and locks them both in had my heart thumping with fear. With one of Helen's books, you never know just how dark it is going to get.
Looking back over her writing, I realise now how much I learned from it without ever realising I was learning anything. A poet to her fingertips, her powers of description were unparalleled in contemporary fiction – I can still remember set piece scenes from her books that I read years ago, such as the chapter in The Siege where the heroine cycles out of the city to find vegetables at a deserted dacha, frantically digging up onions in bright sunlight, wondering if the rustling sounds from the nearby bushes might be German soldiers. Yet unlike some descriptive novelists, her work never feels slow – there is always the undertow of a fully realised story, the pull of what might happen. In this, she had a rare combination of talents at her fingertips, both storytelling and poetic powers.
Some years ago, I watched her talk to a group of students of mine at the Faber Academy in London, where she read her now-famous poem 'The Malarkey', which won the National Poetry Competition in 2009. Even a short poem such as that was suffused with story. Oddly, a yellow margarine came to mind, one launched many years ago, a spread called Utterly Butterly. I watched Helen and listened to her read and thought, 'She is utterly writerly…' there was something about her grace and skill as she described her own poem that encapsulated everything it meant to be a writer.
I never shared this silly phrase with her – she would have given a gentle laugh – but I thought of it when I read her work. Kind and gracious with her advice – and public praise of other writers – there was still a real intellectual seriousness to everything she did. She was part of a generation of writers that writers my age looked up to and were so inspired by in our early years: Hilary Mantel, Margaret Atwood, Rose Tremain are also amongst it – but in her case I had the great good fortune to watch her at work with my students and to get to know her personally. I miss her very much, but what a comfort that the books are there and can be read and re-read, to be enjoyed and learnt from enduringly, for many years to come.


Louise Doughty is an award-winning English author, playwright and journalist whose novels include the recently adapted thriller Apple Tree Yard. Her latest novel is Black Water.
******
Helen Taylor
Anyone who had even a casual conversation with Helen Dunmore – poet, novelist, children's author and critic – knew at once they were in the presence of someone who understood and loved language. Helen's verbal exchanges, like her writings and emails, were full of precisely chosen words, careful and original observation, subtle wit and irony. She relished the language she employed so artfully, alive to all its rhythms and nuances. And what a memory she had – for poems, novels, names of flowers and plants, historical and social events, juicy bits of Radio 4's The Archers trivia, and friends' little health problems that finally paled into insignificance by comparison with her own.
Writers are often expected to keep writing the same book, and when they startle with new subjects or genres they frustrate critics and readers. But Helen Dunmore carried everyone along with her as she moved between poetry and fiction, reimagining the historical and gothic novel, the spy story, the horror genre and more. Her eclectic and extraordinary imagination explored in fiction some of the darkest days and actions of unsung people following war, siege and terrible suffering. In her poetry and children's writing she gave voice to a delight in the natural and supernatural worlds, expressing a passionate joy in the sea, wild flowers, and creatures other than human.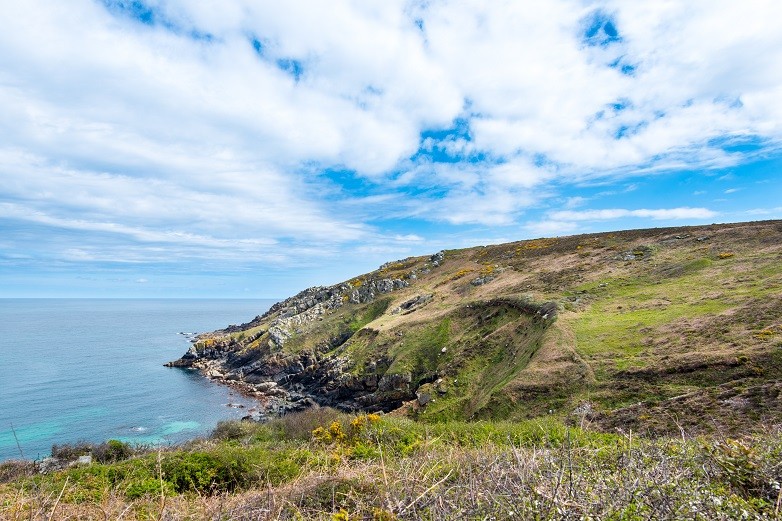 The coast road to Zennor

Helen had a painterly imagination and way of seeing: in all her writings she makes us see clearly, often painfully, the glory and complexity, as well as the suffering, horror and ugliness, of mundane ordinary lives. Leningrad and Cornwall's Zennor came alive under her forensic eye and delicate touch. Ghosts as traces of unrecorded lives haunt her writing, and her keen feminist and liberal conscience imbue her work with moral power and gravitas. One critic described her work as 'oozing succulently with buttercream and summer puddings, lovingly stirred sauces and the simpler pleasures of rye bread and sausage.' Rich and creamy, but also savoury and strong are the features of Helen's sensuous writing. How fitting that she was awarded the first Orange Prize for Women's Fiction, followed by many other fiction and poetry prizes.
The words many people use about Dunmore are 'grace' and 'generosity' and those perfectly capture the woman she was. To friends, neighbours and other writers, she was full of warm encouragement and praise. No literary diva, she gave people undivided attention, deep empathy, home-made fruit cake and little seedlings she cultivated on window ledges.
Diagnosed late with an incurable cancer, Dunmore experienced much pain especially in the final months. Her dignified stoicism never ceased to amaze all who knew her; her husband said 'she never complained once.' Right to the end, she was emailing friends about pigeons cooing above her in the roof, the colours and shapes of her beloved flowers and plants, and the kindness of hospice and district nurses who attended her. In the afterword to Birdcage Walk, her last brilliant novel set in Bristol, she described not knowing she was seriously ill, writing it 'unconsciously, under a growing shadow … full of a sharper light, rather as a landscape becomes brilliantly distinct in the last sunlight before a storm.' Helen Dunmore's glorious chiaroscuro landscapes will endure through her body of writing, but oh how we will miss her ability to savour and capture in words the sunlight that she saw all around her.


Helen Taylor is Emerita Professor of English. In 2011 she was elected Honorary Fellow of the British Association of American Studies for her distinguished contributions to the subject. Her most recent book is a British Film Institute Film Classic on Gone With the Wind.
******
Fanny Blake
I first met Helen when I worked at Penguin when publishing director Clare Alexander and I acquired her early novels and short stories for publication. Helen and I were both Nottinghamshire girls, and bonded over having been to the same school, even though we didn't remember one another. What struck me when I met her was her grace, her modesty, and an extraordinary quality of stillness that she carried with her. Her voice was quiet, her humour ever ready, yet she also possessed a steely quality which meant she was not easily fooled or cowed. As her publisher, it was best to be straightforward.
As her paperback editor, I shared in the enormous pleasure and pride when her second novel, A Spell of Winter, won the inaugural Orange Prize for Women's Fiction in 1996: a stunning achievement so early in her writing career. The same year, Viking published Talking to the Dead. The tension of that long hot summer she evoked in the novel has stayed with me all these years, along with the intense dynamic between the characters and, most of all perhaps, the extraordinary sensual description of food which was characteristic of her writing.
Since then I've read all of Helen's subsequent nine novels. There hasn't been one that I haven't enjoyed and admired, but perhaps my favourite is The Siege, in which her skilful meshing of war and domestic drama is both powerful and poetic. And, here, typically, her concern is to write 'history from below', about the people affected by events rather than those who make the big political decisions.
Her final novel, Birdcage Walk, shows her as a novelist at the height of her powers. Set in 1792, an intimate family drama unfurls in Bristol while in Europe the French Revolution casts its long shadow. At its heart lies an unforgettable portrayal of a positive mother/daughter relationship as once again Helen focuses on the dynamics within a family. Characteristically, the detail of the period is both rich and unstinting – the rooms, the clothes, the food.
Like many of us, I heard Helen on Radio 4's Open Book talking to Mariella Frostrup about Birdcage Walk. Already diagnosed with terminal cancer she spoke of her imminent death with dignity and grace. She mentioned she had started work on some ideas because the act of writing made her feel like herself. A true writer.
Her last gift to us was her heartbreaking final poem 'Hold Out Your Arms' that shows exactly her courage and resignation in the face of death. Her legacy is formidable: one of poems, contemporary novels, historical novels, and children's books. She is not a writer who will be easily forgotten.


Fanny Blake was a publisher for many years, editing both fiction and non-fiction before becoming a freelance journalist and writer. Her latest novel is Our Summer Together.
×
Download the Waterstones App
Would you like to proceed to the App store to download the Waterstones App?
Reserve online, pay on collection


Thank you for your reservation
Your order is now being processed and we have sent a confirmation email to you at
When will my order be ready to collect?
Following the initial email, you will be contacted by the shop to confirm that your item is available for collection.
Call us on or send us an email at
Unfortunately there has been a problem with your order
Please try again or alternatively you can contact your chosen shop on or send us an email at