We regret that due to the technical limitations of our site, we are unable to offer eBooks or Audio Downloads to customers outside of the UK.
For further details please read our eBooks help.
Blog
Born to Run: An expert's guide to the best running books
The London Marathon takes place this weekend, and to provide a little last-minute inspiration, Adharanand Finn, author of Running With the Kenyans, shares his favourite running books with us...
The running shelf in most bookshops is usually full of coaching guides with anodyne titles such as Running Made Easy, Running for Beginners or How to Run. But for those running the London marathon on April 21, it's too late for all that. What you need now is some last-minute running inspiration; stories of incredible running feats - or even ordinary running feats beautifully told - that can get you in the zone and ready to race.
The big beast of running books is the bestselling Born to Run. Published in 2010, it tells the story of an ultra marathon in the Copper Canyons in Mexico between some of the best American ultra-marathon runners and a group of super fast Mexicans called the Tarahumara. Gripping as this story is, however, what really catapulted the book on to bestseller lists across the world was its exploration of the concept of barefoot running.
The author, Christopher McDougall, tells the story of a group of Harvard scientists who devise a theory that humans evolved as we did through our ability to run. For thousands of years we survived by persistent hunting, which meant chasing even the swiftest animals down using our incredible running endurance.
In essence, he says, we were born to run. And the best way to run is as we were designed: barefoot. The argument is compelling, and running shops across the world are now full of "barefoot shoes" (which are shoes with very thin soles, designed to allow you to run in a barefoot style, while protecting your soft, pampered, western feet).
The book itself is an enjoyable read, even if McDougall's constant hyperbole can be grating at times. But its barefoot revelation can change your running forever - it did mine. So be warned.
A much more low-key, British affair, is Feet in the Clouds by Richard Askwith. This recounts the author's attempts to infiltrate the world of fell running. Along the way, this fairly average runner from London attempts epic feats of endurance, and rubs shoulders with the unassuming legends of the sport. It's a poetic, windswept story that leaves you craving a run in the wildness of the mountains.
A very different book is Barefoot Runner by Paul Rambali. This tells the story of Abebe Bikila, the first black African to win an Olympic gold medal, who strode barefoot to an imperious victory, in a world record time, in the marathon in the Rome Games of 1960. He then repeated the feat, this time in shoes, in 1964 - winning gold and breaking his own world record. The book has been criticised for glaring inaccuracies, and is written as though the author had exclusive access to the subconscious mind of the great Ethiopian runner, but despite all this I couldn't help getting swept away by it.
A more accomplished and acclaimed writer is Haruki Murakami. His book What I Talk About When I Talk About Running is a rambling wander through his life as a runner and a writer. While I can't help feeling most other writers would be laughed out of their publisher's office if they pitched this book, in Murakami's hands it is full of insight and beauty. His attempt to run a 62-mile ultra marathon, and his near religious experience at the end, is a fittingly mad and gripping climax to his musings.
A book in a similar vein is the newly released Running with the Pack by philosopher Mark Rowlands. I have to admit I'm only half way through this, but I'm enjoying its catalogue of insights into the reasons why we run, and it's ponderings on what we think about while we do it.
Finally, for fans of running The Perfect Distance by Pat Butcher tells the story of possibly the greatest, most intriguing rivalry in the sport's history. For a period in the late 1970s and early 1980s, Steve Ovett and Sebastian Coe were the best in the world, breaking records for fun. Yet they hardly ever raced each other, and they spoke to each other even less. This well researched book talks to the people behind the scenes and brings to life the issues and motivations behind their fascinating rivalry.
Running has an inherent beauty and simplicity that all these books capture to a certain extent. In some ways running is the most basic thing in the world, just putting one foot in front of the other. Yet, as these books, and many others, testify, there is so much to say about it. So get reading, get inspired, and get running.
Related books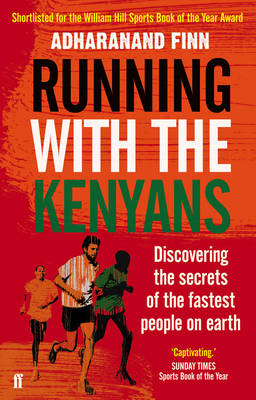 After years of watching Kenyan athletes win the world's biggest long-distance races, the author sets out to discover what it was that made them so fast - and to see if he could keep up. He moved to Iten, Kenya, the running capital of the world, and started investigating. Was it running barefoot to school, the food, the altitude, or something else?