We regret that due to the technical limitations of our site, we are unable to offer eBooks or Audio Downloads to customers outside of the UK.
For further details please read our eBooks help.
Blog
Book Club - The Rosie Project
To kick off this year's first batch of Waterstones Book Club titles, we have Graeme Simsion's The Rosie Project. Here's Graeme on writing the book and our Waterstones Cardholder reading group discussing it...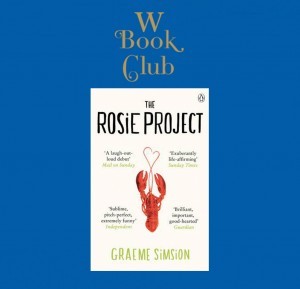 I read a mixture of non-fiction and fiction. Probably half of my non-fiction reading is about writing in all its forms, from drama to songwriting. There's always something new to learn or an idea that helps a problem I'm working on. Right now: The Cheeky Monkey by Tim Ferguson, who taught me comedy writing. My other non-fiction reading is very broad, with a good dose of science – I once wanted to be a theoretical physicist. Jared Diamond's The Third Chimpanzee started me on a jag of reading about evolutionary psychology and provided material for The Rosie Project.
My fiction reading is driven by my wife, a voracious reader who knows what I will like, and publishers who send me advance copies to review. And occasionally I choose a book myself, based on reviews and recommendations. I read an advance reader copy of Matthew Quick's Forgive Me, Leonard Peacock and enjoyed it so much I grabbed The Silver Linings Playbook. As a screenwriter-novelist, I'm always interested in the craft of adaptation – and this one is a really interesting case study, as well as a totally recommendable book.
Writing has made me a critical reader: it's hard to relax and just enjoy the story. Reading Ben Schrank's Love is a Canoe (an advance copy for the Australian edition), I couldn't help focusing on craft as he interwove his stories of past and present (I was reminded, just a little, of A.S. Byatt's Possession). But in the end, content triumphed over form and I settled back and enjoyed an insightful take on relationships with a good dose of humor.
1. Do you have a reading ritual?
I often read before I go to sleep – so there's always a stack of partly read books by the bed. It's a dangerous practice, because if a book pulls me in, I'm going to miss out on sleep. But I don't have any rituals around reading itself. I just read.
2. Do you have a favourite time to read?
I read when I can. That can be any time of day – and even at odd hours, since I get a lot of reading done on international flights where I'm trying to get myself into a different time zone.
3. Do you have favourite music to listen to while you read? Or do you like to read in silence?
I'm a (late) baby-boomer, so I don't spend my life plugged into music. I listen to music when I drive, but not when I'm reading or working. I guess I like to focus on one or the other.
4. Do you have special reading clothes?
Are you kidding? People have special reading clothes? This is a bit like the questions I get asked about writing rituals, and the answer's the same – I just do it, in whatever I'm wearing (note that I read in bed quite a bit…). When I was a database designer – in my previous life – no one ever asked if I had special database design clothes. But the work was just as hard and almost as creative.
5. Do you read every day?
If you count the newspaper, email etc… But books – not every day, although most days before going to sleep I'll read a chapter of something. It's as close as I get to a ritual.
6. Do you Drink and Read?
I said I read in bed… And I do drink… So the answer is a firm yes. "Do I read drunk?" is a different question, appropriately (if not accurately) answered by "I never drink to excess." But in the hypothetical situation in which I drank too much, yes.
7. Do you read different books at different times?
Novels when I'm travelling – which is quite a lot. Non-fiction at night. A few facts to go to sleep on…
8. How many books to you have going at the same time?
I'm going to go upstairs and count the number by my bed. I'm back. 9. Plus one in my bag. About half and half fiction and non-fiction.  I may not finish them all, especially the Dylan biography.
The Book Club Podcast
We think our Book Club selection are books not only worth reading, but worth talking about. Each week, we're bringing together a group of Waterstones Cardholders and our own booksellers to talk about our Book Club book of the week.
You can download our reading guide to help with your own Book Club discussions.
You can download the discussion as a podcast via iTunes.
You can Reserve & Collect The Rosie Project at your local Waterstones bookshop (http://bit.ly/1dniMbE), buy it online at Waterstones.com (http://bit.ly/1cP6Kcx), or in ePub (http://bit.ly/1cP7n65)