We regret that due to the technical limitations of our site, we are unable to offer eBooks or Audio Downloads to customers outside of the UK.
For further details please read our eBooks help.
Blog
Book Club - Love, Nina
Waterstones Book of the Year nominee Love, Nina is this week's Book Club Book of the Week...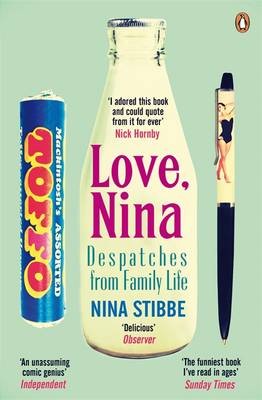 "Dear Vic,
Being a nanny is great. Not like a job really, just like living in someone else's life. Today before breakfast Sam had to empty the dishwasher and Will had to feed the cat.
Sam: I hate emptying the dishwasher.
MK: We all do, that's why we take turns.
Will: I hate the cat.
MK: We all do, that's why we take turns.
Sam: Anyway, Will, the cat hates you.
Will: Don't talk shit, Sam.
Sam: Don't say shit in front of the new nanny. (Drops cutlery on to the floor and shouts, 'Trevor Brooking')
Will: Don't say Trevor Brooking in front of the new nanny.
Sam had porridge (made by me in a pan). Tea, no sugar. Pills. Will had grilled tomatoes with garlic (he made it himself, except for lighting the grill) and tea, three sugars. MK had hippy bread (not granary), toasted. Earl Grey, one eighth of a spoon of sugar. Lucas had Go‑Cat (chicken flavour), water.
We are very near the zoo, but they never go there. And nearish to Madame Tussaud's but they never go there either. They never do the things you'd imagine. Apparently only people who don't live in London do all that stuff. Real Londoners just go to secret places that tourists don't know about, like Hampstead Heath. Our closest, Monopoly-wise, would be Oxford Street (green) or Euston Road (blue). But the funny thing is, how near everything is. You could walk pretty much anywhere. Distances seem further on the underground because you go all round the houses and not just from A to B.
Hope all's well with you.
Love, Nina"
About Love, Nina
Shortlisted for our Waterstones Book the Year this biography tells the life of Nina Stibbe through her letters home to her sister, Vic. In the 1980s Nina moved from Leicester to London to become a nanny for a wealthy family living in Hampstead. This book is the collection of letters she wrote to her sister back home. Love, Nina is an hilarious and touching account of Stibbe's experience, including encounters with the likes of Alan Bennett.
Nina Stibbe discusses putting the book together
The Book Club Podcast
We think our Book Club selection are books not only worth reading, but worth talking about. Each week, we're bringing together a group of Waterstones Cardholders and our own Booksellers to talk about our Book Club book of the week.
You can download the discussion as a podcast via iTunes.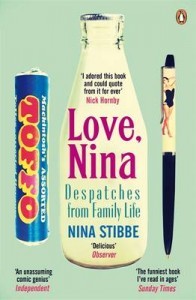 You can Reserve & Collect Love, Nina at your local Waterstones bookshop (http://bit.ly/1dPCjST), buy it online at Waterstones.com (http://bit.ly/1dPChdF), or in ePub (http://bit.ly/1bIF0jW)