Blog
Book Club: A Good Man in Africa
Six reasons why you should read William Boyd's A Good Man in Africa
Everyone loves an anti-hero – and anti-heroes don't come more un-heroic than this: Morgan Leafy is a pale, overweight, middle-aged British misanthrope who begrudges his placement as First Secretary of The British Deputy Commission in the fictitious Kinjanja, West Africa. Bitter and petty, he consoles himself with drink and women. So why do we care? Because his ability to mess up the simplest of things is astonishing. You read on to just to see him skew, warp and mangle any situation.

Enter a world where no one can be trusted. And nothing goes to plan. Like all Englishman Abroad novels, A Good Man in Africa is about going half-mad in the heat. It is also about people who try to hold on, staunchly, to traditions that seem both arbitrary and plainly ridiculous this far from home. Mishaps are hilarious in the novel, and the unpredictability of being abroad, the culture clashes, and mystifying exchanges are all captured perfectly.

Boyd grew up in Africa – in Nigeria and Ghana – and it is clear that insider knowledge informs the text. There is biting anti-colonial sentiment under all of the debauchery and mayhem. The novel makes clear how erroneous the name 'British elite' actually was, and how unforgivably the British behaved in abroad in the days of Empire. You will want to scream at Morgan Leafy every few pages.

The novel is populated by eccentric characters that will make you laugh and wince in equal measure. Like Evelyn Waugh, Boyd has an eye for the absurd. He creates characters that are hysterically funny while being teeth-grindingly hideous at the same time. It could just be me, but at times, the level of pomposity and disgustingness reminded me of Gormenghast.

The writing is reason enough to read this. Though some have argued that, as this is Boyd's debut, he had yet to find his voice, there is no question that in it he shows formidable talent with a firm control of structure and plot, as well as tone. There are so many deeply uncomfortable moments in this book, but Boyd manages to navigate them with just the right amount of irony.

The novel will make you consider questions like: aren't people who call themselves 'travelling' just tourists? In a way, A Good Man in Africa sends up any person who has bought a ticket to the back of beyond and gone there thinking they would be able to lose themselves. It is a cautionary tale – we all carry baggage of the metaphorical kind…and perhaps, very sadly, there are elements of Morgan Leafy in all of us…?! Or have I gone a step too far. Feel free to comment.
Related books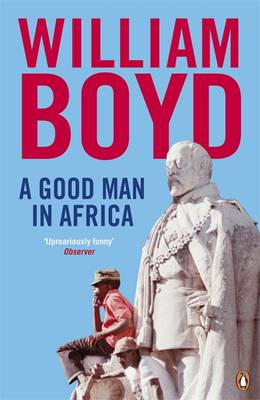 Escapee from suburbia, overweight, oversexed... Morgan Leafy isn't overburdened with worldly success. Actually, he is refreshingly free from it. But then, as a representative of Her Britannic Majesty in tropical Kinjanja, it was not very constructive of him to get involved in wholesale bribery.