Navigation
Search
Books

Dinosaurs Love Underpands

Claire Freedman, Ben Cort

Deep Sea Monsters

Igloo

Dinosaurs Love Underpands

Claire Freedman, Ben Cort

Deep Sea Monsters

Igloo
We regret that due to the technical limitations of our site, we are unable to offer eBooks or Audio Downloads to customers outside of the UK.
For further details please read our eBooks help.
Blog
Book Clinic: To infinity, and beyond!
With the return of Stargazing Live this week, will you and your youngsters be inspired to step outside and partake in a little star-watching? If you need a little help, here are some of our favourite books for children about the night sky to get you started.
Stargazing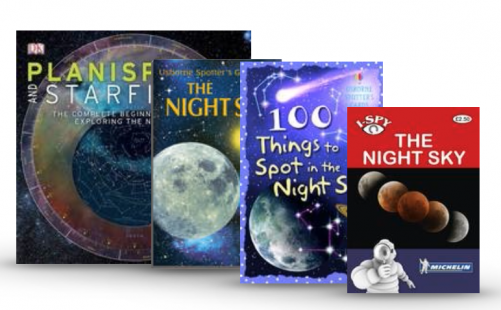 Usborne's 100 Things to Spot in the Night Sky is my top choice for budding stargazers because each constellation gets its own individual card detailing the layout, the names of its stars, and a little bit about it. They are really clear and easy to understand, and there are also cards showing the northern and southern skies so you know where and at what time of the year to look for the different constellations. Take the whole pack out with you, or just the cards you'll need on a given expedition. Perfect.
I-Spy are the classic children's spotter's guides and I-Spy in the Night Sky shows the different areas of the night sky and the constellations contained within them, as well as covering the concept of the rotating sky, phases of the moon, comets, meteors and eclipses. A brilliant pocket-sized introduction to stargazing, though as far as the constellations are concerned it doesn't go into quite as much detail as the above. Alternatively, you could try the Usborne Spotter's Guide to the Night Sky, which does much the same thing but on a slightly larger scale.
Philip's Planisphere is the rather clever gadget that Professor Brian recommended on the first Stargazing Live programme. Turning the oval panel on the starmap to your current date and time allows you to track the stars and constellations visible in the sky hour by hour. Along with full instructions on its use, it includes tables detailing the positions in the sky of the most popular planets between now and 2020. You can also get this version, Planisphere and Starfinder, from DK.
Or you could look out for: Stargazing 2014 Month by Month Guide (although this is marketed for adults, there's no reason why younger stargazers couldn't use it as well), and Astronomy Eyewitness Guide.
Space
Of course, there's a lot more to space than stargazing, and there's a plethora of titles available for children to introduce them to the bigger concepts. Right now, I'm loving Neal Layton's The Story of the Stars which is exactly what it says: the story of our fascination with the stars, from the tales our ancestors came up with to explain the existence of stars, to the basics of how we know what we know today. It's factual but feels more like a picture book than a reference book, so is lovely for younger children, plus it has some great interactive bits and bobs: things to lift, rotate, spin, pull, look inside, and pop-up. It's a really lovely idea.
Another good choice for younger children (4–6 year olds) is Eye Know: Space, which has larger print than the books below and a tone aimed at younger readers. Or, for something they can grow into, check out the Pop-Up Pull-Out Space Book. It doesn't have as many pop-out pages as it's title might imply, but what it does have is lots of pull-out 'fact' cards – one for every planet in our solar system. Packed with statistics, they add to the introductory information contained on the main pages without bamboozling the reader at first sight. Much like all the books I've chosen, it also has nice clear print with broken up text that makes the information easy to digest. Plus: each page has a Q & A to test yourself (or mum and dad) what you've learnt.
Usborne's Big Book of Stars and Planets has really beautiful illustrations that are painted versions of those amazing photos of galaxies we see on programmes like Stargazing Live. Probably best for 5-6 year olds, it focuses on our planet, solar system, superstars and galaxies, and has lovely fold-out pages to give a real feeling of infinite space. Usborne also do the great See Inside range - See Inside Space goes into more depth than the Big Book of Stars and Planets, with more text and more information. Its crowning point is, of course, all the little tabs to lift, revealing even more information underneath. Covering everything from the big bang to the history of our discoveries; our solar system to the milky way; space travel and what the future might hold. There's also a fold-out map of the night sky for stargazers to study. I'd recommend it to children aged 7 and up.
I'm also loving Professor Astrocat's Frontiers of Space. It's like an animated guide to the universe with fun, bold illustrations, and plenty of information without an overwhelming amount of text. Essentially Professor Astrocat covers the same topics as all the other space books out there, but it's so quirky and unusual, it's hard to resist – and uses great analogies to help explain the harder concepts, like "If the earth was the size of a cherry tomato, what size would the other planets be?"
Lastly, for the really dedicated astronomy enthusiast (strong readers or 9+ years), you cannot go wrong with the Space Encyclopedia. This is a much more detailed book, going into greater depth and introducing bigger concepts than the books above – galaxy formation and collisions, dark matter, space pioneers, solar storms, black holes, to name just a few. A really excellent reference book likely to be thumbed well into the teenage years.
(There are loads more books out there, so if none of the above sound quite right, take a peek at First Encyclopedia of Space, Space Encyclopedia, Space, Pocket Eyewitness Space.)
Something a little more abstract…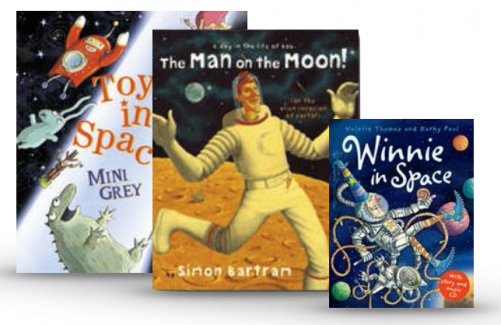 Of course, you can also indulge your fascination with the stars through fiction - generally based somewhat less on our current reality, but fun and worthwhile nonetheless! There are lots of spacey picture books to choose from… try Toys in Space by Mini Grey, Winnie in Space by Valerie Thomas and Korky Paul, The Man on the Moon by Simon Bartram, On the Moon by Anna Milbourne and Benji Davies, or The Way Back Home by Oliver Jeffers.
There's not so much around for older readers, but Cosmic by Frank Cottrell Boyce is great, or George's Secret Key to the Universe by Lucy and Stephen Hawking (NB this is the first book, not the fourth as our website says!)
And for something totally different, Build Your Own Spaceship Sticker Book by Simon Tudhope. Because who doesn't think about what their own space rocket would be like? To infinity, and beyond!
Isabel Popple, for Waterstones.com/blog
Do you have a children's book question you'd like me to answer here? Leave a comment below or tweet me @bookythought.
Do you have a question for The Book Clinic?
Whether you're trying to find the next fix for your Science Fiction addiction, looking for the perfect literary page turner for your holidays, or just can't face ploughing through all the PG Wodehouse books to find the truly great ones – whatever the dilemma, let us know in the comments below…