Navigation
Search
Books

Dinosaurs Love Underpands

Claire Freedman, Ben Cort

Deep Sea Monsters

Igloo

Dinosaurs Love Underpands

Claire Freedman, Ben Cort

Deep Sea Monsters

Igloo
We regret that due to the technical limitations of our site, we are unable to offer eBooks or Audio Downloads to customers outside of the UK.
For further details please read our eBooks help.
Blog
Book Clinic: what to read while you wait for a new John Green book
Attention Nerdfighters! Isabel Popple is here to help you get that John Green fix without having to wait for a new John Green book...
It was exciting to learn this week that Paper Towns by the awesome and bestselling young adult author John Green is to be made into a movie, especially as it's going to made with the same team who have created this summer's much anticipated The Fault in Our Stars adaptation. What we really need, though, is for John to write us a new book…
But with no news on that front, what can we read in the meantime? Well, I'm very happy to say there are lots of other fantastic people writing books that are as daring, compelling and engaging as John Green's, of which these are just a select few.
When his parents essentially abandon him for the summer, Mike in turn decides to abandon his boring, embarrassing life and take to the open road with odd new friend Tschick. Outcome? The best and weirdest two weeks of his 14 years and the craziest road trip ever, getting into in all kinds of situations, often with hilarious consequences. We know right from the beginning, though, that at some point their journey is going to come to a rather unceremonious end. The question is how, exactly? Wonderfully written and, with its present-day but East German setting, kind of fascinating too.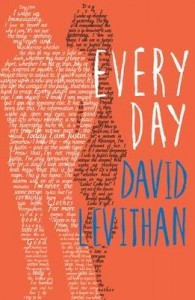 This is a brilliant, thoroughly modern and thoroughly excellent love story that keeps readers questioning and asks us all who we really are. 'A' has never really known family or friends, moving on every day to new people and new situations, but when A meets Rhiannon, everything changes. Levithan captures all the emotions of growing up and being alive, whether of being in love or struggling with simple, every day things, all whilst subtly and quietly opening his readers to new ways of thinking. What makes us human? What makes us the same and what makes us different? Groundbreaking and truthful.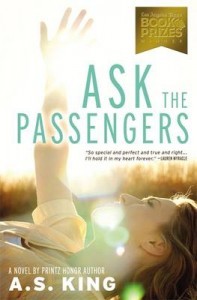 I first discovered A. S. King after John Green, in a twitter post, raved about her book Ask the Passengers, the tale of Astrid, a regular teenage girl growing up in small town America, but with a secret. Well, she's not sure if it's a secret, because she's not sure yet whether or not it's true. Then there's Reality Boy, King's most recent work, in which Gerald, against the backdrop of one very screwed up family, is trying to find a way to escape everyone's very meagre expectations of him. Each of King's books feels like a gift; they're immensely readable, intertwining lots of other thoughts and ideas into the main story (much like Green does), making it easy to forget to eat or sleep once you start reading.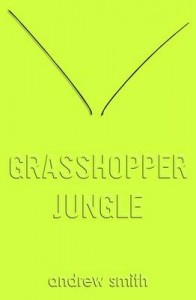 It all begins in the small American town of Ealing, Iowa, on what seems like a pretty normal day, but Austin and his two best friends, Robby and Shan, are about to make some pretty groundbreaking discoveries. Like a decades-old experiment to develop unstoppable corn, how hard it can be when you fall in love, a buried silo, and, umm, a rampaging army of giant praying mantises. This book is just, wow. It's sort of like John Green meets Michael Grant. It's immense and tiny, pacey and thoughtful, funny and scary; a coming-of-age story, a history, a sort-of diary, an apocalypse story. It's got to be read. (N.B. Not suitable for younger readers: Austin is 16 and spends a large amount of time thinking about what 16 year-old boys tend to think about… As do giant grasshoppers, apparently).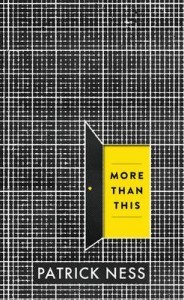 When Seth dies, he wakes up in a place both familiar and fathomless: everything Seth thought he knew about the world, about himself, his parents, is about to be brought into focus and questioned. Everything you thought you knew about the world is about to be questioned. What if everything that we believe is real, isn't? What if a choice was made years ago that couldn't be undone? One of the most extraordinary new books around, More Than This will leave you speechless as Ness bends our perception of reality in a multitude of ways, blurring the boundaries of time, of life and death, of the virtual and the real.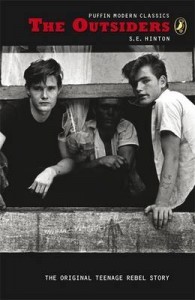 The Outsiders is what I read as a teenager, my version of John Green when growing up – there's even a quotation/theme in there that fans of The Fault in Our Stars should recognize. Considered to be the original teenage rebel story, it follows Ponyboy, a boy caught up in the middle of town rivalries and trying to break away from the destiny everyone assumes a 'greaser' (poor kid) like him has in store. But then the unthinkable happens and Pony's life is turned upside down. This is a book as beautiful, heartfelt and authentic as anything John Green has written and deserves a place on everyone's bookshelf.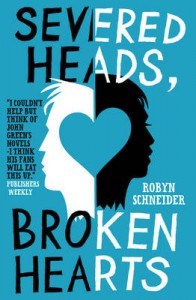 Ezra Faulkner has a theory: everyone in their lifetime will encounter a personal tragedy, something that will change them, that will transform them from one person into another, and after which only the 'after' will matter. Ezra, a golden boy sports star, whose personal tragedy hits – literally – age seventeen. Now he has to find out who he really wants to be. There is a girl, of course - a girl with her own personal tragedy. But what is it? Why is she hot one minute, cold the next? Can Ezra unlock her aftermath at the same time as he tries to figure out his? It's a bit Paper Towns, a bit Looking for Alaska.
More to look out for:
The Perks of Being a Wallflower by Stephen Chbosky, Thirteen Reasons Why by Jay Asher, All My Friends Are Superheroes by Andrew Kaufman, Eleanor and Park by Rainbow Rowell, The Catcher in the Rye by J. D. Salinger, Submarine by Joe Dunthorne.
Isabel Popple, for Waterstones.com/blog
Do you have a question for The Book Clinic?
Do you have a children's book question you'd like me to answer here? Leave a comment below or tweet me @bookythought.
Whether you're trying to find the next fix for your Science Fiction addiction, looking for the perfect literary page turner for your holidays, or just can't face ploughing through all the PG Wodehouse books to find the truly great ones – whatever the dilemma, let us know in the comments below…