We regret that due to the technical limitations of our site, we are unable to offer eBooks or Audio Downloads to customers outside of the UK.
For further details please read our eBooks help.
Blog
Book Clinic: History books for children
Isabel Popple delves into the past to deliver the best books to feed your children's love of history.
As an adult I know that when choosing books for children I have a tendency to drift toward fiction, often forgetting that factual books are as equally exciting and fascinating, and frequently more so. A really good history book can awaken new interests and new passions and change children's worlds: when I was about nine I read about Pompeii, which for many years fuelled a dream first to be an archaeologist and then a volcanologist.
To celebrate Waterstones' History Season, I've picked out some of my favourite history books for children – who knows what life decisions might be made as a result of their discoveries! (Ok, so I may not have made it as a volcanologist, but I did chose my university course based on this ambition so you never know…)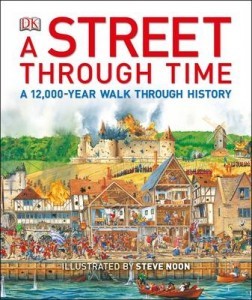 A wonderful introduction to the concept of time and change, A Street Through Time provides a snapshot of human development, showing the panorama of one 'street' as it develops from animal-hide tents (the stone age), to thatched wooden huts (Viking invasion), to the town houses of the 1700s, and all that comes between and after. Each time period straddles a double page spread – pick out repeated features across the pages and watch them change and disappear as new civilisations take hold. The pictures themselves tell most of the story, but close-ups help explain particular events, and you see something different every time you look at the page. Great for five year-olds, twelve year-olds and thirty year-olds alike!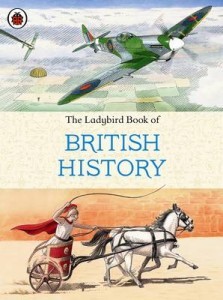 The perfect history reference book for primary-aged children, covering the key areas of British history in an informative but straightforward way with fairly large print and lots of coloured pictures. It contains all the key dates and facts yet simultaneously makes them more than just facts by making it about everyday people and how they lived, worked, dressed and thought. The Ladybird Book of Kings and Queens makes a nice accompaniment.
Greek Myths by Ann Turnbull and Sarah Young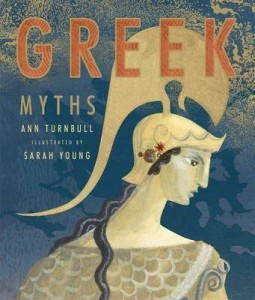 There are lots of Greek Myths books, all of which have something to offer, but I've chosen this one tin particular because it's beautiful and unusual illustrations make it something extra special. The myths contained within are sorted into three different categories: (i) earth, the heavens and the underworld; (ii) monsters and heroes; (iii) gods and mortals. All the classic stories are included, Persephone, the Minotaur, King Midas – read one each evening or dip in and out as you please. The style of this edition probably makes it more suited to older readers (nine plus maybe); if you want something for younger readers, try The Orchard Book of First Greek Myths or for something more comprehensive, try Atticus the Storyteller's 100 Greek Myths.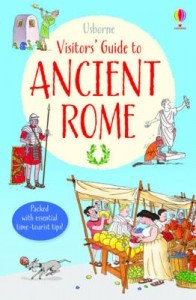 I love this new series from Usborne, which looks at our historical past in a way that makes it seem like it's just a train journey away with it's slightly tongue-in-cheek "modern" tourist guide approach. A Visitor's Guide to Ancient Rome breaks down the different aspects of the Roman world in a fun and informative way and, written as it is in the first person ("I was", "I went"), it really makes history feel very real. Plus it's a small "reading book" sized paperback so doesn't feel like a history book at all – this is a book you can easily pop in your bag to take to school and dip in and out of during the day.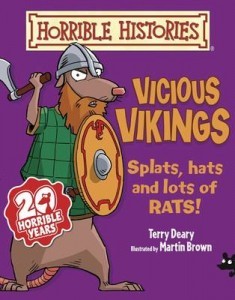 Does what it says on the tin: 'history with the horrible bits left in'. Equally brilliant for history buffs and reluctant readers (or reluctant historians), the Horrible Histories series are enormously successful. They're engaging, informative, amusing and – er – gross. They don't talk down to children and they don't list reams of facts, but have a story-like chronology mixed in with quizzes, trick questions and comic strips. In Vicious Vikings, you can learn about the Viking's boats and warriors, their gods and livelihoods, and then wow everyone around you with your scary knowledge.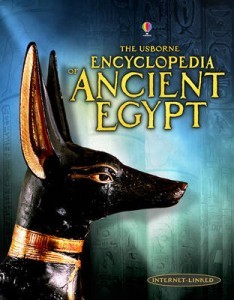 Everything young readers could want to know about the world of ancient Egypt, from it's early beginnings and meteoric rise to one of the world's greatest civilisations, their gods and mythology, the pyramids and agriculture, how slaves were viewed, how women were viewed, how we know what we know and what the latest discoveries are. The information is given in small chunks that are easy to digest and there are loads of fascinating pictures to accompany the text, as well internet links guiding readers on where to find out more. A fantastic addition to the bookshelf.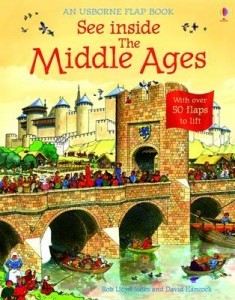 Another brilliant Usborne range, the See Inside books feature a bazillion little flaps to life up and discover what is going on underneath, making them excitingly interactive whilst also brimful of information. The Middle Ages were of course a time of castles and knights, so this is a good choice for any young rascals normally more intent on play than reading as it gives a taste of history bound up in an adventure – see inside a medieval market, the lord's castle, village life, a castle under attack, and develop an understanding of who's who in medieval society – and how they went to the toilet too, of course!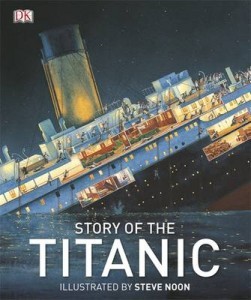 There's just something about the Titanic that children – ok, and adults too – find endlessly fascinating. In the Truro store, we get asked for Titanic books again and again, and this is one of the best, giving the full story of the fated ship, from its conception as the 'ship of dreams', it's construction in the Belfast shipyards, the start of it's voyage and, of course, the events that led up to its tragic ending. Amazingly detailed illustrations and snippets of text and fact bring the ship to life and that will likely be poured over for hours, and read again and again.

Not inspired? For fact-heavy books, check out the Eyewitness Guides, like the Aztec Eyewitness – brilliant for school projects or for anyone fascinated by a particular era or people. Or, if seeing historical events in a more up-close setting is more appealing the 'My Story' series are wonderful, which are fictionalised accounts of historical events told through the eyes of someone who might have been there, lived it and witnessed it – like Pompeii: A Roman Girl's Diary by Sue Reid.
Do you have a question for The Book Clinic?
Do you have a children's book question you'd like me to answer here? Leave a comment below or tweet me @bookythought.
Whether you're trying to find the next fix for your Science Fiction addiction, looking for the perfect literary page turner for your holidays, or just can't face ploughing through all the PG Wodehouse books to find the truly great ones – whatever the dilemma, let us know in the comments below…