Blog
Baileys Women's Prize for Fiction Shortlist: Ruby
We begin our look at the books shortlisted for this year's Baileys Women's Prize for Fiction with Ruby by Cynthia Bond.
From its early opening pages, Cynthia Bond's Ruby places us in the heart of Liberty Township where the titular Ruby Bell has become an outsider in her own hometown. Considered by her community to be mad, she compounds this by urinating publicly in the street and openly engaging in intercourse with many of the Liberty menfolk. Now reduced to living in a ramshackle dwelling within the nearby woods, Ruby is ostracized from her fellow townsfolk, who continue to laugh and jeer at her, and from society itself.
All that is except for one man. Ephram Jennings, who has known her since childhood, helps us to see Ruby under a very different guise. In contrast to her, he goes unnoticed by the townsfolk around him, who see him as 'just another thick horse brown man with a ratted cap and a stooped gait'. As Bond's story begins, Ephram tries to reconnect with his once childhood sweetheart and travels into the woods to bring Ruby one of his sister's white lay angel cakes, facing his own demons from the past along the way.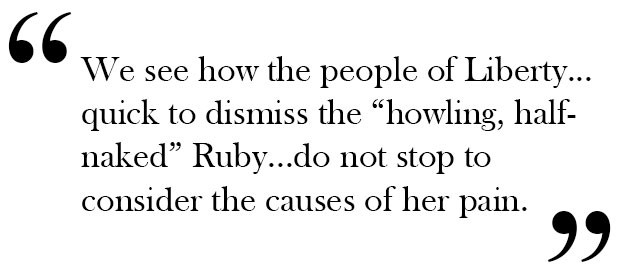 What unfolds is Ruby's backstory, of how she came to be in Liberty and the cruelty of the world around her. It also focuses on Ephram, as his hope, love and faith in her parallels his attempts to draw her back in from her apparent madness. We see how the people of Liberty are quick to dismiss the "howling, half-naked" Ruby and do not stop to consider the causes of her pain. As a young child with no parents Ruby is forced to do horrifying things just to stay alive and even when she makes her escape to New York in the 1950s, the city reveals itself to be just as cruel as the town she has just escaped. In a place where "Colored girls and White pretended to be equal" she feels lost and out of place until a telegram summons her home and we meet Ruby where we find her at the start of the novel, broken and unravelling.
Through Bond's wonderful use of language there is always a sense of 'other' within the book, one that draws you in but are never left certain as to what is and isn't real. Elements of magical realism abound as the world around Ruby comes alive. Tree branches move of their own accord and the circling crows above speak back to her. Most disturbingly, a form of evil, perhaps the evils of men, takes on a demonic, physical form that haunts her:

"That night, when the Dybou slid into Ruby's bedroom, it stopped at the door. It seemed to grow larger. The air became electric. Spider cracks spread across the panes. Instead of reaching for Ruby, the Dybou lifted above her, the whole of the ceiling in shadow, then it dropped down upon the new spirit sleeping within her.
In seconds t
he girl was gone, inside the creature, screaming, terror flashing in her clear eyes, small arms reaching for Ruby, as the Dybou slithered across the floor.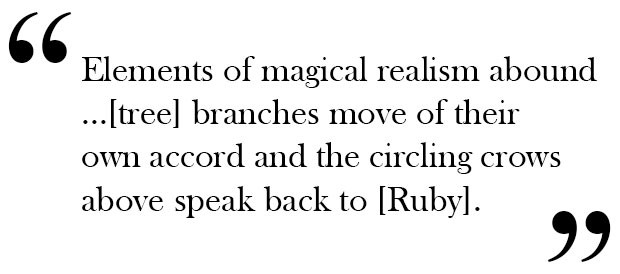 Ruby
is a moving and menacing journey that stays with you long after the final page. Below our panel of a bookseller and reader share their thoughts on the book before you can listen to Cynthia Bond reading chapter one of her acclaimed novel.

Rob Chilver, Bookseller



Ruby is Cynthia Bond's debut novel, yet it reads like the work of a master. From the first page, there's an unmistakable narrative voice which carries you forward, leading us from the eponymous, deeply-scarred heroine Ruby to her would-be saviour Ephram Jennings - a man replete with demons of his own - and finally onward to the townspeople of Liberty, a small all-Black East Texas community surrounded by pine woods.
Bond creates the feeling of a community somehow trapped outside time due to an isolation born of geography and racial prejudice. There's no romanticising or complaint of poverty here, but as children, there are beliefs and experiences that Ruby and Ephram find hard to comprehend. These return to haunt them both, in Ruby's case to the point where she's unable to care for herself.
Love and the lack of it are key throughout Ruby and Bond teases out the strength that people glean from loving relationships, and by contrast the harm that can be done when love is denied, exploited, or abused. I found Ruby all the more moving as I read that Cynthia Bond had herself encountered some of the situations which occur to the young characters, and yet also incredibly hopeful and positive as those characters find strength to support each other.
Ruby is a powerful and uplifting read. This is a must for fans of de Bernieres, Toni Morrison, Isabel Allende and Gabriel Garcia Marquez, as Bond weaves her tale of religion, spirits, family and love through two generations and one Texan town.
Kate Neilan, guest blogger
Bond does a fine job of weaving the narrative together, particularly as the novel doesn't assume a traditional linear format. There's a sense that the story is being pieced together, the picture only becoming clear in its final totality; this is beautifully mirrored by Bond's characters who instead reveal their cracks and flaws by the more we know. Ultimately, every character carries some kind of weakness, giving the narrative that much more authenticity.
There's a wonderfully dark and fantastical element to this as well, circulating in and out of the narrative, adding layers of suspense; you can only will Ruby to stay strong throughout everything. It is wonderful to see debut writing on shortlists for prestigious prizes such as these, and Bond's contribution is outstanding – Ruby is a lyrical and unrelenting portrait of a simply unforgettable new character in fiction.
Rob Hart, Bookseller
SOUNDCLOUD: Cynthia Bond reads the first chapter of Ruby

℗2014 Random House Audio



×
Download the Waterstones App
Would you like to proceed to the App store to download the Waterstones App?
Reserve online, pay on collection


Thank you for your reservation
Your order is now being processed and we have sent a confirmation email to you at
When will my order be ready to collect?
Following the initial email, you will be contacted by the shop to confirm that your item is available for collection.
Call us on or send us an email at
Unfortunately there has been a problem with your order
Please try again or alternatively you can contact your chosen shop on or send us an email at