Blog
Bad Girls and Dangerous Women
'Female killers, whether suspected or convicted, have always been viewed in a different way to their male counterparts.'
Whether cast as immoral monstrous deviants or predatory femme fatales, women who commit violent crimes have always been objects of particular captivation and vilification. Following on from the #BadGirls in Crime event at Waterstones Piccadilly, bestselling authors Emma Flint, Sarah Schmidt and Anna Mazzola explore the enduring fascination with the 'bad girl' in fiction and why their novels seek to question and challenge those engrained perceptions.
Bad Women: Doubly Damned
'A bad woman is the worst of all creations.'
These were the words of Vernon Harris, a 19th century inspector of prisons, voicing what was then a common belief: that female criminals were far worse than their male counterparts. Why are we still so fascinated and appalled by women who commit crime?
Capable of anything
It was in the 19th century that female violence became sensational. This was the era in which the ideal of the woman as Mary - divine and pure – was constructed. But it was also an era in which women accounted for over a fifth of convictions, and society became fixated on these 'bad women'. Criminologists Lombroso and Ferrero explained that because women were less 'evolved' than men, they were less likely to commit crimes. Those rare women who did commit crimes were a double exception. They were monstrous.
The courts agreed, particularly where the female defendant had transgressed society's rules. In the case of Sarah Gale, the real-life subject of Anna Mazzola's novel The Unseeing, the all-male jury accepted that she must have been involved in the murder of another woman, despite the circumstantial nature of the evidence. The jury would have read newspaper reports stating that Sarah was an 'unfortunate' (a prostitute), and the sentencing judge helpfully reminded them she had been cohabiting with her co-defendant, James Greenacre, 'without being joined to him by any moral or religious tie.'
'She was seen as a whore,' Mazzola explains. 'She was therefore thought capable of any crime. That was one of the things that drew me to Sarah's story. Her fate was sealed before she even entered the courtroom.'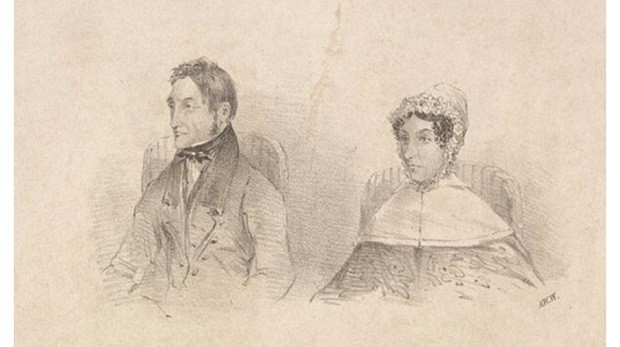 Sarah Gale, James Greenacre
Similarly, in the case of Florence Maybrick, convicted in 1889 of poisoning her husband, the judge in his summing up laid great emphasis on Florence's adultery, suggesting that a woman capable of such a vice was also liable to commit murder. After campaigners petitioned the Home Secretary, he recommended that her sentence should be commuted, but Queen Victoria refused to accede that "so wicked a woman should escape by a mere legal quibble". Maybrick remained in prison until after Victoria's death.
In a 1922 case which has also been used as the basis for fiction (most recently in Jill Dawson's Fred & Edie and Sarah Waters' The Paying Guests), Edith Thompson and Frederick Bywaters were both tried for the murder of Edith's husband. Bywaters planned the murder, acquired a gun and pulled the trigger, and there was no direct evidence of Edith's involvement in the planning of the murder or of her consent to the crime being carried out on the night in question. However, Edith's love letters were read out in court, providing clear evidence of her adultery, her sexual desire for Bywaters and her 'unnatural' wish to avoid getting pregnant by her husband. As with Florence Maybrick, the judge emphasised Edith's adultery in his summing-up, and both Thompson and Bywaters were hanged. Thompson's own counsel maintained his belief in her innocence of murder throughout his life, claiming that she had 'paid the extreme penalty for her immorality.'
A deadly lack of emotion
Immorality was one way in which the female offender could transgress. Failure to display feminine emotions was another.
In 1892, Fall River, Massachusetts was the scene of a brutal axe murder when wealthy-but-frugal businessman Andrew Borden and his second wife, Abby, were killed in their home in broad daylight. Without any signs of a break in or murder weapon found, police eventually shifted the focus of their investigation to Andrew's younger daughter, Lizzie. How was it possible that a spinster and Sunday school teacher could be charged with double homicide? In Sarah Schmidt's novel, See What I Have Done, Lizzie commits her first sin: the inability to show any outward emotion.
There were several factors which led to the police prosecuting Lizzie. 'It was known that Lizzie and Abby didn't get along,' Schmidt explains, 'and that there was constant tension in that household. We also know Lizzie and her older sister, Emma, resented Andrew for withholding his money. That's the first sign that perhaps someone closer to home may have committed the crime. The second sign something wasn't right were the conflicting reports Lizzie gave to police.'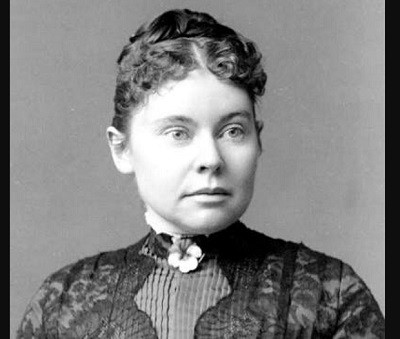 Lizzie Borden
But that's not what the media focussed on. 'Reading all the newspaper reports about the crime, you'd believe that the major contributing factor in Lizzie's guilt was her lack of emotion and inability to outwardly grieve in the way a daughter should. For many it was clear she was hiding something: she knew what had really happened.'
How far have we come?
Even in more modern times, these attitudes persist. People believe that women should nurture, not harm; they should give life, not take it. And when women contravene these deeply-held beliefs, they become notorious. Today a third of violent crime stories in British newspapers are about female offenders, although they make up only an eighth of those convicted.
Myra Hindley, charged with the same offences as Ian Brady, was demonised in the press in 1966 in a way that Brady was not. Hindley was the first modern female serial killer in Britain, the first woman who killed children for reasons that weren't easy to comprehend (she didn't kill for financial gain or because of post-partum depression or because she couldn't afford to feed her child) – and she therefore carried what The Independent has called 'an enormous symbolic weight'. That famous photograph of her, taken at the time of her arrest, has become iconic. The bleached hair, the dark roots, the stony gaze, the lack of visible remorse or shame or sorrow – these have all become part of the myth that made her 'the most hated woman in Britain.'
An uncommon thing
Why do we judge women who kill more harshly than men? Partly it's the sense of shock, and partly it's the rarity: Home Office statistics show that 90% of suspects convicted of murder in England and Wales between 2002-2012 were male. Even more rarely do women kill more than once: the number of known female multiple killers in Britain can be counted on the fingers of one hand, and their names have passed into folklore: Mary Ann Cotton, Myra Hindley, Beverley Allitt, Rose West and Joanna Dennehy.
In the rare instances that women do kill, they tend to kill different groups of people than men: violence by women is often directed towards their own bodies or towards their own families. And women usually kill using less violent methods than men: they poison their victims, they drown them, they suffocate them. So when a woman kills outside of her family, uses extreme violence or claims multiple victims, we are shocked partly because we are unaccustomed to it.
Female killers, whether suspected or convicted, have always been viewed in a different way to their male counterparts. They are either repellent, the embodiment of pure evil: Hindley, West and Dennehy are the modern equivalent of witches who should be burned at the stake – or they're sexually fetishized, as in the cases of Amanda 'Foxy Knoxy' Knox, the platinum-blonde 'tart' Ruth Ellis, and the 'Long Island Lolita', Amy Fisher, who attempted to murder her lover's wife.
Killer looks
The identification of a woman as 'good' or 'bad' is still often closely bound up with her appearance, and her sexual behaviour. Stories of Myra Hindley's 'lesbian sex romps' in prison made tabloid headlines for years. Rose West worked as a prostitute from Cromwell Street for decades, and gave birth to three children fathered by her clients. The press did not hesitate to make a link between West's 'deviant' sexual tastes, and the murders she committed.
Piers Morgan, in a two-part TV programme called Killer Women, interviewed 24 year-old Erin Caffey, who has been incarcerated in a Texan jail since she was sixteen because she orchestrated the murder of her mother and two young brothers. Morgan was unable to comprehend how someone as blonde, pretty and young as Caffey could be capable of such a heinous crime. "I can't picture you as somebody who would want her family annihilated," he told her. "It doesn't make any sense to me. In his Sun column, Morgan elaborated on this rationale:
"I've never met anyone who sent chills up my spine quite like Erin Caffey. Why? Because she's a pretty, sweet, smiley 4ft 11in, God-fearing young lady with a voice like an angel…"
Emma Flint wrote her debut novel Little Deaths partly out of anger at these kind of judgements. She says, "Beauty and a sweet demeanour do not mean a woman is incapable of violence or murder: it's only a short step from that to the belief that pretty equals good and ugly equals bad."
Flint wanted to explore how often women were, and are, condemned – and celebrated - for how they look and for their sexual behaviour. "There's still a belief among some people that women who don't adhere to the rules deserve to be punished. A female rape victim who drank 'excessively', or took drugs, or walked home alone, or wore revealing clothes, or was willing to have sex and then said no at the last minute, or has ever been involved in any kind of sex work, or has committed a crime in the past, or is homeless, or has had several sexual partners; or has enjoyed 'deviant' sexual practices such as BDSM or group sex risks having any or all of these facts raised in court as 'evidence' that rape did not occur. And as a result, many women feel they can't report sex crimes because they don't think they will be believed. They fear that they, rather than the accused, will be condemned."
Doubly damned
Anna Mazzola, who is also a human rights solicitor, believes we are still punishing women for being 'doubly deviant': 'The law treats female prostitutes, not their male clients, as the problem. Battered women who use violence to escape years of abuse often can't rely on criminal law defences, because they're based on male responses to violence. And women are more likely than men to be imprisoned for violent offences. That isn't an accident.'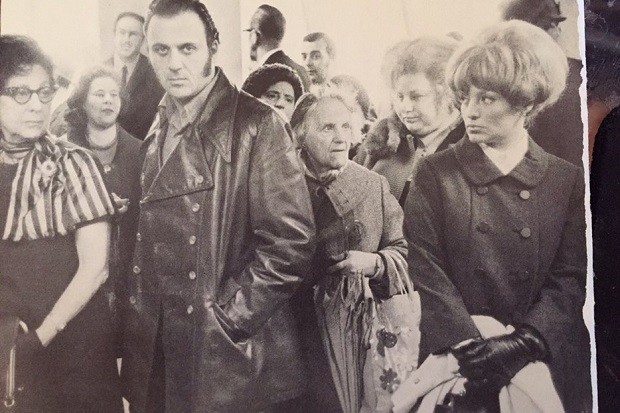 Alice Crimmins
In Little Deaths, Flint challenges the idea that sexual promiscuity – or even a visible sexuality – should form any kind of basis to judge a woman's crimes. "Alice Crimmins was judged twice: she was judged for her sexuality and her behaviour for years before her case came to trial. Her sexuality was the crime that initially made her guilty in the eyes of many. Kenneth Grossman, a reporter who wrote a book about the case in 1971, quoted a woman he overheard in the courthouse during the trial talking about Alice Crimmins - and I used the line in Little Deaths: 'A bitch like that is capable of anything.' "
That's what we come back to: the idea that the woman who subverts or uses her femininity is capable of anything. The idea that women who don't conform to the norms must be punished.
We were asked at the Waterstones 'Bad Girls' event why we had chosen the narrators we had. All of our books are narrated in part by the women charged with the crime. 'It had to be Sarah Gale,' Mazzola said. 'It was her story. And she had been denied a voice during the actual case.'
So many women have been denied a voice, or a fair hearing, through history. And while female defendants no longer have to face twelve male jurors, there are still deep-rooted prejudices against women who are seen to have contravened the norms. And that's why we have to keep writing about them.

Left to right: Emma Flint, Sarah Schmidt and Anna Mazzola
×
Download the Waterstones App
Would you like to proceed to the App store to download the Waterstones App?
Reserve online, pay on collection


Thank you for your reservation
Your order is now being processed and we have sent a confirmation email to you at
When will my order be ready to collect?
Following the initial email, you will be contacted by the shop to confirm that your item is available for collection.
Call us on or send us an email at
Unfortunately there has been a problem with your order
Please try again or alternatively you can contact your chosen shop on or send us an email at