Blog
Amelia Fang Teaches You How to Create a Perfectly Petrifying Halloween
As Halloween approaches it's time for trick-or-treating, witches' spells and cauldron brews, jack-o-lanterns and best of all, spooky stories. For Laura Ellen Anderson, author of our Children's Book of the Month for October, Amelia Fang and the Barbaric Ball, there's no better time of the year. Here, with a little help from Amelia and her friends, she tells you how to create the perfect pumpkin-filled Halloween.
For me, Halloween is a time of PUMPKINS, crunchy autumn leaves, pumpkin spice lattes, misty graveyards, pumpkin pies, scented candles, Halloween costumes, movies like Casper and Hocus Pocus . . . oh, and did I mention ALL THINGS PUMPKIN-RELATED? I love it when the chunky knitted scarves start to emerge and the grandad-style jumpers dominate the wardrobe. This is my favourite time of the year and even more so this year, now that I can celebrate the launch of my new book – Amelia Fang and the Barbaric Ball!
But don't just take my word for it. Here's what Amelia Fang and her friends love to do at Halloween!
AMELIA FANG: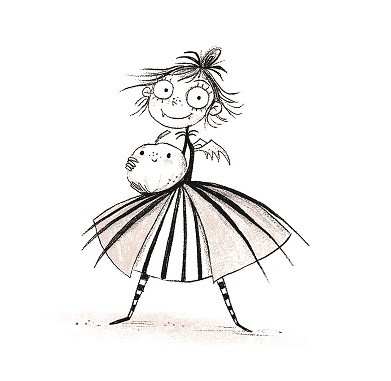 Amelia Fang
My favourite parts of Halloween are going on lots of midnight walks with my pet pumpkin Squashy, and hanging out with my best friends Florence and Grimaldi during the Halloween holidays. On All Hallows' Eve, just before the sun starts to rise, my friends and I snuggle up in my coffin, with nice hot mugs of Eyeball Juice, and tell each other terrifying stories about unicorns that shoot rainbow lasers from their bums and fairies that steal your fangs! Eeeeek! It's the stuff of DAYMARES! But scary stories are fun, especially at Halloween. What do you think, Mum?

COUNTESS FRIVOLEETA FANG: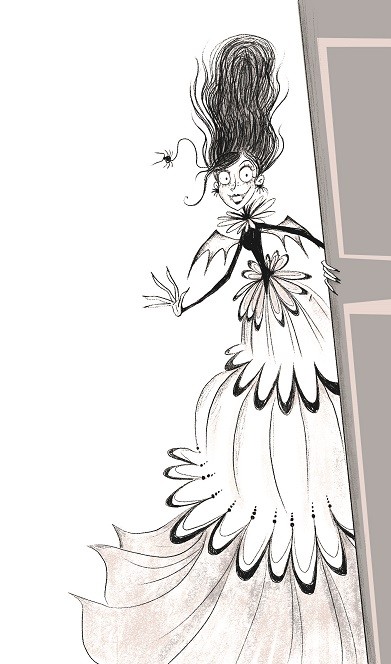 Countess Frivoleeta Fang
Frills, darkling! It's all about the FRILLS. And Eau de Decay perfume! Halloween means dressing up in your most DREADFUL outfit, making your hair look positively frightful and dancing to the deadliest tunes! In the Hall of the Mountain King by Edvard Grieg is my very favourite. And of course Halloween wouldn't be Halloween without a BARBARIC BALL. It's the best party you'll ever attend! Isn't that right, Drakey, my awful little brain cell?
COUNT DRAKE FANG: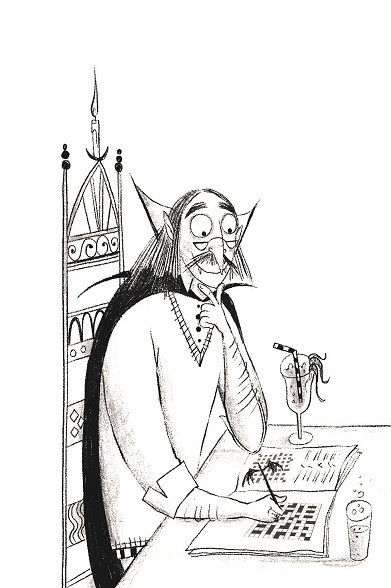 Count Drake Fang
Oh, yes, my horrid little pus pocket. But Halloween also wouldn't be complete without the ultimate nightmarish CROSSWORD PUZZLE! Our ghost butler Wooo is writing me a new one for this year and he says it'll be quite the challenge! I'm so excited I may do a backwards roly-poly!
WOOO: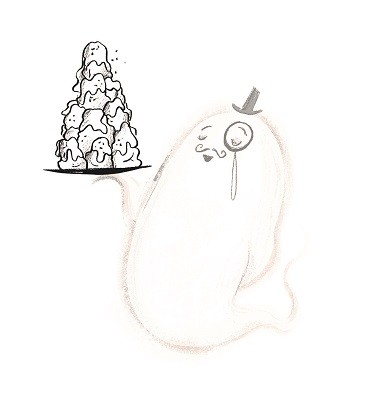 Wooo
Ah yes, Count Drake, it will be a challenge indeed. But Halloween in the Fang Mansion is also about the FOOD. And my gruesome gastronomy is renowned throughout the city of Nocturnia. From Flabbergasting Falafels to Armpit Sweat-shakes, they're lip-smackingly disgusting! Why not try some of your own repugnant recipes this Halloween?
FLORENCE: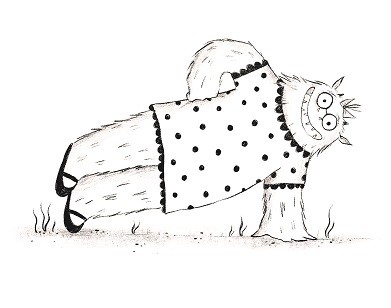 Florence
'E'S RIGHT, Y'KNOW. WOOO MAKES THE BEST REPUGNANT RECIPES! MY PERFECT 'ALLOWEEN IS SPENT WIV MY BEST FRIENDS, EATING STUFF. BEING A SIX FOOT RARE BREED OF YETI MEANS I NEED A LOTTA FOOD 'CAUSE I NEED THE ENERGY, Y'SEE. I ALSO LOVE TO DIG A SPECIAL 'ALLOWEEN MAZE UNDERGROUND, AND DO A TREASURE 'UNT! WE GO ALL AROUND NOCTURNIA AND END AT THE PUMPKIN PATCH! THEN WE GET TO PLAY WIV ALL THE ICKLE PUMPKINS.
GRIMALDI: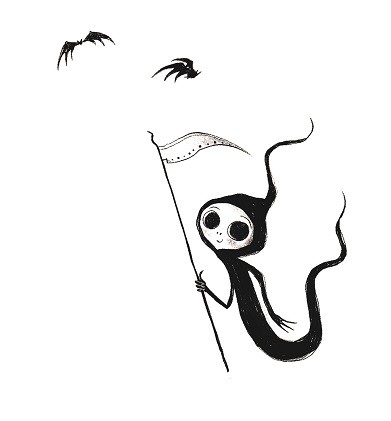 Grimaldi
When I'm not clearing up squished toads who have partied too hard, I like to hang out with my best friends Amelia and Florence at Halloween. I get a bit too scared by the scary stories we tell sometimes, so to make myself feel better I do some bat-spotting. Sometimes I spot over fifty bats flying across the sky in one night!
Amelia and her friends certainly know what makes the perfect Halloween! This Halloween, why not see how many of these abominable activities you can do?
1. Write a spooky story and tell it to your friends. Who can write the scariest story? Or you could visit your favourite bookshop and choose a new spooky book to read.
2. Create a costume to wear to a Halloween party. Why not make up a dance to a creepy song like Thriller by Michael Jackson too?
3. Invent and play some fun Halloween party games with family and friends.
4. Make some fiendish Halloween-themed food – cocktail sausages made to look like severed fingers, or marshmallows on sticks to look like eyeballs!
5. Create a Halloween treasure hunt with friends or visit a local garden centre to adopt a pumpkin. Amelia's pet pumpkin is called Squashy, what would you call yours?
6. See how many bats or other night-time animals you can spot in the evening.


Happy Halloween!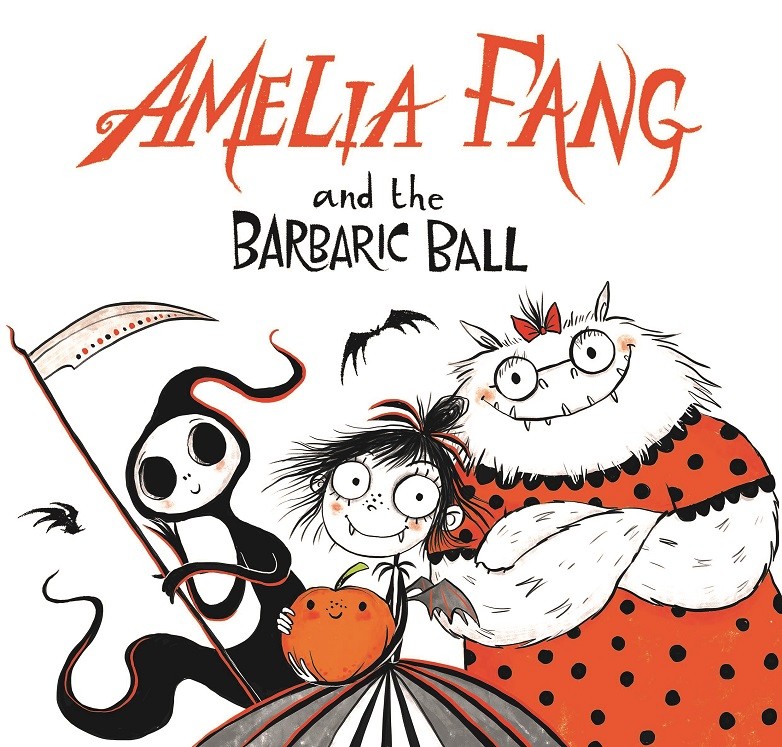 ×
Download the Waterstones App
Would you like to proceed to the App store to download the Waterstones App?
Reserve online, pay on collection


Thank you for your reservation
Your order is now being processed and we have sent a confirmation email to you at
When will my order be ready to collect?
Following the initial email, you will be contacted by the shop to confirm that your item is available for collection.
Call us on or send us an email at
Unfortunately there has been a problem with your order
Please try again or alternatively you can contact your chosen shop on or send us an email at