Navigation
Search
Books

Dinosaurs Love Underpands

Claire Freedman, Ben Cort

Deep Sea Monsters

Igloo

Dinosaurs Love Underpands

Claire Freedman, Ben Cort

Deep Sea Monsters

Igloo
We regret that due to the technical limitations of our site, we are unable to offer eBooks or Audio Downloads to customers outside of the UK.
For further details please read our eBooks help.
Blog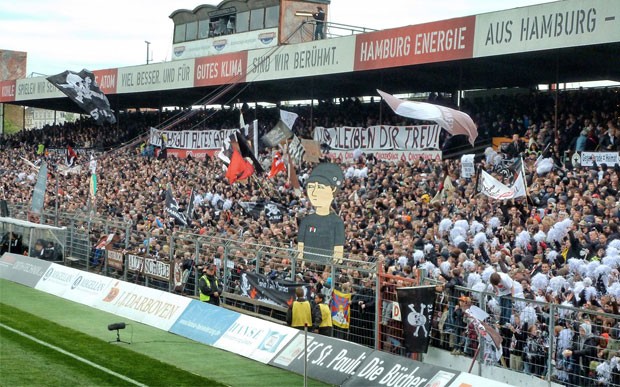 "You travel all that way to watch football?"
Why would a British football fan choose to support - and regularly travel to watch - a German team? Well, as Nick Davidson explains, FC St. Pauli and their supporters are something quite unique...
When you say you support a second division German football team based in Hamburg people look at you like you are mad. "You travel all that way to watch football? Why don't you just watch your local team, it'd be much easier?" True, it would be, but it wouldn't be anywhere near as much fun. And, anyway, I did that for 25 years.
It's roughly 800 miles from London to Hamburg which means for my last two visits to watch FC St. Pauli, I've racked-up 3,200 air miles, seen 180 minutes of football and precisely no goals. I was over in October and saw FC St. Pauli draw 0-0 with SV Sandhausen and I was back again the other weekend to watch another goalless encounter, this time against the equally obscure Ingolstadt. Neither game was the type of 0-0 draw that could in anyway be described as exciting.
Fortunately, in answer to the earlier question, I don't travel all that way just for the football. Around the same time as I fell out of love with the English game – the high ticket prices, ridiculous wages, the soulless identikit all-seater bowls leaving me increasingly disillusioned – I found FC St. Pauli. I fell in love. Not with the football, it's usually pretty average, even when you put aside the fact that I have been particularly unlucky with the last couple of games. Not even with the players or particularly the team – when I think back to my first footballing love (and one that endured for nearly a quarter of a century) it was the team and the players that I adored, but then I got lucky: I grew up with John Barnes and Luther Blissett terrorizing first division defences, pioneering Graham Taylor's philosophy of all-out attack that upset so much of the football establishment when Watford raided the top-flight in the early 1980s.
No, at St. Pauli I fell in love with the fans, the atmosphere and the sense of community. It is almost impossible to describe the atmosphere St. Pauli's Millerntor stadium. It's loud. It's colourful. It's political. The club's fan base is staunchly left-wing and are both visual and vocal in their opposition to fascism, racism, sexism and homophobia in football. They are also locked in a constant battle with the ongoing gentrification of the game, the club and also the district of St. Pauli. As the team runs out to ACDC's Hells Bells, one terrace, the Südkurve, is transformed into a sea of choreographed brown, white and red flags, while the huge Gegengerade terrace that runs the length of the pitch and houses an incredible 10,000 standing places erupts in a storm of confetti. It's nothing short of spectacular. And this happens at virtually every home game.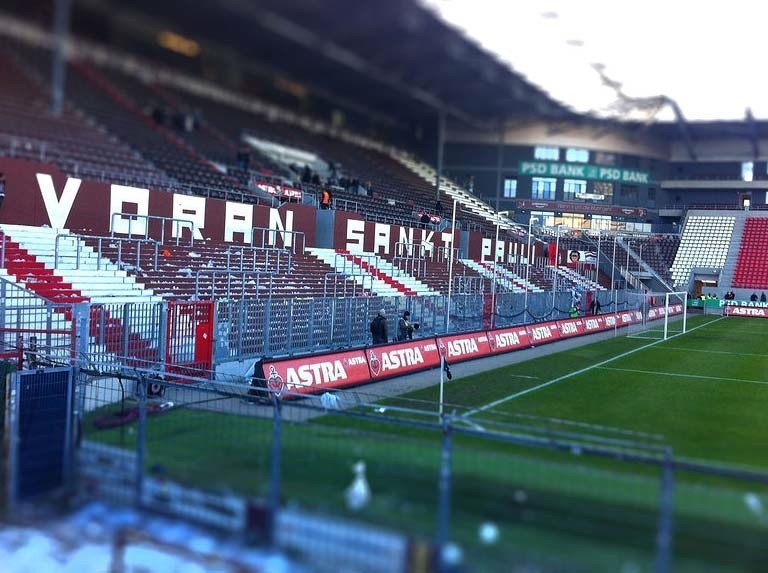 I was last at the Millerntor to launch Pirates, Punks and Politics, my book about the club. Football aside, it was a hectic weekend that included radio and TV interviews (a new experience for me, a primary school teacher by day!) and a launch Q&A evening at the club after the match. It was also a chance to catch up with friends. That's the other incredible thing about St. Pauli. Yes, I was originally lured to the Millerntor by the atmosphere and the thought of a politically aware fan base, but during the seven years that I've been going over I've made some great friends. My best mate Shaun Hunt (and co-author of Modern Football is Rubbish) said something profound the other week: he reckoned we'd had more conversations and made more friends with fans on our trips to St. Pauli than we had in a lifetime of watching football in the UK. He's right. St. Pauli fans are a friendly bunch, even in the departure lounge at Heathrow, once I'd got chatting to a bloke in a St. Pauli hoodie and we ended up getting the train to the stadium together, along the way realising we were trying to get into contact with the same Hamburg-based friend to arrange to meet up. It's this spontaneity that makes trips so special.
Sure, there'd been beer and football but the best bit was sitting round a table with like minded individuals.
On my previous visit, in October, we'd spilled out of the stadium at the end of the game and joined in with a demonstration march around the city in support of the Lampedusa refugees; it is no exaggeration to say that at least 10,000 of the 28,000 crowd joined the march, protesting against the refugees' treatment by the police and local authorities. Football fans supporting an issue seemingly unconnected with their football club – can you imagine the fans of any club in England, leaving the ground and forgoing a trip to the pub to march, peacefully, around the city until nearly midnight? It was an unforgettable experience, and summed up perfectly what St. Pauli is about.
This time around, the Q&A went smoothly and I was expecting to head back to the hotel, write a piece for one of the fanzines and get an early night. Of course, in true St. Pauli style, there was no chance of that. Before I knew it, I was sitting in a wonderful little restaurant, Backbord on Clemens-Schultz-Straße (well worth a visit if you are in town), drinking beer (hey, it's one of the things that unites us Brits and Germans) and talking football and politics. The conversation was fun and informed. I found myself sitting round a table with a bunch of Espanyol fans from the FC St. Pauli Catalunya Supporters Club, a university lecturer from Brighton, members of Republica Internationale (a Leeds-based socialist football club), Dani Wurbs, the CEO of Football Supporters Europe, and some people who had lived the infamous Haffenstraße squats in the late 1980s (and were among the first "alternative" fans to visit the Millerntor). We sat chatting until about 1.30am, then moved on for a night-cap and further discussion at the Jolly Roger bar (the unofficial/official) FC St. Pauli fan pub.
It's funny because I started writing the book to try and delve deeper into the psyche of St. Pauli, to understand the fan culture that has grown up around the club. Going to St. Pauli often gets reduced by the media to party mad football fans, downing beer and spending the evening sampling the dubious delights of the nearby Reeperbahn, but it's just not like that. Sure, there'd been beer and football but the best bit was sitting round a table with like minded individuals. It might sound like a cliché in itself, but it really is the people, not the frequently trotted out clichés that make St. Pauli special.