Navigation
Search
Books

Dinosaurs Love Underpands

Claire Freedman, Ben Cort

Deep Sea Monsters

Igloo

Dinosaurs Love Underpands

Claire Freedman, Ben Cort

Deep Sea Monsters

Igloo
We regret that due to the technical limitations of our site, we are unable to offer eBooks or Audio Downloads to customers outside of the UK.
For further details please read our eBooks help.
Blog
Alexandra Pringle on Elizabeth Gilbert
Editor-in-Chief of Bloomsbury Publishing, Alexandra Pringle tells us how she came to know and love Elizabeth Gilbert, whose new novel The Signature of All Things is out tomorrow...
I first met Elizabeth Gilbert in The Last American Man, her third book, about her journey to discover Eustace Conway who lived alone in a tepee in the middle of nowhere and was, well, very, very male. It was also a book about a wild young woman who wanted to be a cowgirl, who had a bit of a thing about cowboys, and an appetite for adventure. I fell for the writing that was at once muscular and feminine, that was so idiosyncratic and assured that the author could open a book with 'By the time Eustace Conway was seven years old, he could throw a knife accurately enough to nail a chipmunk to a tree.' I also admired the independence and sheer intelligence of the writer. And I just knew that I liked her. But I couldn't see how to publish this book that was oh-so very American, and the writer unknown in Britain.
And so it was that a couple of years later when the manuscript for her next book landed on my desk I immediately took it home, looking forward to being reacquainted with Elizabeth Gilbert. If someone had told me that I would fall for a book about a woman's spiritual journey that included a fair bit of yoga I would have said yeah, really? I come from a stalwartly atheist family and have never yet attempted a yoga position. But I have been around the block a few times. And when Liz Gilbert takes us on her journey to Italy, India and Bali she takes us on all our journeys. She also happens to be the best of companions: warm, frank and witty. In all that I've read about Eat, Pray, Love I don't think anyone has expressed quite how incredibly, utterly funny Elizabeth Gilbert is. I will never forget sitting at my kitchen table on the boat that I live on, floating on the Thames, hooting with laughter (and being surprised by tears), reading passages out to my husband, thinking of all people I would want to give this book to.
So Bloomsbury published the book (I was besotted, I was not to be denied), and Elizabeth came over for publication. And pretty much nothing happened. It happened in the US, and then in other countries –in Holland, in Israel, in Sweden and Italy (I could go on) and increasingly, it seemed, all over the world. But it didn't happen in the UK. The course of true love was not to run smooth for me. I tore my hair out, I wrote daily emails to our sales department (how they loved that). I could not believe that this book I adored, that I wanted to give to all my friends (and press on complete strangers on the bus), that was selling in bucket loads around the world, could not be wanted by the snooty Brits. Then little by little that magical thing began to happen. Women (and men) began to discover it, to pass it like the best of secrets from mouth to mouth, hand to hand. Four years down the line we had sold two million copies. It was the sweetest of vindications. Liz came over for the premier of the film (now everyone wanted to know her) with her coolest of hairdressers Rayya Elias, 'my Syrian, lesbian, ex-junkie, biker-chick friend', and we larked about taking photographs of each other with Julia Roberts. I had no idea that Rayya was herself writing a glorious memoir, Harley Loco, a sort of cross between Anthony Bourdain's Kitchen Confidential and Patti Smith's Just Kids, that we would eventually publish.
Then came Elizabeth Gilbert's follow-up, Committed, her exploration of marriage, its history, what it means, why we do it, filled with her intelligence, her insights and, again, her honesty and humour. As someone who has been married a few times, it was naturally of considerable interest to me. We also finally published The Last American Man, and brought back into print her first two books, her collection of stories, Pilgrims, and her novel Stern Men. Oh, and along the way there was a book of her great-grandmother's recipes, At Home on the Range, where, surprise, surprise, we learn that her remarkable grandmother who had a preference for bohemian living, writing, cooking and the booze, also happened to possess a voice like a mix of Dorothy Parker and MFK Fisher.
And now we have a novel, Elizabeth Gilbert's second and her first in thirteen years. The Signature of All Things is a huge, sweeping, irresistible story that begins in Kew Gardens in 1760, that takes us around the world with Captain Cook, then to Philadelphia, Tahiti, and finally to Amsterdam at the close of the nineteenth century. Filled with botany, science, ideas and the mysteries of evolution, it begins with Joseph Banks and ends with Charles Darwin. It is also a profoundly feminist novel. For at the centre stands Alma Whittaker, towering Alma, botanist, spinster, explorer, independent woman, a woman both of the past and the future. It is as if Jane Austen had written a great, big nineteenth-century novel. It is one of the finest historical novels I've ever read. There are people who express surprise that the author of Eat, Pray, Love could have written this extraordinary novel. But I say NO! No-one in the world could have written this novel but Elizabeth Gilbert. Just listen to the voice, to Alma's voice that is also Elizabeth's voice: wise, stubborn, acute, witty, and very, very clever.
Alexandra Pringle, for Waterstones.com/blog
Read an extract from The Signature of All Things...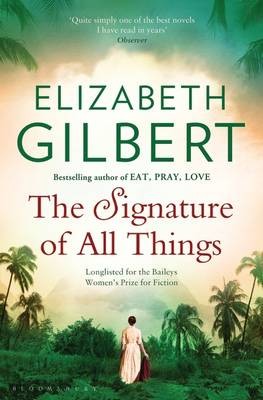 You can Click & Collect The Signature of All Things from your local Waterstones bookshop, or buy it online at Waterstones.com or download it in ePub format