Navigation
Search
Books

Dinosaurs Love Underpands

Claire Freedman, Ben Cort

Deep Sea Monsters

Igloo

Dinosaurs Love Underpands

Claire Freedman, Ben Cort

Deep Sea Monsters

Igloo
We regret that due to the technical limitations of our site, we are unable to offer eBooks or Audio Downloads to customers outside of the UK.
For further details please read our eBooks help.
Blog
Adaptations: 12 Years a Slave
Thomas Hawley, from our Liverpool ONE bookshop, is thankful for a film which brings an overlooked book into the public spotlight...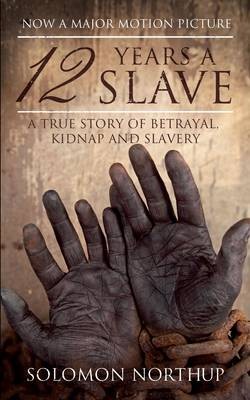 "Adaptation is a profound process," wrote Charlie (and Donald) Kaufman. Whether it's spoon-feeding Victor Hugo or breathing life into Benjamin Braddock, books have never failed to inspire films, and the last six months have certainly proved this. A quick glance upon the book and film charts will see an uncanny resemblance: The Wolf of Wall Street, Philomena, American Hustle, Inside Llewyn Davis, The Great Gatsby, The Hobbit, The Book Thief and Captain Phillips can all be found in the Oscar nominations this year, films which have all been adapted from, or inspired by, books. But there is one adaptation that garners particular attention, mostly for its power and relative obscurity. The 19th century biography of a free African-American kidnapped into slavery has cast light on a period of history barely explored in cinema and, given the critical accolades the film has so far received, the attention has been anything but undeserved.
"Of all the people I spoke to, not one person knew about 12 Years a Slave" says director Steve McQueen in his foreword to the book. He wanted to make a film about slavery, specifically about a free man kidnapped into bondage, so when his partner, a historian, discovered Solomon Northup's 1853 memoir, McQueen was captivated. "It read like a film script, ready to be shot," he explains. Three and a half years later, millions of people know about Solomon Northup and his 150-year-old story, and millions more will surely read his account first-hand in a book which is now back on the bestseller lists for the first time since the 1850s.
Born a free man in New York State, Northup was a farmer and violinist who, after being deceived and kidnapped into slavery aged 32, was transported South to Louisiana and sold to a plantation owner. Surviving twelve years of brutal servitude under various slavers, Northup eventually regained his freedom and returned to his family in New York. The book is an expectantly difficult read, if only for it's graphic depiction of violence and inhumane treatment of the enslaved, but it's also a fascinating historical document about the day-to-day life of antebellum plantation slaves. We read about torture, starvation and executions, but we also come to learn how sugar cane is farmed; how Northup hunted for possum; and how female slaves came to possess bonnets for their annual Christmas party.
Reading this biography serves as an indispensable accompaniment to the film. Northup's prose has the air of a 19th century adventure, with all the dangers, horrors and tribulations one would expect from his predicament. In its vivid description of the Louisiana swamplands, the writing is surely a precursor to the post-antebellum, Southern Gothic style we find in 20th century American literature:
"I was now in what I afterwards learned was the Great Pacoudrie Swamp." I was filled with immense trees- the sycamore, the gum, the cotton wood and cypress, and extends, I am informed, to the shore of the Calcasieu river. For thirty or forty miles it is without inhabitants, save wild beasts- the bear, the wild-cat, the tiger, and great slimy reptiles, that are crawling through it everywhere. Long before I reached the bayou, in fact, from the time I struck the water until I emerged from the swamp on my return, those reptiles surrounded me. I saw hundreds of moccasin snakes. Every log and bog- every trunk of a fallen tree, over which I was compelled to step or climb, was alive with them. They crawled away at my approach, but sometimes in my haste, I almost placed my hand or foot upon them. They are poisonous serpents- their bite more fatal than the rattlesnake's."
What we don't encounter in the film is Northup's apparent empathy towards his slavers. Admitting that it's "not the fault of the slaveholder that he is cruel, so much as it is the fault of the system under which he lives," Northup quickly dispels any hint of sympathy, with an impassioned defence of freedom in one of the book's most eloquent and memorable passages:
"There may be humane masters, as there certainly are inhuman ones- there may be slaves well-clothed, well-fed, and happy, as there surely are those half-clad, half-starved and miserable; nevertheless, the institution that tolerates such wrong and inhumanity as I have witnessed, is a cruel, unjust, and barbarous one. Men may write fictions portraying lowly life as it is, or as it is not- may expiate with owlish gravity upon the bliss of ignorance- discourse flippantly from armchairs of the pleasures of slave life; but let them toil with him in the field- sleep with him in the cabin- feed him on husks; let them behold him scourged, hunted, trampled on, and they will come back with another story in their mouths. Let them know the heart of the poor slave- learn his secret thoughts- thoughts he dare not utter in the hearing of the white man; let them sit by him in the silent watches of the night- converse with him in trustful confidence, of "life, liberty, and the pursuit of happiness," and they will find that ninety-nine out of every hundred are intelligent enough to understand their situation, and  to cherish in their bosoms the love of freedom, as passionately as themselves."
McQueen has given us an important piece of cinema, free from the pomp and pastiche of last year's Django Unchained.  It's a story from a dark period of history that begs to be told without the camp and flair with which film makers such as Quentin Tarantino have become so well known. The famously detached, matter-of-fact style of McQueen's direction transforms this historical drama into an immediate, urgent comment on contemporary slavery, an idea McQueen highlighted in his BAFTA speech: 21 million people worldwide are enslaved today. The scenes of violence, casual cruelty and deep-rooted racism we read in Northup's biography, and the corresponding images we see in McQueen's adaptation, are happening right now. This is no sweeping, romanticised, Deep South epic; this is stark, raw storytelling.
Anne Frank's Diary of a Young Girl and the sufferings of, for example, Primo Levi and of Viktor Frankl, have been documented and shared among millions worldwide, and now Steve McQueen's choice of material has transformed a relatively unknown book into a story that everyone knows, and everyone should know. This begs the question: how many more stories of such monumental importance to humanity are sitting on our bookshelves, little-known or undiscovered? "An important tale told with such heart and beauty," writes McQueen "needed to be more widely recognized." And with this bold, unflinching film we may have been given the most important adaptation in decades.
Thomas Hawley, for Waterstones.com/blog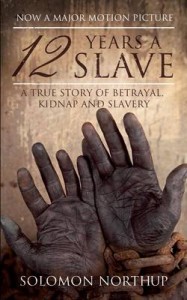 Read an extract from 12 Years a Slave
You can Reserve & Collect 12 Years a Slave from your local Waterstones bookshop (http://bit.ly/N20QKq), buy it online at Waterstones.com (http://bit.ly/1ejnPuV) or download it in ePub format (http://bit.ly/1dyltEr)