Blog
A Waterstones Exclusive Interview with Patrice Lawrence
"It's a really complex question about who gets to read a book, who gets represented and who thinks they can be a writer."
A fast-paced, powerful urban thriller, Patrice Lawrence's debut, Orangeboy, became one of the most talked about books of 2016, picking up a host of prizes along the way, including the Waterstones Children's Book Prize in the Older Fiction category. Now Lawrence is back with Indigo Donut, a book that confirms her talent for vividly drawn characters, sharp dialogue and breath-taking immediacy.
In an exclusive interview for Waterstones the author talks about life for children in care, her love of Hackney and how, when it comes to writers of colour, the publishing industry still has a long way to go.
Summed up by the Guardian as 'a tender and complex story of first love, family and belonging', Indigo Donut celebrates the unexpected ways in which very different lives can collide. For seventeen year-old Indigo, who has grown up in care having witnessed her father kill her mother as a child, nothing is certain, her own identity least of all. When she meets Bailey, all tender charm and giant ginger Afro, the chemistry is instant but Indigo is haunted by a past she only half remembers and the darkness she fears may lie dormant within herself.
At times the novel reads like a thriller – perhaps unsurprising from an author who originally set out with the intention of writing crime fiction. Lawrence says: "I grew up reading authors like Agatha Christie and Sherlock Holmes so I suppose you could say that's in my writing DNA." However, criminal acts in Lawrence's novels are primarily catalysts for considering the rippling legacy of crime and the trauma for those left in its wake.
"What I'm really interested in", Lawrence says, "is the impact on families and what happens to the people who are left behind. When I was writing Indigo Donut I thought about the issues that were raised around the time that Paula Yates died; how her daughter was in the room with her at the time. I was interested in how those kinds of events might have an impact on children and I wanted to question how you find your place in the world when everyone already knows your business. I love police procedurals but I think there's something more realistic, particularly for teenagers and young adults, about what comes afterwards."
Lawrence specialises in families and characters that don't fit a mould; something that reflects her own experiences growing up. She laughs when she describes trying to explain her own family history growing up. Fostered by a white working class family in Brighton for the first four years of her life before returning to live with her mother and Italian stepfather in Sussex, Lawrence is used to unusual families: "I just never lived in what might be considered a normal family. I have a family that's like nobody else's. Even now we're a family of many different colours which we love and have grown-up with, it's just quite a complex family. I've always had lots of different family dynamics to explore which I think has really helped my writing."
The importance of family, both how it shapes identity and what happens when it breaks down, is key in Indigo Donut. As the novel begins, Indigo, at seventeen, faces the imminent prospect of having to leave her foster home and losing her precarious grip on the family she's grown to rely on. Although the law has changed since Lawrence began writing the book, she thinks the lack of support available to young people leaving care is still a frightening reality.
"My daughter is seventeen now", she explains, "and she's very mature and independent but to think of her going out into the world with none of that back-up is just terrifying. That's what we expect these young people to do, coming from a system that perhaps hasn't been that consistent for them."
Lawrence's fiction is so effective in part because of her ability to personalise complex issues and bring imperfect, struggling individuals to the page without simplifying the problems they face. In Indigo Donut, she balances Indigo's own story with that of her grandparents and their difficult decision to let her be taken into care. Lawrence says that openly exploring the events and insurmountable difficulty that leads to people making impossible choices was at the forefront of her mind when writing Indigo Donut:
"One of the things I've spoken a lot about is grandparents who have ended up as carers. When I started writing the book I was actually working for a criminal justice organisation and my role was to support organisations working with the families of prisoners, so I was talking to carers looking after grandchildren and caught between really struggling and not wanting their child to go into care. I wanted to put a little bit of that experience into the mouths of the grandparents alongside exploring what happens to the child after that."
It is a testament to Lawrence's skill that despite the weighty subject matter it tackles, Indigo Donut never feels like a heavy read – in part a credit to her talent for fast-paced, very funny dialogue - the result, she says, of spending hours on buses listening in to everyday conversations in and around her home in Hackney. Both of Lawrence's books have been set in Hackney and she credits her home with providing an endless reservoir of widely different lives and histories to explore. She is keen to reflect the side of the borough that outsiders don't get to witness: "I love the energy of young people in Hackney" she says. "There's so much that people don't know about it, the brilliant parks and museums, there's so many things you can use as a writer – beyond what is reported in the press which always seems to be either hipsters or murder!
It's one of those places that seems to be in a state of near-constant change, I've lived here for about twenty years and my daughter was born and brought up here and even she's seen that change. You've got rising gentrification, you've got the lefty-liberal middle class, you've still got lots of poverty and lots of younger more affluent people coming in to visit bars and restaurants. You often see quite separate communities but what you also see, particularly in schools, is a really interesting mix of young people chatting and talking and getting to know each other. So you do have that separation but also the wonderful togetherness of young people which I think hopefully stops them creating stereotypes about each other and will help them support each other later on."
Lawrence talks passionately about the need to reflect the diverse range of lives and experiences she sees around her every day in fiction. Asked what makes her sit up and take notice she is adamant that, both as a reader and a writer, what she's looking for is authenticity:
"I think any writer can write what they want" she says, "but I think for me what I really want to see is something that I recognise, not something that's generic. I often talk about reading Ben Aaronovitch's books when I talk about this. I also love Simon Mason's Running Girl and William Sutcliffe's Concentr8 is amazing. I suppose for me – and this is a very personal thing - I always feel happier reading black characters by white authors if I know what that author's value base is, if I understand and believe that they're the sort of person who really does support social justice and who does understand and believes that racism can exist, who does have connections with different kinds of communities and talks to them and sees them as friends."
She has spoken out previously about her own experiences of the publishing industry and the extent to which writers of colour are still under-represented. Lawrence puts this down to editors' reluctance to tackle how to present new and different stories: "With Orangeboy, we sent it around and only one editor in modern publishing took it. They just didn't know how to market it, how to position it as older YA fiction, with a male protagonist. It's such a disservice to readers. The area where Orangeboy seems to have most impact is in the north of England and in predominantly white areas where they just completely get it."
This taps into a wider question for Lawrence about the message the industry is sending out to young readers and writers of the future. She's tentatively hopeful that conditions are changing but recognises there's still a long way to go:
"I was talking to my daughter about the Carnegie Award longlist and how in her school - bearing in mind this is in Hackney in a really diverse area - it used to predominantly be the white girls who would get taken out to take part. It's a really complex question about who gets to read a book, who gets represented and who thinks they can be a writer.
There are so few writers of colour but I think it is changing slowly and I think we're going to get a new generation coming through. For myself, I know I was inspired by authors like Malorie Blackman who wrote about black characters and black families because up until then, although I'd been writing for most of my life, I thought "I can't write about these people, the people I know, because they're not in any books". More and more I think, I hope, you're going to get people writing books for young people portraying families like theirs."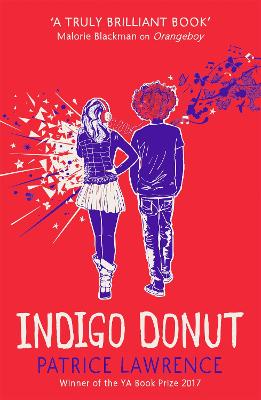 Paperback
Usually dispatched within 48 hours
A love story interwoven with an edge-of-the-seat mystery. Two very different young people discover who loves them, and who they can love back.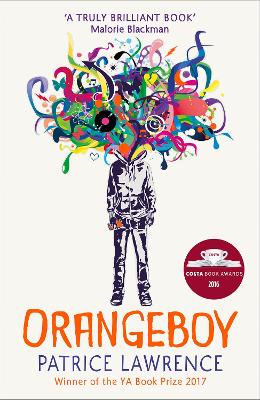 Paperback
Usually dispatched within 48 hours
A former winner of the Waterstones Children's Book Prize for Older Readers, Lawrence's raw yet tender debut examines the vexed moral choices for a Black British teenager who always swore to stick to the right path. Lyrically written with an almost musical rhythm and brimming with compassion and insight, Orangeboy is a wise, engrossing read for both teens and adults alike.
×
Download the Waterstones App
Would you like to proceed to the App store to download the Waterstones App?
Reserve online, pay on collection


Thank you for your reservation
Your order is now being processed and we have sent a confirmation email to you at
When will my order be ready to collect?
Following the initial email, you will be contacted by the shop to confirm that your item is available for collection.
Call us on or send us an email at
Unfortunately there has been a problem with your order
Please try again or alternatively you can contact your chosen shop on or send us an email at