We regret that due to the technical limitations of our site, we are unable to offer eBooks or Audio Downloads to customers outside of the UK.
For further details please read our eBooks help.
Blog
A connection with the past
Amanda Brooke, author of Yesterday's Sun explains how her latest novel - Where I Found You - was born from a moment of quiet reflection in her own life.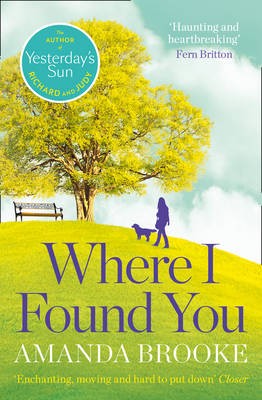 There are some places where it's hard to resist sitting back, switching off and letting the world go by, be that a seat on the bus, the tube, a chair in a waiting room, or a park bench. It's the kind of place where if you stay there long enough, you stop noticing the people scurrying past, your mind tunes out the birdsong and the chatter, and you can't smell the roses let alone the coffee. Your mind filters out everything except the sound of your own heartbeat and the thoughts trickling through your consciousness. And very occasionally, that quiet moment of reflection will stay with you for the rest of your life.
I can recall one such moment quite clearly. It was 1995 and I was sitting alone on a park bench at the side of the boating lake in Sefton Park, Liverpool. I'm certain of the year because I was pregnant with my first child at the time and like many first time mums, I was worrying about the future. What kind of mother I would make? Would he or she be born healthy? How much was childbirth going hurt and how was I going to cope with juggling a career and a baby? Looking back, I'm sure I had started to panic the moment I saw that blue line on the pregnancy test, but it was the time I spent at the side of the lake that has stayed with me.
That memory has been floating around in my head for nineteen years now, so I suppose it was inevitable that one day I would write a story that had a park bench as its focal point. And although Where I Found You has a collection of characters that I have come to love and admire, it was the bench with its wooden slats and intricate wrought iron frame that captured my imagination first. Only when I had a clear image of the bench and its setting in my mind did I start to think about the people who might have sat down upon it. And it's no surprise that the two main characters who came to life as I began to plan my novel were also expectant mums who, like me, wondered what kind of mothers they would become – if they were to be given that chance at all. Maggie and Elsa each enjoy sitting by the lake and losing themselves in their own thoughts. The bench has a special place in their own individual stories, it connects them to the past and eventually to each other.
After writing Where I Found You and spending so much time thinking about how something as seemingly mundane as a park bench could tie together the future and the past, I naturally turned my attention back to my bench in Sefton Park. As much as it had featured in my memories, I had come to realise that there were countless other people who had sat there and that all our lives had been captured beneath its layers of paint.
That thought has played on my mind for a while now and I need to make a return visit. So much has happened in the intervening years and it's going to be strange going back there with the answers to all of those questions I had been asking myself almost two decades earlier. Some of those answers I'm glad I didn't know at the time. Yes, motherhood has been an amazing gift and the sense of fulfilment I felt when my daughter, and later my son, arrived in my life is something that I feel very privileged to have experienced but in amongst the joy there has also been immeasurable pain. So when I do sit down and let that old bench absorb a little more of my soul, I've decided I won't go back there alone. I'm taking along the baby I was carrying at the time except she's all grown up now.
I've warned my daughter that I want her to sit next to me at the side of the lake and have her own "moment." It would be nice if that place could become a part of her unique story because, after all, she's already a part of the bench's history. But more than that, I want the memory we will be creating to stay with her for the rest of her life, just as that first one has with me. And when we walk away, I'm going to take comfort in knowing that when the day comes that I can't be by my daughter's side, she'll be able to come back and sit by the lake and know that I'm not that far away after all.
Related books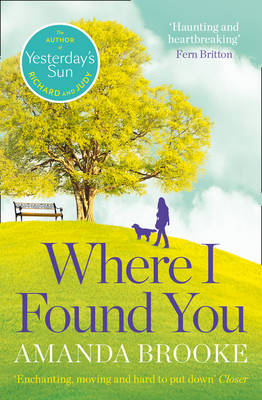 A touching and emotional novel from the author of Richard and Judy pick YESTERDAY'S SUN.