Blog
A Book & a Bite: Exclusive Recipes from Diana Henry How to Eat A Peach
Diana Henry has long been an avid collector of recipes; from dishes she has encountered on menus to memories of meals eaten and shared. Her latest book, How to Eat a Peach, is a magical combination of food writing, memoir and travelogue that is both a sumptuous collection of recipes and a celebration of food's ability to conjure memory and experience. Here, she introduces the book and presents three exclusive recipes from its pages.
There was a pebbledash wall at the end of the garden of my childhood home and, beyond it, fields of wheat. The fields stretched into the distance for miles with nothing to hamper them, the blue sky above them hung with feathers of cloud. The world has very clear horizons when you're a child and my eyes were constantly fixed on them; I always wanted to know what was over the horizon's edge. One night I dreamt that just over the garden wall there was a cat who lived in a barrel. You had to negotiate with him to be able to run towards the horizon, and he expected sweets in exchange for keeping an eye on you. Sometimes I think my life has been about negotiating with that cat and trying to get as far beyond the horizon as possible.
My family didn't travel much. It was in the days before cheap flights so we holidayed in Ireland. I travelled through cooking and reading. The first time I went abroad I was on my own. I arranged an exchange trip for myself and set off for Paris (from Dublin). I was 15. I was already a keen cook – I'd started cooking at a young age – but my French counterpart knew how to make a pork chop taste better than any I'd ever had. She marinated them with herbs and olive oil before cooking them on an old barbecue; she taught me to make vinaigrette, starting with Dijon mustard in the bottom of a salad bowl then whisking in the oil so that it emulsified. We spent the summer at her family's ramshackle cottage (a grand word for it – it was only half built and the loo wasn't just outside, it was a field away) wondering, every day, what we'd cook next. I came home a Francophile, changed forever, bringing pages of recipes, carefully written on fine airmail paper, back with me. These marked the start of a lifetime of collecting recipes wherever I travelled. After that I always carried a notebook in which to jot down dishes I saw on menus, as well as those I ate.
When I started to write How to Eat a Peach it was going to be a book of menus. Putting menus together is my favourite bit of cooking. I love to consider what dishes best follow one another, how to produce a meal that will please friends but won't leave the cook frazzled, what flavours and textures work together. But it soon became apparent that this book was about place too - a glittering night in New York, a blue day in Istanbul, lunchtime at the market in Oaxaca with the smell of blistered corn in the air. Food has been the way I have visited places when there was no possibility of physically going there. I got to know countries and to feel at home in them by eating their food. So this is a book of menus – collections of dishes that flow and are balanced and whose flavours work together. But it is a book about the magic of conjuring up place through food too.
Leg of Lamb Stuffed with Lemon & Many Herbs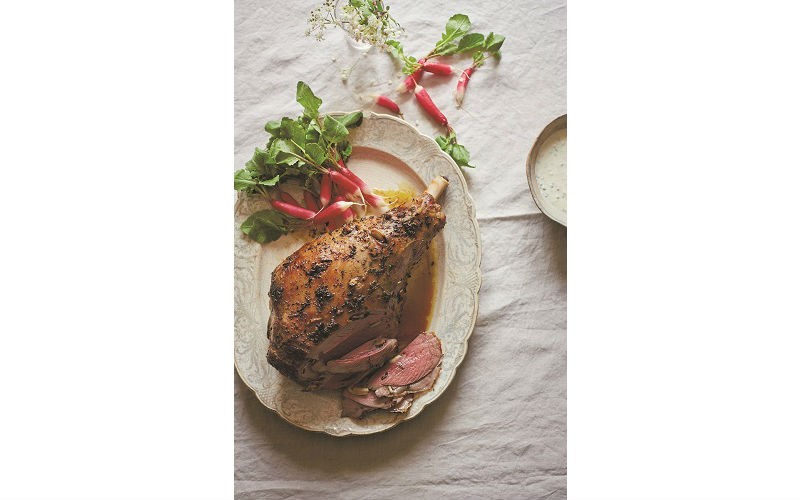 This lamb came about because I couldn't decide which herb to choose, so I just used several together, and I've now been making it for thirty years. The herb paste permeates every bit of the meat. Because it's simple, I usually serve it with an unusual – but not complicated – side dish. The sarassou recipe overleaf is excellent with the lamb, radishes and potatoes.
serves 6
for the lamb
10g (¼oz) flat-leaf parsley leaves, roughly chopped
leaves from 10 thyme sprigs
needles from 2 rosemary sprigs, chopped
4 garlic cloves, chopped, plus another 6
sea salt flakes and freshly ground black pepper
6 tablespoons extra virgin olive oil
finely grated zest of 1 unwaxed lemon
1.8kg (4lb) leg of lamb
for the vegetables
big bunch of French breakfast radishes with good fresh, perky leaves
700g (1lb 9oz) baby waxy potatoes
The day before you want to serve the lamb, put the herbs, 4 chopped garlic cloves, salt and pepper into a mortar and grind to a paste, gradually working in the extra virgin olive oil and lemon zest as you do so. Make incisions all over the lamb with a sharp knife and loosen the meat round the protruding bone (at the tapered end of the joint) to about one-third of the way into the joint.
Rub the paste all over the lamb, down inside it, around the bone and into the incisions. Cut the remaining 6 garlic cloves into slivers, then push these down into the incisions as well. Cover loosely with cling film or foil and refrigerate for 24 hours, bringing it to room temperature before roasting (it will take about 2 hours for it to come to room temperature).
Preheat the oven to 220°C/425°F/gas mark 7.
Put the lamb in a roasting tin and cook it for 15 minutes, then reduce the oven temperature to 180°C/350°F/gas mark 4 and roast for another 45 minutes. The lamb will be pink. If you prefer it more well done, then cook for a little longer.
Cover with foil, insulate well (I use old towels or tea towels for this) and leave to rest for 15 minutes. Transfer to a warmed serving plate. Quickly heat the juices in the roasting tin and serve them in a small jug alongside; there may not be much, but that's okay, it's not supposed to be a 'gravy'.
Meanwhile, carefully wash the radishes (trying not to squash the leaves). Gently dry them and put on a serving platter. Boil the potatoes until they are tender, drain, season with salt and add to the platter with the radishes. Serve with the lamb and the sarassou and broad beans.
Sarassou
I'm very fond of the various cheese-based dishes (sometimes there 's little difference between them) that the French serve with vegetables, bread or crudités (claqueret, cervelle de canut, fromage fort). Sarassou (also known as sarasson) used to be made with buttermilk, but is now usually made with fromage frais from either cow's or goat's milk. (I sometimes add a little soft goat's cheese to it, for more tang.) In some parts of France, it's served with bread, in others potatoes, and also with pork and lentils. It's very good – if unusual – within this menu of hot lamb and cold peppery radishes. I prefer it made with a mixture of fromage frais and crème fraîche, but make it with fromage frais alone, if you prefer. Don't use low-fat stuff, though.
serves 6
125g (4½oz) fromage frais
125g (4½oz) crème fraîche
1 teaspoon white wine vinegar
½ garlic clove, finely grated
finely grated zest of ¼ unwaxed lemon
10g (¼oz) chives, finely chopped
sea salt flakes and freshly ground black pepper
To make the sarassou, just stir everything together, taste, then adjust the seasoning. Cover and keep in the fridge (but take it out about 1 hour before you want to serve it, it shouldn't be served fridge-cold).
Serve with the lamb, potatoes, radishes and broad beans.
broad beans with lettuce, shallots & mint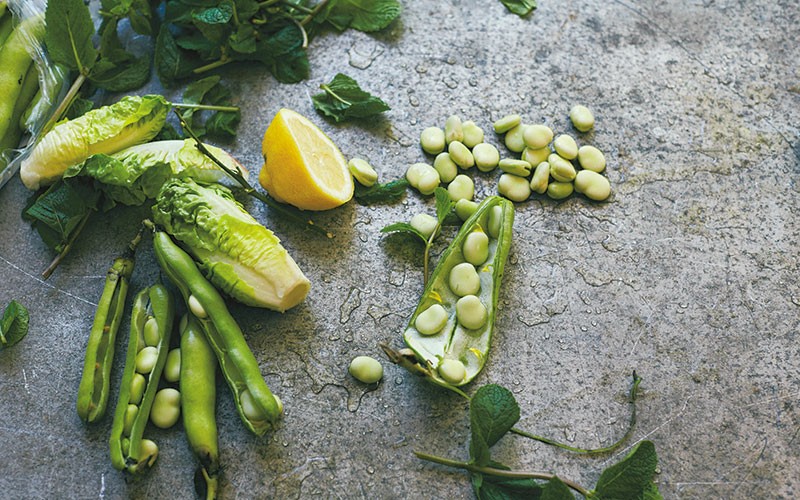 serves 6
700g (1lb 9oz) broad beans (podded weight)
50g (1¾oz) unsalted butter
6 shallots, finely chopped
2 Little Gem lettuces
sea salt flakes and freshly ground black pepper
good squeeze of lemon juice
leaves from 6 mint sprigs, torn
Cook the broad beans in boiling water for 4 minutes, then drain and run cold water over them. Once they are cool enough to handle, slip off their skins. This is laborious, but the colour is quite brilliant, and you can prepare them earlier in the day up to this point.
Melt the butter in a large frying pan and sauté the shallots over a medium-low heat until soft but not coloured. Cut the base off each lettuce and shred the leaves. Add them to the shallots and cook over a medium heat until wilting, then add the beans. Heat through, season, then add the lemon juice and mint. Serve in a broad, warmed bowl.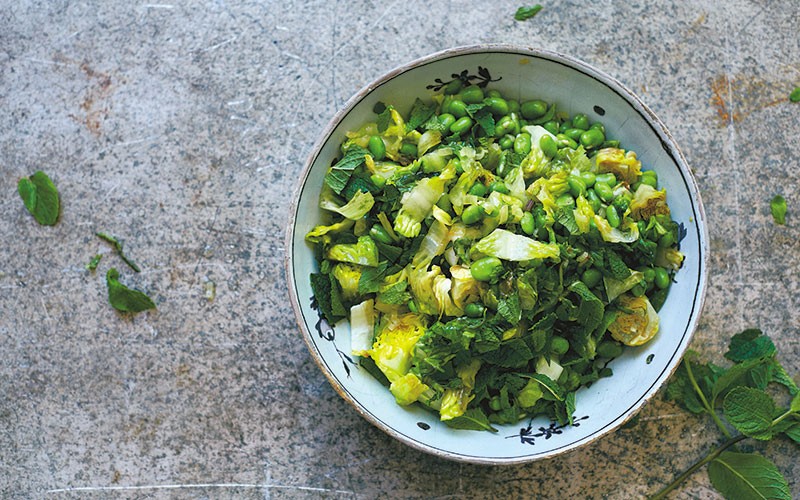 ×
Download the Waterstones App
Would you like to proceed to the App store to download the Waterstones App?
Reserve online, pay on collection


Thank you for your reservation
Your order is now being processed and we have sent a confirmation email to you at
When will my order be ready to collect?
Following the initial email, you will be contacted by the shop to confirm that your item is available for collection.
Call us on or send us an email at
Unfortunately there has been a problem with your order
Please try again or alternatively you can contact your chosen shop on or send us an email at