Blog
A Book & a Bite: A Recipe from Out of My Tree by Daniel Clifford
As he publishes his autobiographical debut cook book, Out of My Tree, two Michelin star-winning chef Daniel Clifford tells us about why he was so influenced by Marco Pierre White's White Heat and shares a recipe inspired by Marco.
One of the restaurants where I first cut my teeth was Howfield Manor, in Chartham Hatch, Canterbury, when I was still a teenager. It was a gorgeous old manor house and I worked under Andrew Leech, who'd come from some big hotel chains and a couple of Michelin one-star restaurants in London – so he knew what he was doing.
He would get in foie gras and we'd make terrines or individual pigeon or partridge pies - everything was made to order and done properly. I was absorbing all of these techniques and flavours, and before I knew it, I could make a crème anglaise, beurre blanc, fillet a fish, create sugar baskets... he taught me a cheese sauce recipe that I still use to this day.
But because Howfield was so far from home, during the afternoons when the restaurant was closed I would stay there, filling my time reading cook books, cleaning the copper pans to within an inch of their lives and tending to the herb gardens. I was obsessed with it.
Andrew noticed and suggested I read White Heat by Marco Pierre White. After cycling into town that afternoon to get it, I sat and read it from cover to cover; I couldn't get over the food, the anger, the passion. And I knew then that I had to work for him.
That dream came true a few years later when I went to The Box Tree in Ilkley and I remember my first encounter with Marco like it was yesterday: The night before he was due to arrive we stayed up all night scrubbing the kitchen in preparation and it got so late that I ended up sleeping there, waking at 5am to a kick in the back and a curt: "Get up, boy. We're moving the grand piano upstairs."
"Yes, Chef."
You didn't say no to Marco.
He left The Box Tree a few months later and went back to Harveys and, after a stint at Millers in Harrogate, I soon followed him.
Harveys was where Marco had become the youngest chef to get two Michelin stars and was the breeding ground for people like Philip Howard and Gordon Ramsay. The kitchen porter had just been sacked so during my first service I ended up pot-washing but it was a two star restaurant, so I didn't care one bit. It felt like I'd arrived.
So when The Times' and The Independent's Andy Lynes described Out of my Tree: Midsummer House as "the new White Heat", you can imagine how ecstatic I was. It was literally the best thing anyone could say about the book.
This recipe was inspired by Marco, and to this day it's still my favourite soup. I have changed the way it's dressed, but every time I taste it, it takes me back to Harveys and working for one of the best chefs around.
Vichyssoise, Poached Oysters, Crème Fraîche and Caviar (1998)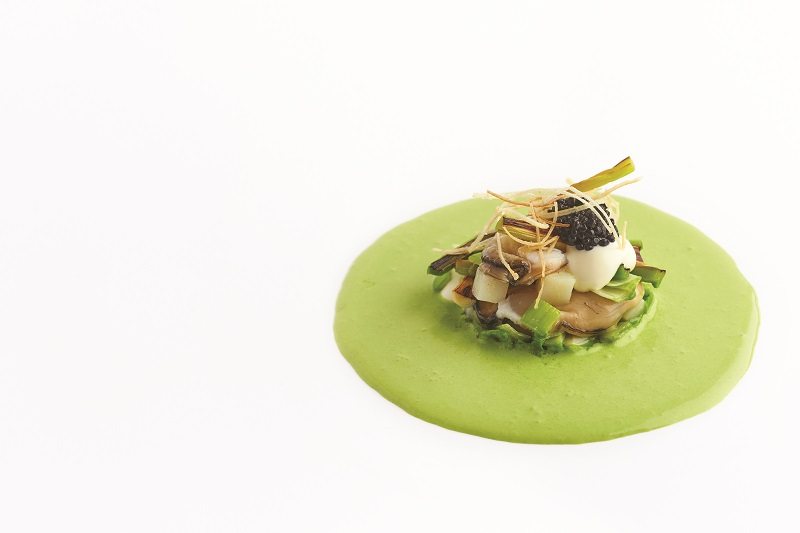 Serves 4
For the Vichyssoise
340g onion, diced
60g butter
680g light green leek, diced
340g potato, diced
750ml fish stock
750ml white chicken stock
300ml double cream
Salt and lemon juice, to taste
For the poached oysters
8 Porthilly oysters
Salt and lemon juice
For the potato dice
1 Lover's Choice potato
200ml water
100g butter
Salt
For the leek purée
500g dark green leek
50ml double cream
75g beurre noisette
Salt and lemon juice
For the leek dice
1 leek (green parts)
For the curly chives
Small bunch of chives
For the crispy leeks
1 leek (white parts)
For the baby leeks
4 baby leeks
To finish
Butter
100ml crème fraîche
50g caviar


Vichyssoise
Sweat the onion in butter until soft and cooked through, then add the leek and potato, stirring all the time. Bring the fish and chicken stock to the boil in a separate pan. Cover the vegetables with stock and boil together for 7 minutes.
Add the cream and keep boiling for 2 minutes, then blend the vichyssoise in a blender until smooth. Pass it through a fine sieve into a bowl over ice and then season with salt and lemon juice to finish.
Poached oysters
Open the oysters. Pass the juice through a fine sieve, wash them in their own juices, pass again and then warm them in their own juices with salt and lemon juice.


Potato dice
Cut the potato into small dice and simmer in the water and butter until just cooked. Blast chill in the cooking liquor and then season with salt.
Leek purée
Cut the leek into small pieces, keeping them evenly-sized. Bring a large pan of salted water to the boil, add the leeks and cook until soft. Boil the cream in a separate pan, and then blend the leeks, cream and beurre noisette together. Pass the purée through a fine sieve into a bowl over ice. Season with salt and lemon juice.
Leek dice
Bring a large pan of water to the boil. Cut the green leek into small squares and blanch then refresh in iced water.
Curly chives
Cut the thick ends of the chives into 2.5cm lengths and prepare a bowl of iced water. Take a chive baton in one hand, and cut down into the middle from the top with a small sharp knife three times, so that the strands curl.
Repeat with all the pieces of chive, and then place into the bowl of iced water until needed.
Crispy leeks
Cut the leeks into a very fine julienne and leave to dry in a warm place. Heat a fryer to 180°C and then drop the leeks in and stir until they start to bubble. Lift out, drain on kitchen towel and season with salt.
Baby leeks
Bring a large pan of water to the boil and then blanch the baby leeks for 2 minutes. Refresh in iced water and drain, then slice each leek in half and sauté in hot oil cut side down until nicely coloured.
To finish
Heat the purée and the soup. Warm the potato and leek dice in a little butter. Arrange all the ingredients in a bowl with the caviar and crème fraîche toward the top and finish with the crispy leeks. Pour the soup in front of your guests.
×
Download the Waterstones App
Would you like to proceed to the App store to download the Waterstones App?
Reserve online, pay on collection


Thank you for your reservation
Your order is now being processed and we have sent a confirmation email to you at
When will my order be ready to collect?
Following the initial email, you will be contacted by the shop to confirm that your item is available for collection.
Call us on or send us an email at
Unfortunately there has been a problem with your order
Please try again or alternatively you can contact your chosen shop on or send us an email at