Blog
A Book & a Bite: Create a Summer Feast with Exclusive Recipes from The Curry Guy Easy
Add some heat to your summer, with ideas and recipes for the perfect seasonal curry feast from The Curry Guy Easy.
For me, summertime is curry time! Lots of people think of curry as an excellent winter warmer but it is even better enjoyed outside with friends and family. Many folks think of it as something that needs to be cooked on the hob but delicious curries have been cooked outside, over a fire for centuries in the Indian Subcontinent.
When it comes to a curry feast, I love variety. It has to be easy so you can really enjoy your evening with good food and a few drinks of choice. Lately, I've been serving pani puris as a starter. They are so much more interesting than boring crisps and dip! It's not just the sweet, sour, savoury and spicy tones of the dish that make people go crazy for them but all the different textures too. With the keyword being EASY, this starter is a whiz for the host because all you need to do is prepare the pani sauce and a couple of fillings and let people go wild filling their puris as they choose. You better make a lot though as it's nearly impossible to stop once you get started!
I like my feasts to go on for a while, so I make a selection of curries. Of course you can cook them inside. In fact, they can be cooked one or two days earlier as the flavour actually gets better. Me? I prefer to cook them on the BBQ or better… over a long fire. A good tip is to get all of your ingredients prepared first so that you aren't looking for things later. My favourites for outdoor cooking are as follows:
Meat
Authentic Goan pork vindaloo – This is the original Portuguese inspired vindaloo which is a lot different than what you get at most curry houses.
Channa Gosht – This meat and lentil curry is so good! You can even grill the lamb chops first and then let them simmer in the sauce for spectacular flavour.
Indo-Chinese Sweet & Sour Chicken – Cooked on the BBQ, this is always a big hit. You will need a BBQ with a cover though. It's less smoky but equally as good done in the oven.
AUTHENTIC GOAN PORK VINDALOO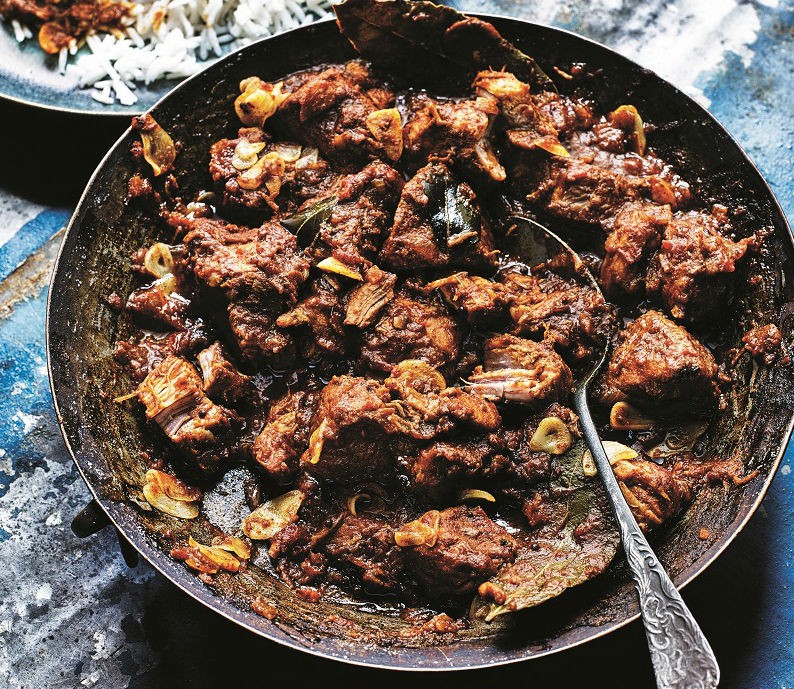 Serves 4 (or more as part of a multi-course meal)
A few years ago, I was invited to a restaurant called Restaurant 1875 in Ilkley, near Leeds. I believe the restaurant has moved on to Bradford and is now a wine bar, street food and events venue, but back then it was a quaint, authentic and hugely popular Indian restaurant, nestled over the old train station. The head chef, Vivek Kashiwale, showed me this recipe. He had trained under Vineet Bhatia and is now head chef at Mint Leaf of London in Dubai so I feel pretty lucky to have learned this delicious and authentic Goan pork vindaloo from him that day. I have simplified Vivek's recipe for you here but the results are still out of this world.
PREP TIME: 20 MINUTES,
PLUS MARINATING
COOKING TIME: 11/2 HOURS


800g (1lb 12oz) pork leg, diced
3–4 tbsp coconut or rapeseed oil
1 head of garlic, cloves cut into thin slivers*
1 tsp brown mustard seeds
10 fresh curry leaves
2 onions, finely chopped
2 tomatoes, finely chopped
1 tsp chilli powder
2 bay leaves
Salt
A squeeze of lemon, to serve

FOR THE MARINADE
1 tsp chilli powder
11/2 tbsp ground cumin
11/2 tbsp ground coriander
1/2 tsp ground fenugreek
1/2 tsp ground cloves
1 tbsp ground black pepper
1/2 tsp ground turmeric
3/4 tsp ground cinnamon
1/2 tsp ground cardamom
4 green chillies, finely chopped
5 tbsp red wine vinegar
2 tbsp soft brown sugar
1 tbsp tamarind concentrate (or another 2 tbsp of vinegar)
3 tbsp mixed garlic and ginger paste


Start with the marinade. Place all the marinade ingredients in a large glass bowl and stir into a smooth paste. Add the pork and mix well to combine. Cover and leave the pork to marinate in the fridge for 30 minutes or overnight.
When ready to cook, heat the oil in a saucepan over low heat.
Add the garlic slivers and allow to cook gently for about 20 minutes.
It is important not to burn the garlic, so watch carefully. The garlic should be soft and translucent but not browned. Transfer the garlic from the saucepan to a plate and set aside, leaving as much of the oil in the pan as possible.
Turn up the heat to high and add a little more oil, if required.
When visibly hot, stir in the mustard seeds. When they begin to pop, add the curry leaves and sauté for 30 seconds before adding the chopped onions. Reduce the heat to medium–high and fry for about
10 minutes until the onions are soft and translucent. Add the chopped tomatoes, chilli powder, bay leaves and the pork with all its marinade to the pan, then pour in just enough water to cover. Leave to simmer for about 1 hour, or until the pork is very tender. You may need to add a drop more water while simmering.
To finish, stir in the slivered garlic you sautéed earlier. Check for seasoning and add salt to taste. Squeeze the lemon juice over the top and serve.
If you don't want to finely slice all that garlic, you could substitute a large handful of dried garlic flakes. Just simmer them in the sauce until tender.
Vegetarian
Channa – I prepare this one at all my demos and it always goes down well. There are only a few ingredients so preparation time is minimal.
Malai Kofta Curry – Probably my favourite vegetarian dish in the book! For ease, you should fry the kofta indoors and then add them to the sauce later if cooking outside. That said, I have deep fried these outside on a fire and they came out perfectly.
Dhal Makhani – The great thing about this hugely popular dhal is that it needs to cook for a long time. You could start it indoors but if you're looking for a fuss free meal to serve outside, just put the pan over the coals and let the heat do its job. Your meal is ready when the dhal is fall about tender. This dhal is good on its own but I like to serve it wrapped up in chapattis with salad and perhaps a raita or two.
Pav Bhaji – This famous Indian street food is simple to make and it's great for serving a crowd. Just make a big pot of the bhaji and let people go at it, scooping the sauce on to buttered buns and topped with chopped red onions and lemon juice. Wonderful!
CHANNA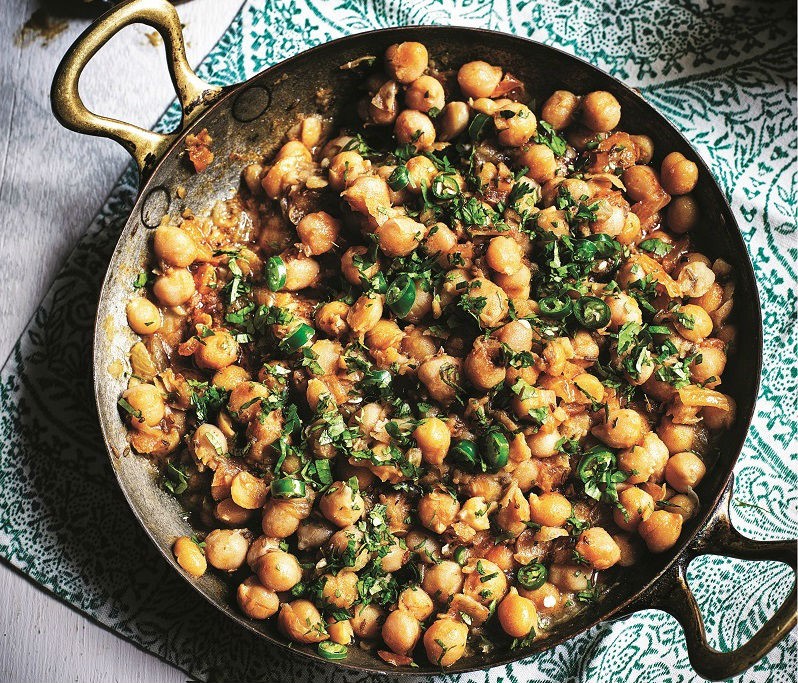 Serves 4 (or more as part of a multi-course meal)
If you ever find yourself in the Northern Quarter of Manchester, you'll find some fantastic home-style curry cafés that you've simply got to try. These are no-nonsense restaurants and/or takeaways that look like old greasy spoons but are immaculate and the food is out of this world. You can still get a curry and rice for a fiver! One of my favourites is Al-Faisal Tandoori.
I first visited Al-Faisal Tandoori back in 1998 and little has changed. They still have the green tables with chairs that are attached and water and glasses are on every table. They are only open until 8pm and there is no alcohol on the menu but it is the perfect place for a lunch or early dinner. The food is cooked fresh daily. This simple recipe was given to me on the day I visited by Tariq Malik. I love it!
PREP TIME: 10 MINUTES
COOKING TIME: 11/4 HOURS


4 tbsp rapeseed oil
2 tbsp mixed garlic and ginger paste
250g (11/2 cups) dried chickpeas, soaked in water overnight, then drained
1/2 tsp bicarbonate of soda (baking soda)
1 heaped tbsp cumin seeds
1/2 tsp ajwain seeds
1/2 tsp chilli powder
1 onion, finely chopped
Salt

Chopped green chillies and coriander (cilantro), to serve
Heat 1 tablespoon of the oil in a saucepan over medium–high heat until visibly hot. Stir in the garlic and ginger paste and fry for about 1 minute. Now add the prepared chickpeas and bicarbonate of soda and cover with water. Simmer for about 70 minutes, adding a little more water when necessary, until the chickpeas are tender. This is quite a thick curry, so keep the water to a minimum when the chickpeas are close to fork tender.
In a separate frying pan, heat the remaining oil over medium– high heat and temper the cumin seeds and ajwain in the oil for about
40 seconds. Add the chilli powder and chopped onion and fry until the onion is lightly browned and soft. Pour this over your finished chickpeas and give it all a good stir.
Season with salt to taste and serve with chopped green chillies and coriander (cilantro), which can be added to taste at the table.
MAKE THIS CURRY EVEN EASIER: I prefer the texture of slowly simmered dried chickpeas which is how this is made at Al-Faisal Tandoori. I have, however made this recipe using two 400g (14oz) tins of chickpeas with excellent results.
Seafood
Skewered Halibut Curry - I love this recipe! There are a lot of ingredients but don't let that stop you from making it. It's easy and delicious.
Salmon fillet in banana leaf – I like my seafood dishes to be simple so that you can really enjoy the natural flavour of the fish. This one is a real party piece if you can find the banana leaves. You can order them at good Asian grocers and they are often in stock in the freezer section.
SALMON FILLET BAKED IN BANANA LEAF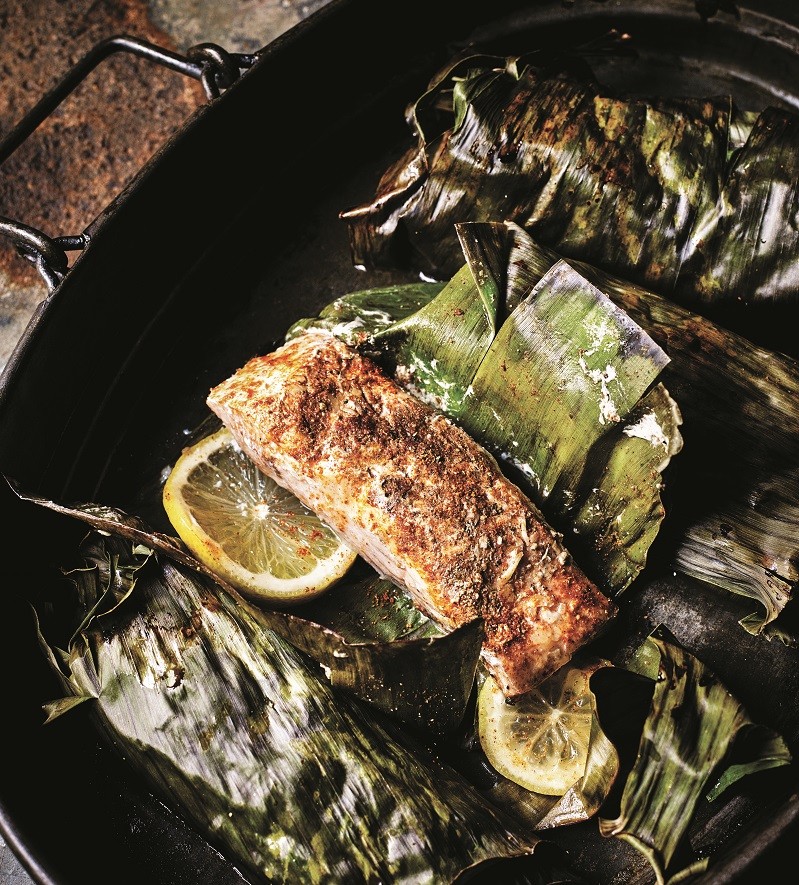 Serves 4
If you can't find the banana leaves, you can cook the salmon in kitchen foil. That said, please try to find the banana leaves as the salmon looks amazing presented at the table all wrapped up in the leaves, and they do give the fish a beautiful flavour.
PREP TIME: 10 MINUTES
COOKING TIME: 15 MINUTES


4 banana leaves, soaked in water for about 20 minutes
4 x 250g (9oz) salmon fillets
1 garlic clove, finely chopped
1 tbsp good-quality or homemade garam masala
1/2 tsp red chilli powder
1 lemon
Salt and freshly ground black pepper
3 tbsp melted butter
3 tbsp finely chopped coriander (cilantro) leaves, to serve
Preheat your oven to 200ºC/400ºF/Gas 6.


Wash the banana leaves well and place them on a work surface with the light side facing upward. Lay a salmon fillet on each leaf and rub the chopped garlic equally into each piece. Mix the garam masala, 1 tsp black pepper and chilli powder, then sprinkle it equally over the salmon fillets. Cut the lemon in half and squeeze the juice from one half of the lemon over the fillets. Cut the other lemon half into thin slices and place the slices on top of the fillets. Add salt and pepper to taste and drizzle with the melted butter. Wrap the salmon with the banana leaves to form parcels (as pictured). Now place the salmon parcels on a baking tray, with the seams tucked underneath to secure them closed, and bake for about
15 minutes. This should leave the centre of the salmon medium rare, but ovens do vary so you may need to experiment.
When the salmon is cooked, serve each parcel at the table with a bowl of chopped coriander (cilantro) to sprinkle over the top of the fish.
Mixed garlic and ginger paste: Garlic and ginger paste is so easy to make. Simply peel equal amounts of garlic and ginger and blend with just enough water to make a paste. If this sounds like a bit too much work, you can also purchase it ready made at Asian grocers and most supermarkets. You can also substitute grated or finely chopped garlic and ginger for the blended paste. Some stores only stock garlic paste and ginger paste in separate jars. Just take equal amounts of both out and mix them to make the garlic and ginger paste needed for most recipes in this book.
Other
Any of the dishes from the tandoori section of the book are great summertime meals. These can be marinated a day or two earlier and then just cooked up for your guests. No fuss and lots of flavour.
All good curry feasts need to include rice and/or naans. If you have a cast iron pan, heat it up until red hot over the fire. Then wet one side of your naan with water and slap it into the pan. As stated in the recipe, bubbles will from on top giving it that curry house naan appearance. Use a towel to grab the handle and turn the pan over so that the naan is facing the flames. This will brown it up nicely. Then remove it with a spatula or knife.
×
Download the Waterstones App
Would you like to proceed to the App store to download the Waterstones App?
Reserve online, pay on collection


Thank you for your reservation
Your order is now being processed and we have sent a confirmation email to you at
When will my order be ready to collect?
Following the initial email, you will be contacted by the shop to confirm that your item is available for collection.
Call us on or send us an email at
Unfortunately there has been a problem with your order
Please try again or alternatively you can contact your chosen shop on or send us an email at