Blog
5000-1: The Leicester City Story
Rob Tanner's new book explores Leicester City's phenomenal and unexpected recent success from his standpoint as a true insider: he is Leicester Mercury's chief football writer. Bookseller Matthew Gardiner introduces three extracts from the book.
'I. Can't. Breathe.'
So tweeted Gary Lineker on Monday night when the Leicester City miracle finally became reality as Spurs and Chelsea played out a draw in the 'Battle of Stamford Bridge'. It is an incredible story. As long a long-shot as sport has ever seen, Leicester were many people's favourites for relegation and at 5000-1 to win the league were a bet less likely than Elvis still being alive. Rob Tanner is Leicester Mercury's chief football writer and has been their Leicester City FC correspondent for the past seven years. With unrivalled access to players and staff, 5000-1 is the definitive story of a most remarkable season.
The extract below features two key moments from the season - the appointment of Claudio Ranieri and the victory at the Etihad - as well as an ode to one of Leicester's stand out players, N'Golo Kante.


13 July 2015 - Claudio Ranieri announced as the new manager of Leicester City.
City announced this afternoon on Twitter that the 63-year-old Italian is Nigel Pearson's successor at the King Power Stadium.
Ranieri has signed a three-year contract to lead City into their second season in the Premier League and has met his new squad at their training camp in Austria.
'I'm so glad to be here in a club with such a great tradition as Leicester City,' said Ranieri.
'I have worked at many great clubs, in many top leagues, but since I left Chelsea I have dreamt of another chance to work in the best league in the world again.
'I wish to thank the owner, his son and all the executives of the club for the opportunity they are giving me.
'Now I've only one way for returning their trust: squeeze all my energies to getting the best results for the team.'
Club vice chairman Aiyawatt Raksriaksorn said it was Ranieri's impressive CV having managed some of the biggest clubs in Europe, including Inter Milan, Roma, Juventus, Chelsea and Monaco, which convinced them that he was the right man for the job.
'It is my great pleasure to welcome Claudio Ranieri – a man of remarkable experience and knowledge that will lead us into the next phase of our long-term plan for Leicester City,' said Aiyawatt.
'His achievements in the game, his knowledge of English football and his record of successfully coaching some of the world's finest players made him the outstanding candidate for the job and his ambitions for the future reflect our own.
'To have attracted one of the world's elite managers speaks volumes both for the progress Leicester City has made in recent years and for the potential that remains for the Club's long-term development.'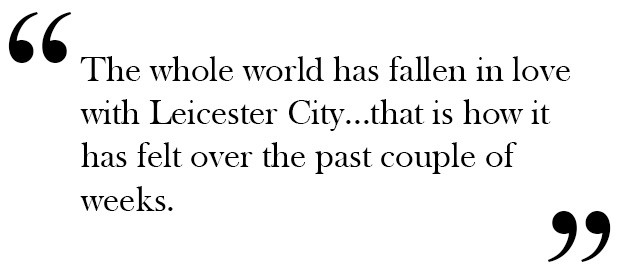 Ranieri publicly threw his hat into the ring over a week ago following the sacking of Pearson and said the prospect of managing in the Premier League was very attractive to him.
His appointment brings to an end a two week search for City's next manager with former Holland boss Guus Hiddink and former City manager Martin O'Neill sounded out for the position, but both declined.
February 2016
The whole world has fallen in love with Leicester City.
I know that is a bold statement that can't possibly be quantified, but that is how it has felt over the past couple of weeks.


Even before City's incredible win at Manchester City there was an endless stream of overseas film crews, radio stations and journalists contacting the Mercury for comment on the remarkable story that is City's season.
It has gone beyond the stage of 'Who are Leicester City?' It has also taken a step further than just 'How is this possible?'
Now the big question that is coming thick and fast is 'Can they do it? Can they become Premier League champions?'
Following the win at the Etihad Stadium, the media interest from abroad moved up another notch. It moved from a mild interest, a fleeting curiosity in what may have been perceived to be a temporary glitch in the established order of the Premier League, to a ravenous media hunger, an insatiable appetite for anything to do with City.
Heaven knows what it must have been like for the club, but from a personal point of view the phone calls, emails and tweets have become relentless.
I have been interviewed for radio shows from America, Australia, New Zealand and Canada, as well as our own national radio stations. I even had a call one Sunday night from BBC 5Live asking me to record a 90-second spot which was run the next morning detailing the five key games City will face over the coming weeks.
23 February 2016 – An Ode to N'Golo Kante
People are forever striving for their lost youth.
Whether it is cosmetic surgery, special creams and lotions or a special diet, people are constantly searching for something that will make them feel young again.
Well, I think I have found the answer, Leicester City's own elixir of youth, if you will.
If you are a football fan and you want to feel that youthful buzz of your adolescence then just watch N'Golo Kante play football.
I am not talking about his appearance, which away from the pitch always seems to be of a happy-go-lucky schoolboy who is in awe of everything around him, smiling incessantly as if the school holidays had just started.
Between Kante and Shinji Okazaki, it is hard to predict which of them would win an award for being the happiest, smiliest person at the training ground. It certainly wouldn't be Club Ambassador Alan 'The Birch' Birchenall.
He has a wide-eyed innocence about him which is very endearing. I bet there are elderly ladies all over Leicester who just want to hug him and plant a smacker on his cherub cheeks before giving him 20p for pocket money to buy some Black Jacks and Fruit Salads, or even a Curly Wurly, although like everything from my childhood they aren't as big as they used to be.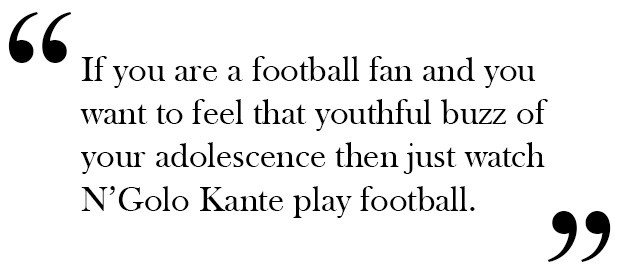 However, on the pitch Kante is a breath of fresh air, a player who looks like he plays for the sheer love of the game, free from pressure, nerves or fear.
It doesn't look like it would matter whether he was playing in front of 60,000 or six people. Nothing seems to faze him.
In an interview with the City media staff he said his style of play was developed while playing on the streets or down the park with his mates in Paris. It looks like it too. You can tell.
I don't think I have ever seen a player who works so hard and is full of so much enthusiasm.
People talk about his ability to win the ball back, how he leads the stats for ball recovery and how it seems at times like he has more than two legs, or even telescopic legs as he always, somehow, seems to come away with the ball.
It is an impressive skill. As he showed at Arsenal, he may give the ball away from time to time but you don't have to wait too long for him to win it back, and they are nearly all clean tackles as well. For someone who makes the amount of challenges he does he very rarely gives the ball away.
With the ball he is equally impressive. When in possession he wastes no time, he isn't frozen by doubt or a lack of confidence. It seems almost instinctive to just start running with the ball, bursting towards the defenders before him at pace, looking to commit them.
In his mind I wonder if he sees the white posts and the net beyond them or a couple of jumpers rolled up and chucked to the ground.
We have all watched players who look as though they would rather be somewhere else. Football is a profession and to some it is just that, a job. It is something to do to pay the bills.
Kante is different. He doesn't play to live, he lives to play.
×
Download the Waterstones App
Would you like to proceed to the App store to download the Waterstones App?
Reserve online, pay on collection


Thank you for your reservation
Your order is now being processed and we have sent a confirmation email to you at
When will my order be ready to collect?
Following the initial email, you will be contacted by the shop to confirm that your item is available for collection.
Call us on or send us an email at
Unfortunately there has been a problem with your order
Please try again or alternatively you can contact your chosen shop on or send us an email at