We regret that due to the technical limitations of our site, we are unable to offer eBooks or Audio Downloads to customers outside of the UK.
For further details please read our eBooks help.
Blog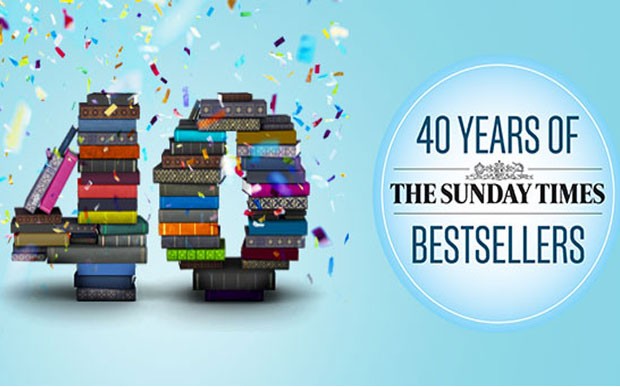 40 years of The Sunday Times bestsellers
Jon Howells, Waterstones PR Manager, waxes lyrical over The Sunday Times bestsellers, which celebrates its 40th anniversary this year.
I'm fascinated by this list. Only 100 books but what a myriad of styles, trends and phenomenons are represented within. The Sunday Times bestsellers have been an integral part of my life since I first walked into a bookshop to ask for a job on October 10th, 1989: I wonder what was number one that week. Jilly Cooper? Jeffrey Archer? Delia Smith?.
The difference between this list and the countless other lists of books that have been compiled on a regular basis since the BBC's The Big Read back in 2003, is that it is purely based on success – to be on here a book has had to sell in serious numbers, not rely on fandom or benefit from a current high profile.
So, what's missing? The no-Children's-books rule means that there's a distinct lack of wizards, post-apocalyptic battles to the death or sparkly creatures of the night: there's not a vampire in sight! The closest you'll find to hocus pocus is Tolkien's The Silmarillion (yet no Hobbit, no Lord of the Rings), and if you're looking for scary creatures with sharp teeth, you've Jaws at 61, and Shardik (remember Shardik? Huge when I was at school, now barely remembered. Time for a reissue?) at 94. The no-reference-books rule means there's no cookery –apart from some sections of The Silence of the Lambs and Hannibal.
The list is dominated by non-fiction. A Brief History of Time resides at number one, a reminder that, for all the talk of the nation's dumbing down, a huge amount of us have read (or at least tried to read), a book on an incredibly complicated subject. Go us! At number two is the first of two entries for Peter Mayle, with A Year in Provence (Toujours Provence is at 18). Mayle, along with Bill Bryson (5 entries in the top 100 – more than any other author), made travel writing one of a good bookshops most exciting sections in the '90s, and are joined in the top 100 with individual entries from Pete McCarthy, Alistair Cooke and Michael Palin. And Karl Pilkington, if you insist.
Misery memoirs – or 'Painful Lives' as some sympathetic headers in some of our shops named them – take up 6% of the chart (7% is you count A Streetcat Named Bob, and I think we should). We often think of it as a genre that has had its day, but a quick look at the current Sunday Times top ten paperback non-fiction chart belies that: the streetcat is at number one again, followed closely behind by by Philomena and Daddy's Little Princess.
A handful of books have gone out of print. That's understandable in some instances: is there any book more 'of its time' than The Official Sloane Ranger Handbook?), but surely it is only a matter of time before something sparks interest again in Hannah Hauxwell 's Daughter of the Dales (number 53) or The Country Diary of an Edwardian Lady (number 4!).
There's an interesting range of biography. No rock and roll at all. No sporting heroes, very little politics; Alan Clark for the UK, Nelson Mandela for the Rest of the World. But there are lives, and moments in lives, captured here; Brian Keenan's haunting An Evil Cradling, McCarthy and Morrell's affecting Some Other Rainbow are here; Chris Ryan and Andy McNab's takes on the same ill-fated mission. And of course my favourite book in the top 100 – Clive James' first volume of Unreliable Memoirs.
There are trend starters everywhere (Longitude, Eats, Shoots and Leaves, Schott's Original Miscellany). Plenty of books did well in those titles wake, but not well enough to make this top. Be first is the message here, be original, don't underestimate your audience – if you've got a great idea, you'll find your readers.
Only 37 books are novels. Nearly 10% of those are by Sue Townsend, who scores the highest place novel with The Secret Diary of Adrian Mole Aged 13 ¾ - now thought of as a book for teenagers but originally the whole country was reading it. Dan Brown also scores three, and Stieg Larsson and Thomas Harris two apiece. I can see only three Booker winners here; Hotel Du Lac, Paddy Clarke Ha Ha Ha, and Life of Pi. No Hilary Mantel? Surely some mistake!
So, plenty to discover then. This is a list that shows that as a country of readers we are curious, clever, admiring, lovers of a good story and a great laugh. Sounds about right.